The market is seeing a revolution in the media industry, and, while many of the larger stocks have struggled, these three stocks have flourished. See why their businesses can keep growing for many years. 
Verizon might be looking to get a mega-deal done in the media space, which may include buying up Disney. However, this could just be a distraction for investors that can find better opportunities elsewhere.
Verizon (NYSE: VZ) CEO, John Stratton, came out and said that he's willing to consider a mega-merger in the entertainment and media space. Stratton has even named a few merger candidates — notably Walt Disney (NYSE: DIS), CBS (NYSE: CBS) and Comcast (NASDAQ: CMCSA).
Speculation in the media industry doesn't end there. Disney has been the rumored target of Apple (NASDAQ: AAPL); meanwhile, there's the idea that Disney could buy Netflix (NASDAQ: NFLX).
This comes as fellow wireless giant — AT&T (NYSE: T) — is buying up Time Warner Inc. (NYSE: TWX), the owner of the likes of HBO and Turner Broadcasting, after having bought up DirecTV in 2015.
The major wireless telecoms and some major media companies are realizing that content — notably digital content — is becoming king. That's a big reason that Verizon snatched up AOL and is buying Yahoo.
SEE ALSO: 3 Safe High-Yield Stocks for Consistent Retirement Income
Companies like Verizon, AT&T and other media players are having to look for new areas of growth as technology continues to disrupt the old school industries. Disney took a stake in the video arm of Major League Baseball, BAM Tech, last year to help give it a presence in streaming sporting events. Disney is also planning to offer a streaming service for ESPN.
These companies are taking the approach of if you can't build it, buy it. However, not all companies have become quite so desperate.
The three companies below don't need acquisitions to grow, and instead could be acquisition targets themselves given their growth potential. Here are three companies that have a stronghold when it comes to digital content and growth:
Top Media Company That Can Still Grow No. 1: AMC Networks (NASDAQ: AMCX)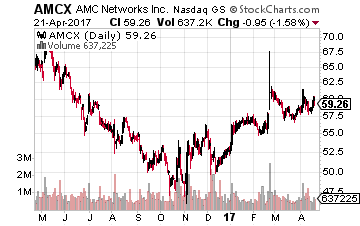 AMC has a ton of shows that have been hits. However, shares are down 7.5% over the last year, while other major media are up nicely. This comes as the market worries that AMC won't be able to keep rolling out mega-hits like Mad Men, Breaking Bad and The Walking Dead.
However, AMC continues to put out strong original content like Better Call Saul, Fear the Walking Dead, and Halt and Catch Fire. AMC has also been a key player to embrace streaming, partnering with the likes of Netflix (NASDAQ: NFLX) and Amazon (NASDAQ: AMZN) to get its shows to digital customers. With this, affiliate revenues continue to grow for AMC — reducing its reliance on TV ad revenues.
Then, of course, there's the big potential catalyst for AMC that involves launching its own streaming service. AMC is said to already be working on a commercial-free streaming service that will be priced between $4.99 and $6.99 a month.
Top Media Company That Can Still Grow No. 2: CBS (NYSE: CBS)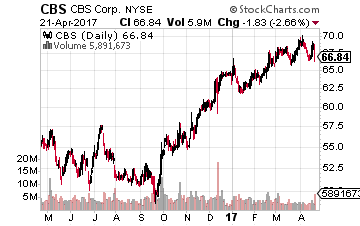 CBS pays a modest 1% dividend yield and is a major player in the media space with a $30 billion market cap. In fact, it's a leader in the broadcast space. With its size and stability, it can easily keep attracting advertisers, as it has deals with the likes of the NFL, college football and NCAA March Madness.
CBS is not the perennial under-performer like AMC as it's been early to launch online and digital services. This includes CBS' All Access, which gets you access to CBS' shows online for $5.99 a month. CBS also owns the major premium pay-TV network, Showtime, which has its own streaming service. These moves were somewhat ahead of the curve and have kept CBS growing, attributable to one of the best CEOs in the media space – Leslie Moonves.
Top Media Company That Can Still Grow No. 3: World Wrestling Entertainment (NYSE: WWE)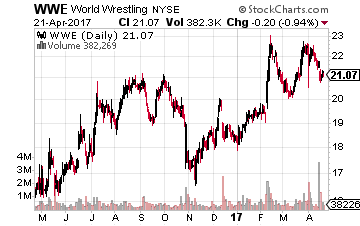 WWE has been a pioneer when it comes to diversifying away from television, tapping into the fast growing streaming movement. It remains a strong growth play in streaming video and digital content. The company transitioned to an online streaming model a couple years back and is having impressive success with creating its own digital business model. In 2016, it grew its digital subscriber count by 25%, and is now the fifth largest subscription video on demand service in the U.S.
Lest we forget that WWE also makes money on live events. Its major event, Wrestlemania, broke several records in 2016 — including attendance, viewership and ticket sales. The live event part of the business should continue to do well as WWE is seeing success with international penetration. WWE also pays a 2.3% dividend yield, which is one of the best in the entertainment industry.
In the end, there will likely be a mega deal among the media players, but whether it's Disney that gets bought or does the buying is anyone's guess. And certain companies like Comcast or Verizon may need to turn to acquisitions for growth, but there are a handful of companies that don't need buyouts to keep growing — the three above are three such opportunities.
Donald Trump has shown America that he is a man of action. Whether you support his policies or not, at least make some money by investing in the fact that President Trump plans on fulfilling every promise he made on the campaign trail. And, the biggest campaign promise that President Trump made was investing $1 trillion in America's infrastructure.
Investors stand to make upwards of 285% gains by investing into this specific construction stock that can almost triple in size by taking advantage of the coming infrastructure boom. Find out all the details and why you must own this stock before June 15th in Bret Jensen's new report "The One Stock You Want to Own to Cash in on Trump's $1 Trillion Infrastructure Boom".