Find refuge from the Amazon monster in these three stocks that have business models that the e-commerce turned tech titan can't disrupt. With more and more industries being negatively impacted by Amazon, investors need to hold income stocks safe from its influence.
Amazon is disrupting everything, from your local grocery store to the cloud software you're using at work.
And it's an ambitious company, already launching Amazon Cash to do away with having to use credit cards on its site.
When you really dig deep, there are not many industries that Amazon can't disrupt over the coming years. Amazon is quickly becoming the largest company in the world, already ranking as one of the top five most valuable based on market capitalization. Morgan Stanley (NYSE: MS) says that Amazon can grow its revenue to $500 billion by 2025 — a near quadrupling of its already massive $136 billion.
Nothing is off limits when you're on the path to half a trillion dollars in revenue. Taking over the retail industry was just the beginning, with Amazon now competing with clothing makers, shipping companies, and tech giants.
SEE ALSO: How to Earn $1,761 in Extra Income by April 28th, 2017
If Amazon continues on this trajectory, no industry will be safe. Well, almost no industry. There are a handful of industries out there that Amazon will never touch. That is, industries where the barriers to entry are just too great, whether it be regulatory competitive advantages or a massive customer base that required centuries to build.
Part of being in an industry that Amazon cannot disrupt involves having a resilient business model — one that thrives regardless of the economic backdrop. That also lends itself to some of the safest dividends in the market. With that in mind, here are three industries, and dividends, that Amazon can't touch.
Dividend Safe From Amazon No. 1: AbbVie (NYSE: ABBV)
I don't expect Amazon to get into the drug making business anytime soon. Thus, arguably the best dividend in phar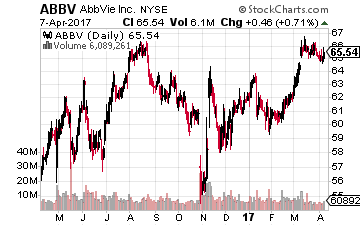 ma is safe — AbbVie pays a hefty 4% dividend yield and has a 44-year streak of consecutive dividend increases going back to the days when it was part of Abbott Laboratories (NYSE: ABT). However, AbbVie has been an under-performer of late, with shares down 4% in the last three years. The big overhang has been that its key drug, Humira, will soon lose patent protection.
On the plus side, AbbVie is already looking to find new growth areas for when Humira loses its patent in 2020, and in the meantime, growth still looks strong. Earnings for this year are expected to grow 14%; that's after growing 12% last year too.
AbbVie has been developing new drugs and making acquisitions to drive future growth, with a few drugs — such as Imbruvica and Venclexta — already in the late-stage FDA approval process. The near-term issues profiled above have created a fantastic buying opportunity. AbbVie trades at just 10 times next year's earnings estimate making it the cheapest major drug maker you can own.
Dividend Safe From Amazon No. 2: Stanley Black & Decker (NYSE: SWK)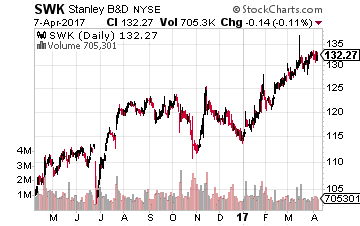 Another area that Amazon won't be taking on anytime soon is the industrial and machinery industries. Stanley Black & Decker is one of the most underrated stocks in this area. It is a maker of tools and industrial products — a business that it continues to grow with acquisitions. It bought up Newell Brand's (NYSE: NWL) tool unit last year and recently acquired the rights to the Craftsman brand from Sears (NASDAQ: SHLD).
And don't let its 1.7% dividend yield fool you. Stanley Black & Decker is a dividend heavyweight, only paying out just a third of its earnings via dividends. It has a 49-year streak of consecutive dividend increases.
But that doesn't mean it is set in its ways. Sure, the company grew earnings at an annual rate of over 5% for the last decade, but it's still looking for more. This includes tapping into the faster growing emerging markets. Going forward, it plans to spend up to half its free cash flow on acquisitions that have exposure to emerging markets. The Newell Brand tool business was a first step, with over 40% of its revenues being generated outside North America.
Dividend Safe From Amazon No. 3: Wyndham Worldwide (NYSE: WYN)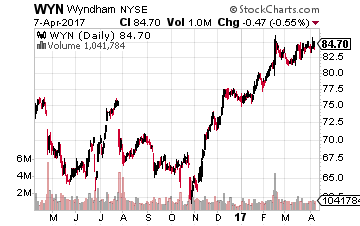 Wyndham is a hotel operator, owning brands like Ramada, Days Inn, Super 8 and Howard Johnson. It also owns and develops vacation resorts — which is a large part of what separates Wyndham from other hoteliers.
Although Amazon getting into the hotel business is unlikely, many hotel investors worry about Airbnb — the disruptor that is Uberizing the hotel industry. With Airbnb's valuation at almost $30 billion, it's nearly four times the size of Wyndham.
Sounds intimidating, but if anything, Airbnb could learn a thing or two from Wyndham. Timeshare and vacation rentals are the biggest part of Wyndham's business. Within that business, Wyndham owns RCI, which is the largest timeshare reservation network in the world. It's going to be tough for Airbnb to disrupt that type of scale.
This high-margin timeshare business also supports Wyndham's robust 2.7% dividend yield. And it's managed to boost its annual dividend for seven straight years.
In the end, Amazon CEO Jeff Bezos is no stranger to making bold bets. He's investing $1 billion a year into his rocket company Blue Origin hoping to win the space race. However, he's also not dumb, and realizes that competing with pharma companies, industrial tool makers that have been around for centuries, or timeshare companies is fruitless. The three companies above are fairly insulated from Amazon and pay impressive dividends to boot.
But, these three stocks would be best for a long-term, ten years and higher income strategy. If you're in need of income in retirement today, I recommend that you look at the stocks featured in my Monthly Dividend Paycheck Calendar.
Right now, there are over 20 high-yield stocks available through my Monthly Dividend Paycheck Calendar, a system for generating a recurring monthly income stream from the market's most stable high-yield stocks.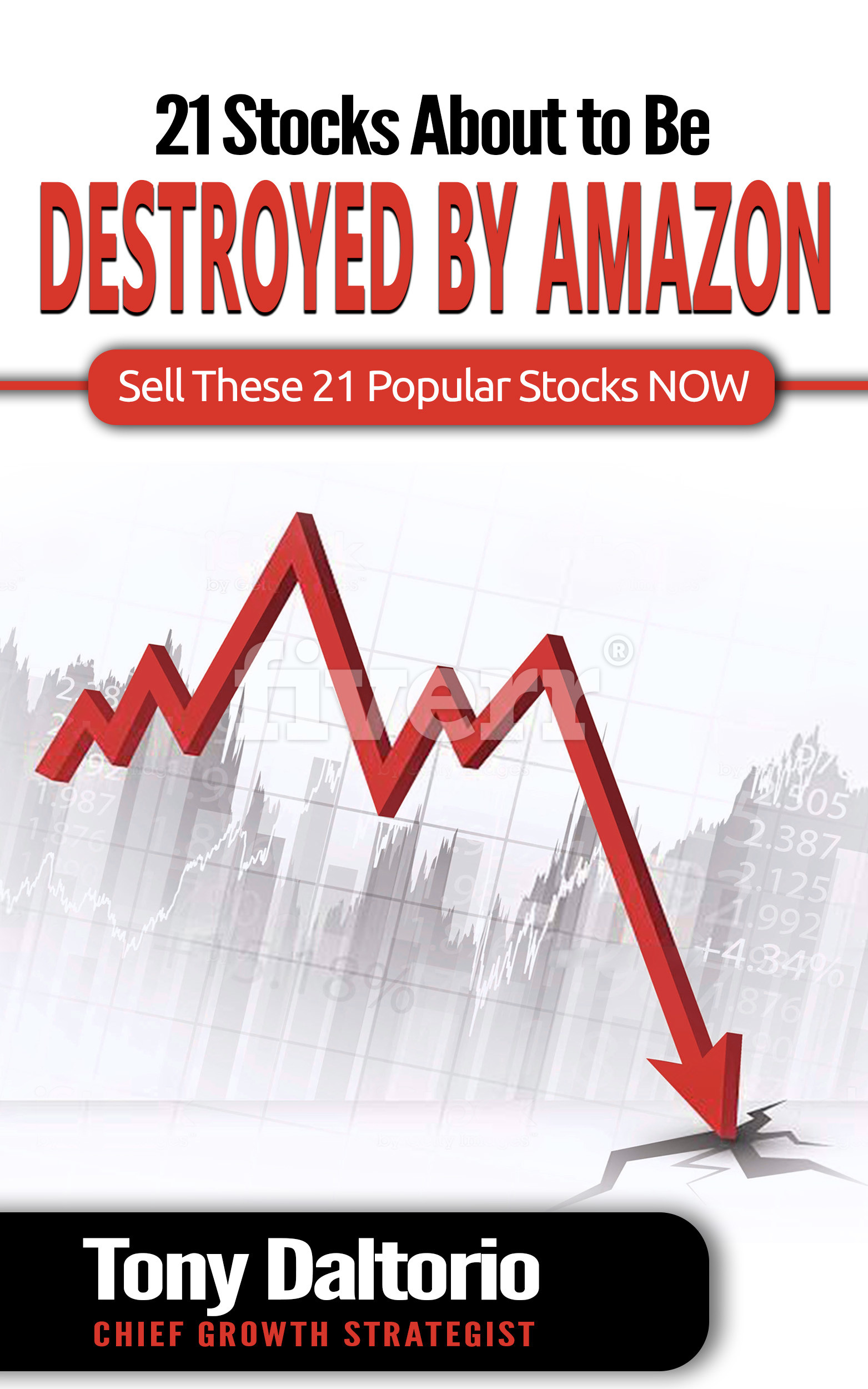 [NEW REPORT] 21 Stocks About to Be Destroyed By Amazon
Grab your exclusive copy of this new research report that shares Growth Stock Advisor editor Tony Daltorio's "21 Stocks About to Be Destroyed By Amazon". 
You won't believe some of the genius business moves Amazon is making to take over countless other businesses in healthcare, banking, payment processing, electronics, groceries, and more. 
Sell these 21 popular stocks now before Amazon puts them out of business.