I admit it; this market is making me crazy. But, these three stocks are giving me a moment of clarity in this troubling market.
The fear of rising interest rates has pushed down the values of the higher yielding finance related stocks. The falling price of oil has hit the MLP space hard, and when the market falls as a whole, so do dividend stocks. When the market goes up, the first two fears continue to hold down the higher yielding issues. If the market gets a whiff of bad news, it can hammer the share price of a good company. It all sucks, but I am here to tell you that the reasons you buy quality dividend stocks are the same reasons that will get you through these turbulent times.
The primary benefit of a dividend focused investing approach is to set yourself up to receive a steady and growing cash income stream. If you are a fairly new stock market investor, you need to understand that there will be market disruptions, which will make all of your research and plans look like you missed your mark. In reality, these corrections happen, and through decades of stock market action, share prices of quality companies always come back higher than before. And if you make a practice of investing in companies that consistently grow dividends, your income stream will grow and over time those larger payouts will pull up the shares prices.
While you do not want to sell anything when the market is down, the recent volatility in share prices is a good reminder to review your dividend stocks. Make sure that most if not all of your higher yielding stocks have the following characteristics:
A business model that shows management's clear path to future growth. This is the "buy the company, not the yield" advice.
A history of steady dividend growth – the longer the better. Growing dividends indicate a management focus on investor returns. Avoid those companies that show great revenue and earnings growth, but that money never reaches the dividends as increases.
Look for strong dividend coverage. For REITs the number is the percentage of FFO paid as dividends. Look for 80% or less. MLPs use a DCF coverage ratio, which at 1.1 or greater provides the necessary level of safety.
As far higher interest rates go, I think that fear is over blown. High quality bonds currently yield less than 3%. The average yield for the stocks in The Dividend Hunter portfolio is over 7%, with a number of them over 8%, even one at 11%. All of the stocks in the recommendations list have been increasing dividends and/or paying special dividends. A sharp rise in interest rates would push bond yields up to maybe 4%, still well below what can be earned from a portfolio of quality, higher yielding stocks.
The falling price of crude oil will be a short term phenomenon. The Saudis are trying to push down the value to push OPEC competitors to reduce production. However, Saudi Arabia needs $100 oil over the longer term to support its economy and social programs to avoid domestic unrest. Also the U.S. fracking producers are very efficient as they will still be profitable at $70 oil should we go that low. I strongly believe that crude will be back in the $90s by early 2015. In the meantime, buy more of the strongest MLPs on the cheap.
To close, here are a couple of investment ideas that should do well in the current economic environment: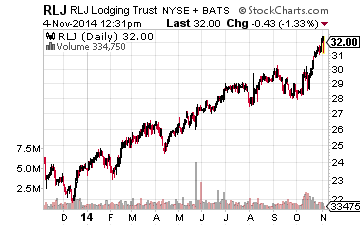 With a strengthening economy and strong profits in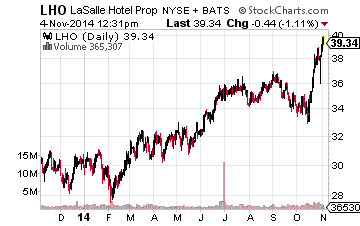 corporate America, the lodging REITs are putting up very strong growth numbers. The hotel business is cyclical and the cycle is on the upswing. Here are two attractive hotel REITs: RLJ Lodging Trust (NYSE: RLJ) which recently increased its dividend by 30% and is still paying out less than half of its FFO per share. LaSalle Hotel Properties (NYSE: LHO) increased its dividend in June by 35%, just two quarters after boosting the quarterly payout by 40%. LHO is also paying less than 50% of FFO as dividends.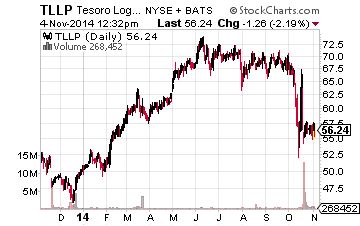 Topping my list of most unfairly beaten down MLPs is Tesoro Logistics Partners (NYSE: TLLP). This MLP has been growing distributions by 20% per year and yields 4.6%. The current unit price is 21% below where it was 6 weeks ago. Since then TLLP has made a business transforming acquisition that the market does not understand, but will produce 15% to 20% growth for the next several years. In other words, TLLP is on sale right now.
So when the market gets ugly, hang in there, review your dividend stocks, and understand that times like these are really opportunities to pick up more shares of our best high yield investment ideas.
When you pick up the best in class high yield investments you can structure your portfolio so you're receiving payments every month. I've actually put together a system and the stocks for doing this with  my Monthly Dividend Paycheck Calendar.
The Monthly Dividend Paycheck Calendar is set up to make sure you're getting 2, 3, even 5 dividend paychecks per month from stable, reliable stocks with high yields. And that you're getting payments every month, not just once a quarter like some investors.
The Calendar tells you when you need to own the stock, when to expect your next payout, and how much you could make from stable, low risk stocks paying upwards of 8%, 10%, even 11%. I've done all the research and hard work, you just have to pick the stocks and how much you want to get paid.
Our first critical date this month comes on Thursday, November 6th, so you'll want to take action today. Click here to find out more about this unique, easy way of collecting monthly dividends.