As we move into December, now is the time to prime your portfolio for the coming year. Some stocks may have performed well for you in 2014, but 2015 is showing signs of above average volatility. Here are 3 stocks to drop and 3 stocks to replace them for your income portfolio.
Once we own a stock in our investment portfolios, it can be difficult to objectively analyze the company's future prospects and ability to continue paying the dividend that is being counted on for income. As part of my research for high yield recommendations to provide to subscribers of The Dividend Hunter, I always look a company with an eye towards what could go wrong and result in a dividend reduction or even elimination. For example, on November 26, Seadrill Ltd. (NYSE: SDRL) shocked the market by suspending its dividend from what had been a steady 10% yield for the past six quarters.
Selling your shakier dividend paying stocks now may give you the double bonus of a tax write off if the shares are below you purchase value and the avoidance of a dividend cut as the market moves into a 2015 that is showing signs of above average volatility. Below we'll review three stocks that I would not want to own going into 2015 and a couple that could provide replacement income in your portfolio.
High-Yielders to Sell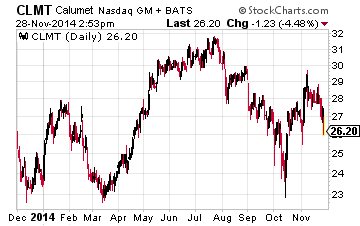 The Calumet Specialty Products Partners, LP (Nasdaq: CLMT) unit price is very close to a break even compared to where it opened for 2014. However, the unit price is 20% below its summer 2014 highs.
Calumet bills itself as a stable distribution paying master limited partnership – MLP, but about half of the company's gross profits are derived from extremely variable refined fuels sales. For 2013 and the first half of 2014, the free cash flow generated by Calumet was significantly less than the actual distributions paid to investors (red flag!). The company had to borrow over $200 million just to cover the pay outs to investors. The 2014 third quarter was much improved over the previous 6 quarters, but CLMT is still very exposed to low profit margins derived from volatility in energy and fuel prices.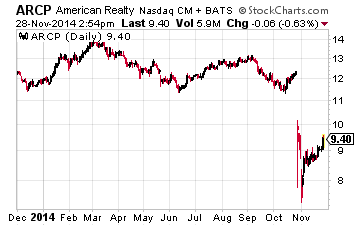 American Realty Capital Properties Inc. (Nasdaq: ARCP) came to market with a September 2011 IPO as a small cap real estate investment trust – REIT. A very aggressive program of acquisitions allowed ARCP to reach a $10 billion plus market cap in just two years. Along the way, investors stay happy with monthly dividends producing a 7.5% to 8% yield. In mid-November, ARCP announced it was being investigated by the SEC regarding financial misstatements on its SEC required filings. The ARCP share price has dropped by 30% in the last month, but shareholders should not wait for a recovery. There is a high probability of more bad news coming out of this REIT and it is better to tax the tax-deductible loss and find a more stable high yield home for the cash.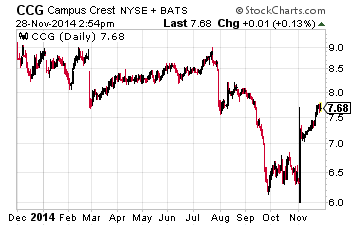 For several years Campus Crest Communities Inc. (NYSE: CCG) has been a disappointment to investors as management has not been able to follow through on its growth projects and promises. The stock's 8.5% yield is more than double the yields on its two college housing REIT competitors. The company recently announced that it was suspending several projects and has shaken up the management team. The CCG share price is down 20% for the first 11 months of 2014, and this stock is a top candidate for selling and taking a tax loss. It may take two to three years for this REIT to work out its issues and return to free cash flow growth.
Replacement High Yield Stocks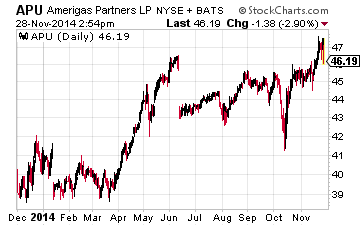 With winter starting off cold, the propane retailing MLPs will generate sufficient free cash flow to support their distribution yields for the next year. AmeriGas Partners, LP (NYSE: APU) with a 7.6% yield has been the most successful propane MLP if you want a history of distribution growth. As an alternate choice, Ferrellgas Partners, LP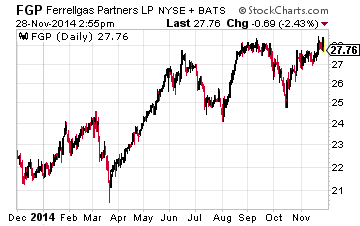 (NYSE: FGP) has not increased its distribution, but has paid a steady $0.50 per unit per quarter for over 20 straight years. FGP yields 7.2%.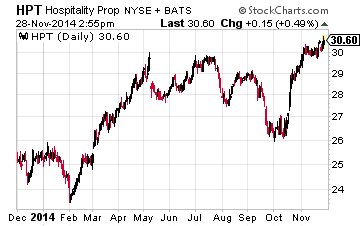 For a REIT alternative, look at Hospitality Properties Trust (NYSE: HPT). The hotel REITs are currently a hot growth sector of the commercial real estate space. HPT yields 6.4% and has the potential to soon increase its quarterly dividend rate.
Use December to clear the dogs out of your income portfolio and put some tax losses into the books. If you cannot use the losses this year, the tax rules let you carry them forward until you have offsetting taxable capital gains.
REITs and MLPs are integral parts of the income strategy with my newsletter, The Dividend Hunter. And there are currently several of each in my Monthly Paycheck Dividend Calendar.
The Monthly Dividend Paycheck Calendar is set up to make sure you're getting 3, 4, even 5 dividend paychecks per month from stable, reliable stocks with high yields. (Note: February has a whopping 7 payments!) And it makes your income stream will be more stable and predictable as you're getting payments every month, not just once a quarter like some investors.
The Calendar tells you when you need to own the stock, when to expect your next payout, and how much you could make from stable, low risk stocks paying upwards of 8%, 10%, even 11%. I've done all the research and hard work, you just have to pick the stocks and how much you want to get paid.
The next critical date this month comes on Friday, December 5th, so you'll want to take action today to make sure you don't miss out. Click here to find out more about this unique, easy way of collecting monthly dividends.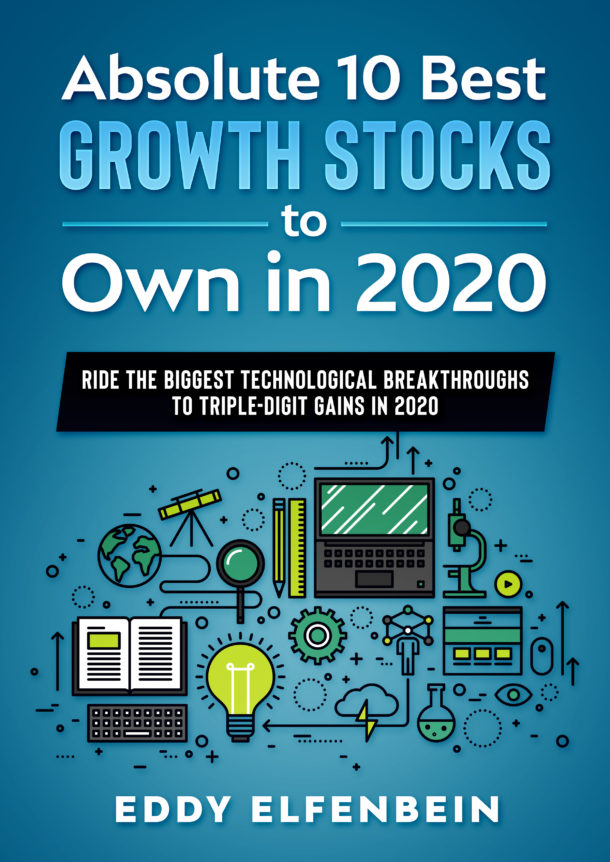 [NEW REPORT] Absolute 10 Best Growth Stocks to Own in 2020
Get the best 10 stocks to ride the 2020 tech explosion. 
One could be the most valuable stock of the next decade. 
Normally, I charge $20 for this report…
But, today...you can claim a copy absolutely free.
One stock alone has a chance at 167% profits in the next 12 months (or sooner). 
Enter your email below to claim a free copy while they last.