Typically, when the Fed raises interest rates, there is a knee-jerk reaction by investors to sell dividend paying income stocks. As with almost every change in the financial world, there are companies that will be hurt by higher rates and others that will see a benefit. Investors who understand the effects of higher rates on individual businesses can jump on the ones that will experience improved profit margins as rates move higher.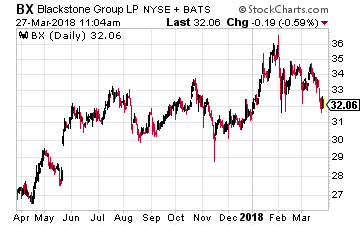 Last week the Fed increased its Fed Funds Target Rate (Fed Funds Rate) by 0.25% with the strong prospects for two or three more increases before we get to 2019. The Fed is increasing the rate to bring market interest rates that are more "normalized" based on the current level of economic growth and prospects for higher inflation. To illustrate where to invest to profit from higher interest rates, here are three macro themes, and individual stocks that are beneficiaries of each theme.
Theme One: Lenders who make variable rate loans. Rising rates lead to increased interest payments on loans written with variable interest rates. The finance REITs that focus on making commercial property mortgages almost exclusively originate loans with variable interest rates.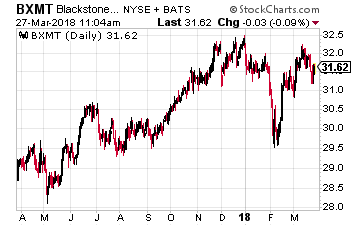 In Fall 2013, The Blackstone Group (NYSE: BX), re-purposed Blackstone Mortgage Trust (NYSE: BXMT) to be a pure play commercial mortgage lender. This $3.4 billion market cap REIT has an $11 billion loan portfolio of floating rate, senior commercial mortgages. Loan to value in the portfolio is a conservative 61% LTV. With referrals from its sponsor BX, this REIT has dramatically grown the loan portfolio over the five years since it switched to a focus on new commercial mortgages. The dividend has grown also, going from $0.45 per share at the end of 2013, to the most recent $0.62 per share. In its most recent earnings presentation, management has stated that a 1.0% increase in LIBOR would add $0.29 per share in net income per year. With the Fed expected to increase rates through 2019, the rising rates should lead to dividend increases by BXMT. The stock currently yields 7.8%.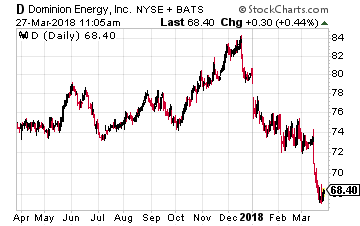 Theme Two: Utilities pass higher expenses through to customers. Public utilities like electric power and natural gas are highly regulated by state agencies. The regulatory agencies approve the rates at utility charges. Rates are set so that the utility can cover the infrastructure spending to maintain and upgrade its assets and then earn a fixed rate of return above the necessary capital spending. In a higher interest rate/higher inflation environment, it is likely that utility rates will be adjusted to allow for higher profit margins to remain competitive with other investment options. This is a different way of viewing what may happen to utilities, but the case can be made that well-run utilities will be able to grow profits as interest rates increase.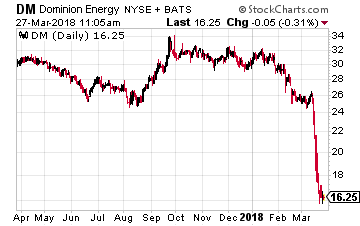 Recently, Dominion Energy (NYSE: D) is a large cap gas and electricity utility that provides service to residential, commercial and government customers in Virginia and North Carolina. Dominion also sells power into the wholesale markets, owns and operates the recently activated Cove Point LNG export facility and controls Dominion Energy Partners LP (NYSE: DM) and natural gas pipeline MLP's. In mid-March the D share price was hammered along with the MLP sector when the Federal Energy Regulatory Commission –FERC—issued a ruling that may reduce the allowed tariff rates on natural gas pipelines using a certain pricing structure. The interesting thing is that if DM must reduce its pipeline fees, Dominion Energy will be the primary beneficiary of the fee reductions. After the FERC announcement, Dominion issued a press release that reaffirmed the company's guidance of 6% to 8% compound EPS growth through 2020. This is a great dividend growth utility currently on sale. The shares yield 4.9%.
Theme Three: Higher rates from the Fed are a sign of strong economic growth. Hotels are a business sector that will see increased profits from strong economic growth. Also, since rates change daily, hotels can also quickly pass along higher expenses due to inflation. Hotel/lodging REIT sector profits and dividends have been flat for a couple of years. Interest rate hikes could be the trigger for expanding profits and growing dividends in 2018.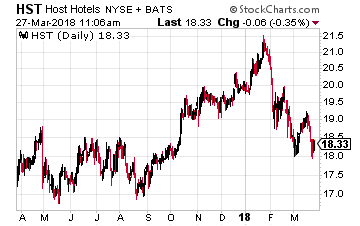 Host Hotels & Resorts, Inc. (NYSE: HST) is the largest lodging REIT and one of the largest owners of luxury and upper-upscale hotels. The company currently owns 87 properties in the United States and six properties internationally totaling approximately 52,000 rooms. In the hotel business, revenue per available room –RevPAR is the metric to watch. For the 2017 fourth quarter, HST reported RevPAR of $175.52. For 2018 the company is forecasting a modest 2% to 2.5% increase in this metric. However, the revenue per room can quickly rise in a hot economy with growing business and personal travel. The current $0.80 annual dividend is less than half of the 2017 reported FFO per share. If profits expand this REIT can quickly increase the dividend paid to investors. The stock currently yields 4.4%.
The #1 Stock to Retire on (Over $1 million in income up for grabs)
Retiring well doesn't have to be complicated. Forget "buy and hold" investments… forget options... forget Bitcoin...
One stock is all you need. And it's not a blue chip stock like Wal-Mart. Over your entire retirement, you should see over $1 million hit your bank account thanks to this stock.
If you're serious about a retirement with less financial worries, this #1 stock is your secret weapon. The first payout of the $1 million is days away.
Click here before you miss the window
.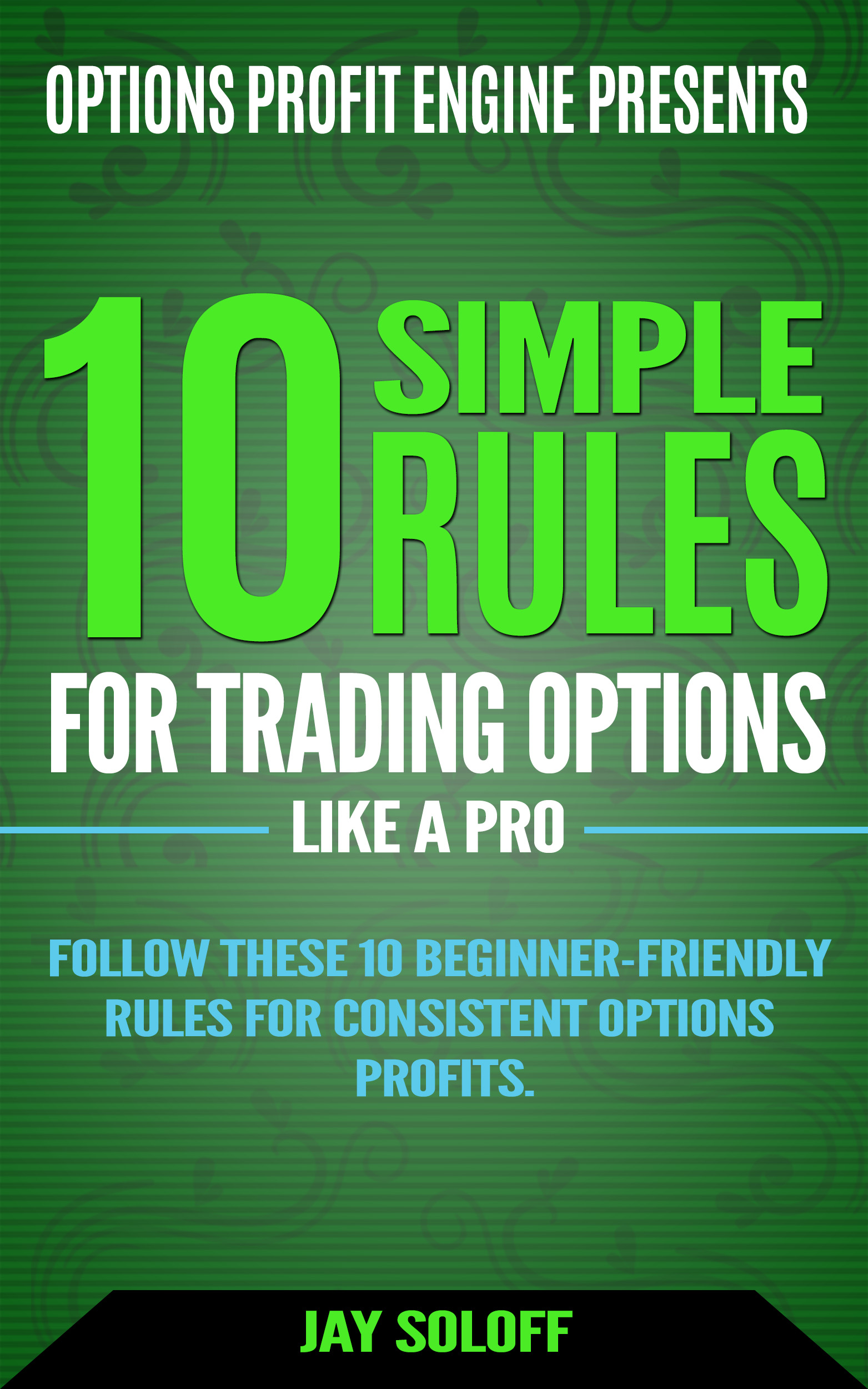 [FREE DOWNLOAD] 10 Simple Rules for Trading Options Like a Pro
Follow these 10 simple rules from 20-year professional options trading veteran, Jay Soloff and start earning a reliable extra income from options.
NO prior experience needed to master these 10 simple options trading rules. 
Enter your email below and receive access to this FREE guide...