With the major stock indexes now in correction territory, there are fears that the market is headed for a full-blown bear market drop of 25% or more. The safe way out is to go to cash, but if you guess wrong you will miss out on further gains as so many people did after the 2008/2009 crash.
Cash also doesn't earn much. While you may be fearful about the next bear market, it's likely impossible you will be able to time getting out in time to avoid much of the decline. Another way to prepare for the next bear is to buy shares of stocks that will do better than the market through the next big decline.
It is a fact that in a bear market share prices of almost all stocks will drop. Some a lot and others not so much. My strategy for getting through the bear and survive until the next bull is to own higher yield, dividend paying stocks that will not cut the dividend through the downturn. These stocks should not fall as far. Also, I can take the dividends to average down my share price through the market downturn. Coming out the other side I will have a lower average cost of shares and a much larger dividend income stream. That's a win-win strategy to get through a bear market.
Related: Buy These 3 High-Yield Stocks to Protect Yourself From the Next Recession
Here are three stocks where the dividend is very secure, pay attractive yields. More importantly they should be able to pay the current dividends through any deep and lasting downturn in the stock market. By lasting I mean the average bear market length of nine to 12 months.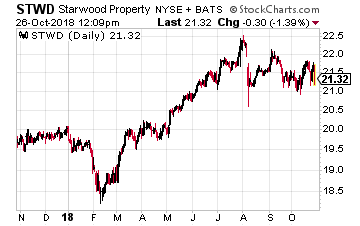 Starwood Property Trust (NYSE: STWD) is a commercial property finance REIT. The book of loans is very conservative with a 62% LTV.
The company's loan clients are highly motivated to make those payments. In recent years, Starwood has diversified the company with the purchase of a commercial mortgage servicing business and acquiring a portfolio of low income apartment complexes. Both businesses, especially the servicer, will do very well if the economy slows down.
The current $1.92 annual dividend is well covered by a core income run rate of $2.25 per share.
The 9.0% yield means large dividends to reinvest as the share price gets cheaper.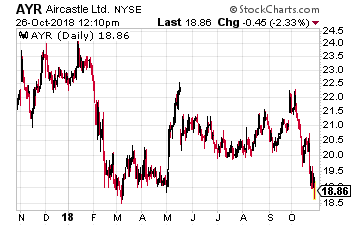 Aircastle Limited (NYSE: AYR) may be my personal favorite stock to buy in a bear market. Aircastle is an aircraft leasing company with client airlines around the world.
The current $1.12 per share annual dividend is backed by about $4.00 per share in free cash flow. This stock got very cheap in the last bear market even though the financial remained rock like.
Picking up AYR shares at the bottom of the bear resulted in gains that were multiples of the share price.
This is a nice 5.9% yield income stock now that gets even more attractive as the share price falls.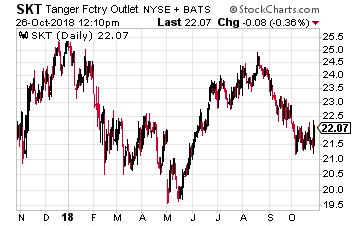 Tanger Factory Outlet Centers (NYSE: SKT) is the only pure play owner of outlet type shopping centers. In tougher economic times people still like to shop but are more likely to go to an outlet mall to score some deals.
The safety factor of owning shares of Tanger is the company's track record. This REIT has increased its dividend every year since its 1993 IPO. There have been two severe bear markets in that time, so you can believe that the dividend will be secure and grow.
Tanger is also very conservative in the management of its balance sheet. This should let the company make accretive acquisitions when its competitors become financially distressed.
SKT currently yields 6.5%.