Usually investors like to purchase cheaper shares so that they can own more of the stocks they like. However, you shouldn't overlook these three stocks just because of their high price tags. See why these three stocks are worth the money.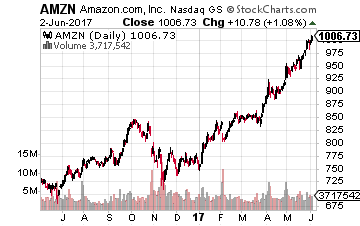 Monday May 30 marked a milestone for the rise of technology stocks. The king of e-commerce (and a whole lot more), Amazon.com (Nasdaq: AMZN) hit $1,000 a share for the first time ever, making its shareholders feel grand.
 It narrowly beat the Class A shares of Alphabet (Nasdaq: GOOGL) in the race to $1,000 between two of many investors' favorite stocks. Alphabet's high trade, at the time of this writing, was $997.62.
 The 'race' between the two companies' stock highlights the fact that more and more large, well-known companies prefer to see their stock price go into the stratosphere rather than split their stock to make the price more affordable to the average retail investor.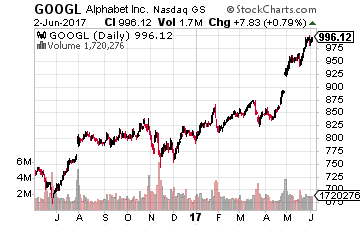 Stock Splits – a Dying Breed
 It almost seems like an ego thing for company executives, especially in the technology sector, to have their stock soaring to very high prices per share.
But it is a part of an overall trend.
 So far in 2017, only two S&P 500 companies have split their stock.
 2016 was also a year with few stock splits. Only six companies in the S&P 500 index did so.
 This contrasts sharply to just 20 years ago when stock splits were the way to go to attract investors' attention. In 1997, 193 companies in the S&P 500 index split their shares. That was a rate not far off of two companies per week.    
 According to Birinyi Associates, the average S&P 500 stock now trades at a price above $98 a share. That is well above the historical norm of between $25 and $50 a share.
 I believe the reason behind this is the move away from owning individual stocks to investing in passive index funds by so many retail investors.
 In other words, why try to appeal to the average mom-and-pop investor when it seems they're all in index funds?
 And for institutional money, stock splits are just a hassle.
[FREE REPORT] $500 to $2,000 per week trading options in under 30 minutes
 So the trend away from stock splits will be with us for the foreseeable future.
 I thought it might be interesting to take a look at the companies whose stocks are in (or are very close) to Wall Street's most exclusive club.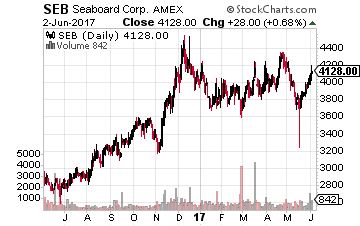 The $1,000 a Share Club
 Thanks to the Wall Street Journal, it is easy to see what firms are in this most exclusive club.
 The most senior member is Berkshire Hathaway Class A shares (NYSE: BRK.A),  which trades at about $248,000 a share.
 Warren Buffett, who never has split the Class A shares, did create a more affordable Class B share (NYSE: BRK.B) in 1996. It trades at a much more affordable $165 per share.
 The other current members and their recent stock prices are: 
Seaboard (NYSE: SEB), $4000 a share.
NVR Inc (NYSE: NVR,) $2285 per share.
Priceline Group (Nasdaq: PCLN), $1855 a share.
Most of you know that Priceline is an online travel website. For those of unfamiliar with the other two, NVR is a homebuilder and Seaboard is a conglomerate involved in both shipping and pork production and processing.
Next are the aforementioned Amazon and Alphabet, which are banging very loudly on the club's door.
Other possible future entrants include the financial holding company Markel (NYSE: MKL), the advanced surgical systems maker Intuitive Surgical (Nasdaq: ISRG) and the insurance holding company White Mountains Insurance Group (NYSE: WTM).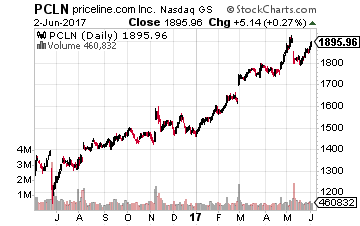 The stock prices per share respectively are: $970, $915 and $860.
Should You Buy Any of These?
 Let's assume for a moment you can afford to buy these high-priced stocks.
Are any of them worth investing into?
Alphabet has been a member of Investors Alley Growth Stock Advisor portfolio since December 2015 and I have no plans to remove it.
I do like Amazon, although it is very richly valued at a market cap of about $480 billion.
However, its two main markets – e-retailing and cloud computing (Amazon Web Services) – look like they have a lot more growth left in them.
Its 33% rise so far this year is being justified by investors thanks to its rapid growth. Amazon enjoyed its eight consecutive quarter in the black when it reported that, in the first three months of 2017, its profit rose 41%. This gain was largely due (again) to its AWS division.
Among the others, the only two that interest me are Intuitive Surgical and Priceline.
Intuitive Surgical had some good news recently when the FDA approved its da Vinci Surgical System. This system is an upgrade to its flagship da Vinci surgical platform, which enables minimally invasive surgery at a lower price than other alternatives.
Globally, da Vinci procedure volumes grew by about 18% in the first quarter of this year.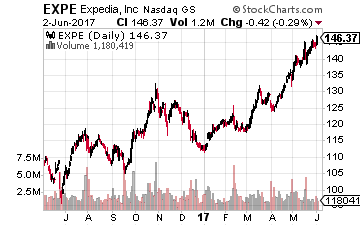 Priceline is a good way to play the still expanding online travel business. Although I prefer its lower-priced peer, Expedia (Nasdaq: EXPE), which has been part of the Growth Stock Advisor portfolio since January 2017.
One reason I like Expedia more is that the company is looking to revolutionize rail travel with its launch last year of an international train ticket booking service. Estimates are that this is a $130 billion global market.
If you're going to venture into the $1,000+ club to shop for stocks, stick to those that have a growth component to them.
Sign up today for a FREE 'sneak preview' and find out the ticker of an advanced robotics stock that can lead you to massive long-term profits as manufacturing and business become more automated. This growth trend is still in its infancy so investors who hop on today could see decades of profits from just this one stock.
Click here to see Tony's latest recommendation.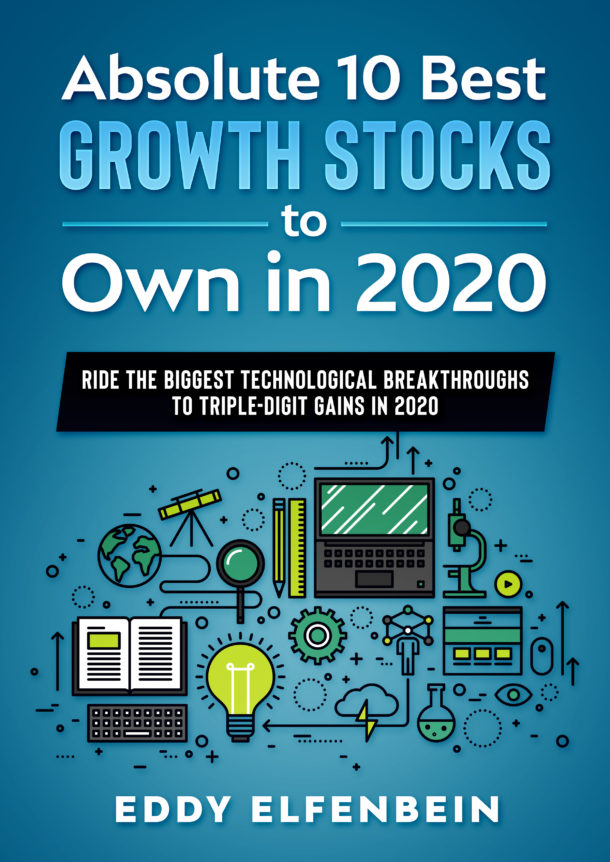 [NEW REPORT] Absolute 10 Best Growth Stocks to Own in 2020
Get the best 10 stocks to ride the 2020 tech explosion. 
One could be the most valuable stock of the next decade. 
Normally, I charge $20 for this report…
But, today...you can claim a copy absolutely free.
One stock alone has a chance at 167% profits in the next 12 months (or sooner). 
Enter your email below to claim a free copy while they last.