Here is something I would like you to think about for a moment. . .by 2050, the population of the Earth will surpass nine billion people, compared to 7.5 billion right now.
And the rise of the middle class in emerging economies like China will continue. The numbers of the middle class globally is expected to grow from 1.5 billion currently to 4.5 billion in 2050.
That's a lot of mouths to feed. So much so that the 'father' of the "Green Revolution", Nobel laureate Norman Borlaug (who died in 2009), said that "In the next 40 years, farmers will have to grow as much food as they have in the last 10,000 years – combined!" These words ring even truer today.
For those of you unfamiliar with Borlaug, he was an American agronomist and humanitarian who launched global initiatives that led to increased agricultural production around the world. Estimates are that his work may have saved the lives of a billion people from famine and starvation.
In order to do what Dr. Borlaug said we must as a species, agriculture must advance technologically. I am studying these agricultural technologies as part of the Industrial Singularity research project I am in the midst of currently.
Before I delve into one company I've discovered, let's take a quick overview of the history of agriculture and its advancement through technology.
Agriculture 3.0
I am in general agreement with Lance Donny, the founder of the ag data start-up OnFarm Systems, that the history of agriculture can be divided into three periods.
Agriculture 1.0 was from ancient times to about 1920 where farming involved the use of animals and a lot of manual labor. Then came the period of industrial agriculture – Agriculture 2.0, from 1920 to 2010, when machines, fertilizers and better seeds helped farmers grow a lot more food to meet the demands of a growing population.
Now we have entered the new age, Agriculture 3.0. This is the time where high-tech sensors, big data, cloud computing, specialized software and the internet of things comes to farmers' aid as they try to feed a fast growing population.
Data is the centerpiece in this new age of agriculture. Data gathered will be used to help farmers make more efficient use of their land, water and fertilizer. Of course, much of the data gathering will be done by agricultural drones, satellites and "smart" farm equipment.
There are advances being made on other fronts too in Agriculture 3.0. One such move forward on the science front is being made a company that recently had an IPO (initial public offering).
Calyxt and Gene Editing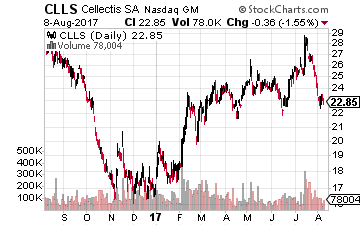 The company is Minnesota-based Calyxt (Nasdaq: CLXT), which is a subsidiary of the French biopharmaceutical company Cellectis SA (Nasdaq: CLLS).
Calyxt is garnering lots of attention in agricultural technology circles with its gene editing techniques. The technique basically edits out undesirable traits from a genome or enhances desirable traits in order to improve crop yields. It is a "non-GMO" method since it does not involve the introduction of foreign DNA.
The company uses a gene editing technique called TALEN, which is similar but not identical to the better-known CRISPR Cas-9 gene editing tool.
CRISPR technology is one of the hottest areas of the biotechnology sector. It is considered to be the most significant development in that science since the invention of genetic engineering in the 1970s.
Calyxt already has a large product pipeline including: a potato that doesn't bruise, high-fiber wheat, low-gluten wheat, herbicide-tolerant wheat, lower saturated fat canola and high-oleic soybeans. High-oleic soybean oil will actually be its first product to hit the market.
The expectation is that TALEN will replace highly controversial GMO seeds. Some may still consider this method controversial, but in a way, it is merely speeding up the evolution that would occur naturally over generations.
One plus for products produced from such a technique is that regulation may be less rigorous since they are not considered by the FDA to be GMO products. But I expect the public will need a lot of education regarding the differences between genetically modified organisms and ones that are gene edited.
Other Ag Investments
So for investors looking to steer clear of any controversy, two other ag-related investments may suit them better.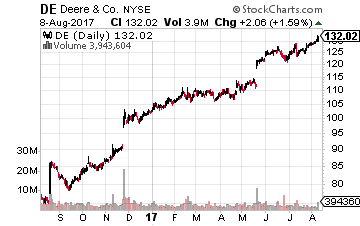 The first company is very well-known – Deere (NYSE: DE), which racked up $18.5 billion in agricultural-related sales in fiscal 2016. Its stock is up 26% year-to-date and nearly 66% over the past year.
The company is at the forefront of producing 'smart' farm machinery. Farmers using its equipment are enjoying the fruits of sophisticated sensors and communications, along with access to needed data at their fingertips.
A second company to consider is the drone company,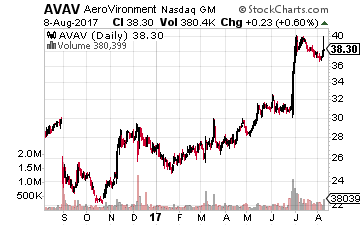 AeroVironment (Nasdaq: AVAV), whose stock has risen 38% year-to-date and almost 30% over the last 52 weeks.
While the vast majority of the company's drones are intended for use by military around the world, it does sell agricultural drones. I'm sure management is quite aware of the study from the consultancy PwC that estimated the addressable market of drone-powered solutions in agriculture to be worth $32.4 billion since it was part of their latest shareholder presentation.
All three of these companies are involved, albeit in different ways, in Agriculture 3.0. Stay tuned for more updates on this very exciting sector as my Industrial Singularity research progresses.
The Biggest Technology Breakthrough To Eclipse Apple, Facebook, Google and Tesla Combined
In the next 7 years this technology will grow so fast you'll think it sprang up overnight. And it will grow to deliver over $100 trillion in investor profits. It's a once in a lifetime opportunity for regular investors to finally get their chance. Don't sit on the sidelines and just watch. Check out this new report revealing everything you need to know to get started. Click HERE.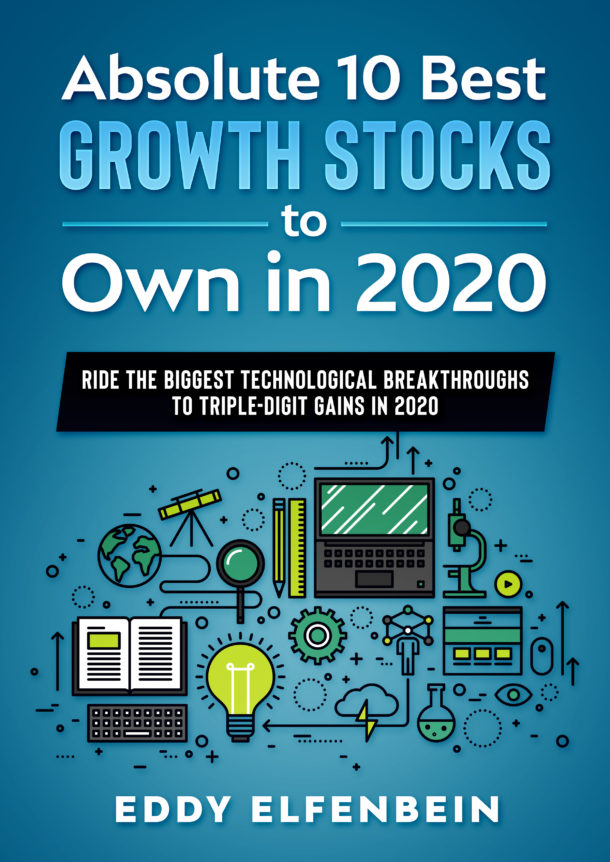 [NEW REPORT] Absolute 10 Best Growth Stocks to Own in 2020
Get the best 10 stocks to ride the 2020 tech explosion. 
One could be the most valuable stock of the next decade. 
Normally, I charge $20 for this report…
But, today...you can claim a copy absolutely free.
One stock alone has a chance at 167% profits in the next 12 months (or sooner). 
Enter your email below to claim a free copy while they last.