The mini-tech crash from early June has created a heated conversation about another dot-com style crash. However, through chaos comes opportunity.
Technology stocks have broken away from the market, but not in a good way.
We had a mini tech crash a couple weeks ago, which has led to a lot of media speculation about a potential market crash.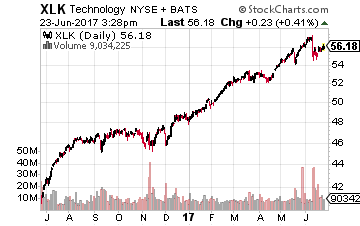 The Technology Select Sector SPDR Fund (NYSE: XLK) fell more than 5% in a single day in mid-June. And it still hasn't fully recovered.
On the same day, the Nasdaq took a major hit, falling over 2%. That same day the Dow Jones Industrial Average hit a new high. The last time this happened was 1999, right before the dot-com bubble burst.
Could the mid-June tech crash be signaling the bull market is soon-to-end? Or is this just another head-fake that has created an interim buying opportunity?
Tech stocks have been pushing the market higher for years but especially in 2017. In particular, it's the FAAMG stocks – Facebook (NASDAQ: FB), Amazon (NASDAQ: AMZN), Apple (NASDAQ: AAPL), Microsoft (NASDAQ: MSFT) and Google (NASDAQ: GOOGL) that are driving most of the gains.
These five companies make up over 40% of the Nasdaq index, with Apple, Amazon, Google and Facebook shares all up more than 30% in 2017.
The worry is that we're in a bubble; however, we're far from that. The tech sector still makes up just 20% of the S&P 500, where it made up close to 30% of the index during the dot-com era. As well, the current tech sector valuation speaks volumes, as the tech space is trading at just 24 times earnings, while in 2000 it traded at over 70 times.
While the pullback was alarming at the time, in hindsight, it was necessary given the run-up in tech stocks and the fact that most funds and investors had become overweight to tech. It appears to be more of a readjusting than anything.
Growth is still strong across the economy, as the S&P 500 posted 14% earnings growth in the first quarter and is expected to grow by 11% for full-year 2017. But a lot of that growth will likely come thanks to the tech sector.
Tech is still one of the few places investors can find robust earnings growth.
Facebook, Amazon, and Google are all expected to grow earnings by 20% or more next year. Meanwhile, the likes of Ford (NYSE: F) is expected to put out 4% earnings growth, and AT&T (NYSE: T) will see just 2% earnings growth.
But beyond the FAAMG stocks, there are a handful of tech companies that took the heat during the mini-crash but still haven't recovered like other names in the sector. That is, there are still buying opportunities created from the mini-tech crash. We've done the legwork to find some still cheap names that have a lot of growth left. With that in mind, here is the top three cheap tech crash stocks to own: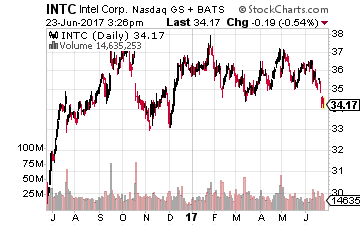 Cheap Tech Crash Stock No. 1: Intel (NASDAQ: INTC)
Shares of Intel are still down nearly 6% since the tech crash from a couple weeks ago. Meanwhile, Facebook has managed to recoup all of its stock price losses. Intel remains one of the cheapest tech stocks around, trading at close to 11 times next year's earnings estimates.
Part of the issue for Intel is that it's still labeled an old-school tech company. But the tech giant has been quietly moving away from selling computer chips for personal computers and into mobile chips. It recently inked a deal with Google to help companies shift data to the cloud.
As well, Intel is putting itself squarely in the driverless car market by buying up Mobileye for $15 billion. Mobileye helps self-driving cars become more 'aware.' Intel is a cheap stock with some growth left in the tank. Then there's its 3.2% dividend yield. It's managed to boost its dividend for two straight years and is paying out just 40% of its earnings via dividends.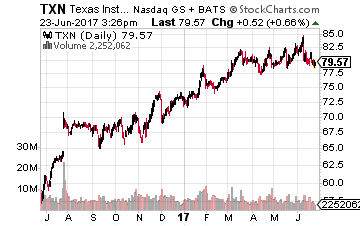 Cheap Tech Crash Stock No. 2: Texas Instruments (NASDAQ: TXN)
Texas Instruments focuses on the semiconductor space but is often overshadowed by Nvidia (NASDAQ: NVDA), which fell nearly 15% on the tech crash day. However, Nvidia has recouped all of that stock price loss, while Texas Instruments is still down 6% from that day. Valuation wise, even at 20 times earnings, Texas Instruments is incredibly cheap compared to Nvidia and other industry players.
Texas Instruments provides chips for everyday electronic devices like computers. While this business isn't sexy, there aren't many businesses that can compete with Texas Instruments' scale and low cost.
Still, Texas Instruments, like the high flying Nvidia or Advanced Micro Devices (NASDAQ: AMD), has exposure to growth markets, including renewable energy and Internet of Things. These markets will also bring about higher margins and support the company's growing dividend. The company has tripled its dividend in the last five years, now having upped its dividend for 13 straight years. Texas Instruments pays 2.5% dividend yield, which is just a 50% payout of earnings.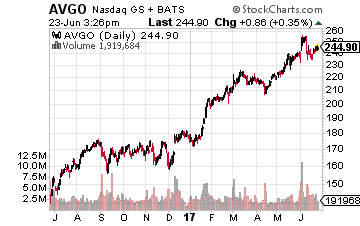 Cheap Tech Crash Stock No. 3: Broadcom (NASDAQ: AVGO)
Broadcom is another semiconductor stock, one that has been undergoing a mega-merger with Avago since 2015. But it also bought Brocade recently and is already the frontrunner when it comes to purchasing Toshiba's semiconductor business. With these acquisitions, Broadcom could become the number two player in the NAND flash memory space.
This comes as Broadcom is already one of the major semiconductor suppliers for Apple iPhones and Samsung Galaxy phones. Still, the stock is incredibly cheap for the type of growth it offers. Shares are trading at just 14 times next year's earnings estimates. Plus, its pays a 1.7% dividend yield, which is just a 30% payout of earnings. It's managed to up its dividend for seven straight years now.
In the end, the market is hung up on how the FAAMG stocks make up the majority of the stock market indices these days. As well, investors are getting a little uneasy given the run-up in shares of these mega tech stocks – hence the reset button that was hit a couple weeks back. This reset hit the entire industry hard, creating some unique opportunities among 'forgotten' and 'overlooked' tech stocks.
Sign up today for a FREE 'sneak preview' and find out the ticker of an advanced robotics stock that can lead you to massive long-term profits as manufacturing and business become more automated. This growth trend is still in its infancy so investors who hop on today could see decades of profits from just this one stock.
Click here to see Tony's latest recommendation.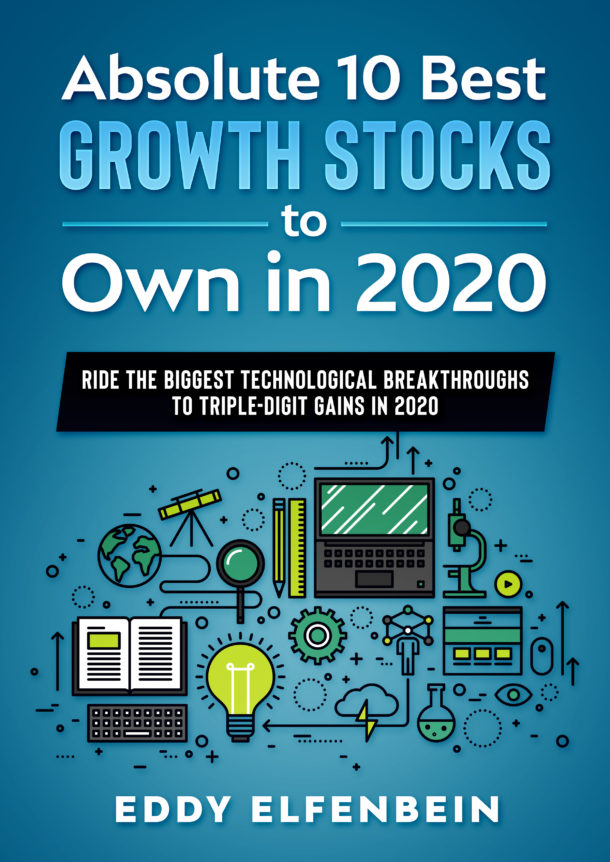 [NEW REPORT] Absolute 10 Best Growth Stocks to Own in 2020
Get the best 10 stocks to ride the 2020 tech explosion. 
One could be the most valuable stock of the next decade. 
Normally, I charge $20 for this report…
But, today...you can claim a copy absolutely free.
One stock alone has a chance at 167% profits in the next 12 months (or sooner). 
Enter your email below to claim a free copy while they last.