As of the end of last week, gold prices are down 46% from their September, 2011 peak. The share prices of gold miners, which normally trade in tandem with gold, are also down 46% from their highs – but they're up 39% year-to-date, in a rare instance in which gold-miner stocks have significantly outperformed gold. This trend should continue even as the price of gold starts to pick up, and this makes gold-miners attractive stocks to own – but there are still several gold-miners that are likely to be bad or even downright ugly for your portfolio.
The Good…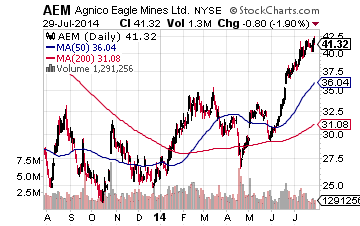 Agnico Eagle Mines (NYSE: AEM) is a Canadian miner that explores for, develops, and mines gold in Canada, the U.S., Mexico, and Finland. The firm posted a $407 million loss in 2013, on sales of $1.64 billion; but earnings per share (EPS) beat expectations by 165% last quarter, nearly doubling compared to the same quarter last year. Estimates for the current quarter were revised higher to +1,066%, coming off a loss in the same quarter last year. The company has grown rapidly over the past three years, increasing output from 230,000 ounces of gold in 2007 to 1.1 million ounces in 2013. Now it stands to benefit from the virtually inevitable rise in gold prices, as employment in the U.S. picks up, sparking inflationary pressures.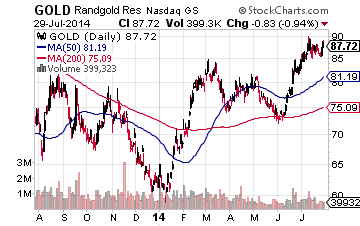 Rangold Resources (Nasdaq: GOLD) explores for gold and develops gold-mining properties in the African nations of Mali and Ivory Coast. In 2013, the firm reported net income of $278 million on sales of $1.14 billion. EPS were up a meager 5% in the most recently reported quarter, but estimates are calling for a 50% jump in EPS when the firm reports last quarter's results on August 7. Why the big surge in EPS? According to Barclays, which recently upgraded Rangold to "overweight," the firm is enjoying rising production driven by higher grades of ore, as well as declining capital expenditures. This double whammy is leading to more net cash and the strong possibility that Rangold may bump up its dividend, currently yielding 0.6%.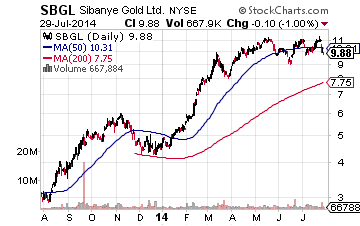 Sibanye Gold (NYSE: SBGL) is the most speculative play of the cohort. The company was spun-off into existence by South African gold-miner Gold Fields (see below) following violent labor strikes, with Sibanye taking ownership of the most volatile mines. But when gold prices jumped on geopolitical worries on July 17, shares of Sibanye Gold jumped by 4%, besting the gains made by most miners. Sibanye's EPS grew by 140% last quarter, and it has been growing EPS at the average pace of 64% over the past three quarters. The firm reported net income of $226 million on sales of more than $2 billion in 2013, and EPS are expected to grow by 22% in 2014 – even without the anticipated rise in the price of gold.
… The Bad and the Downright Ugly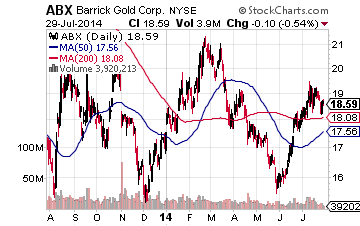 When it comes to gold miners, bigger is rarely better. Big miners take on big projects with big execution risks. Bigger projects tend to be in more remote locations with greater geopolitical risks. And big miners tend to overextend themselves when gold prices are high, leaving themselves poorly positioned for when gold prices decline. Barrick Gold (NYSE: ABX) is a prototypical example of this phenomenon, with EPS "growth" of -78% last quarter, and a -68% three-quarter average. The company generated a whopping $10 billion loss on $12 billion in revenue in 2013, and they carry a 40% debt-to-capital ratio, even after selling off many noncore assets. This stock should be avoided at all costs.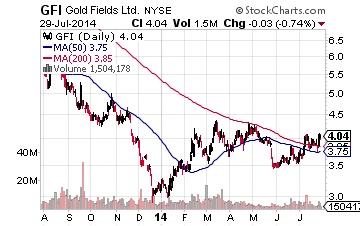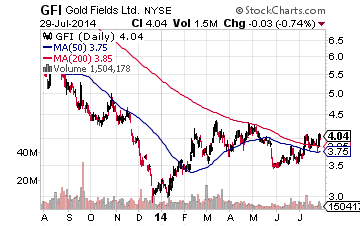 Gold Fields (NYSE: GFI) tried to stick its most troubled mines with Sibanye Gold, but a few years later, Gold Fields is suffering while Sibanye prospers. Last quarter, Gold Fields saw EPS fall 67%, bringing its three-quarter average for EPS growth to -80%. The firm has "grown" earnings by -58% per year over the past three years, with a three-year sales "growth" rate of -22% per year. Ouch! Gold Fields' mines feature much higher production costs than average, and its labor forces in South Africa and Ghana remain unionized with unrest threatening to break out at any moment. When Gold Field spun off Sibanye, the firm may have thrown out the baby and saved the bathwater; dirty as it is.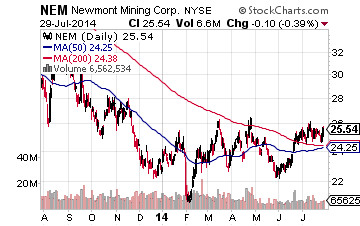 Finally, Newmont Mining (NYSE: NEM), Barrick Gold's plodding dance partner with two left feet, that couldn't get their proposed mega-merger done. Newmont is a big company considered so poorly run that bad luck is its saving grace: Local resistance in Peru delayed Newmont's plans to move ahead on a large project, which analysts think would be a gigantic money pit. One analyst even said the project would have put Newmont in "difficult financial straits." I doubt the Peruvian protesters were looking out for Newmont's best interests, and I wouldn't trust them to safeguard my investment dollars in the future – so I would avoid Newmont Mining stock, except for possibly as a short-sale.
Conclusion
Gold is considered an "alternative investment," and one that can do quite well in a number of investment environments. During boom times, jewelry and industrial demand for gold surge; during the subsequent inflationary period, gold increases in demand as a hedge against loss of purchasing power; and during economically depressed times, gold is turned to as a rock of stability. After a historic ten-year run-up, gold has been middling for the past two years – but with the unprecedented monetary stimulus of the Federal Reserve and other central bankers, gold is likely to perform well over the next 2-3 years, and well-positioned gold-miners should perform even better than the precious metal itself.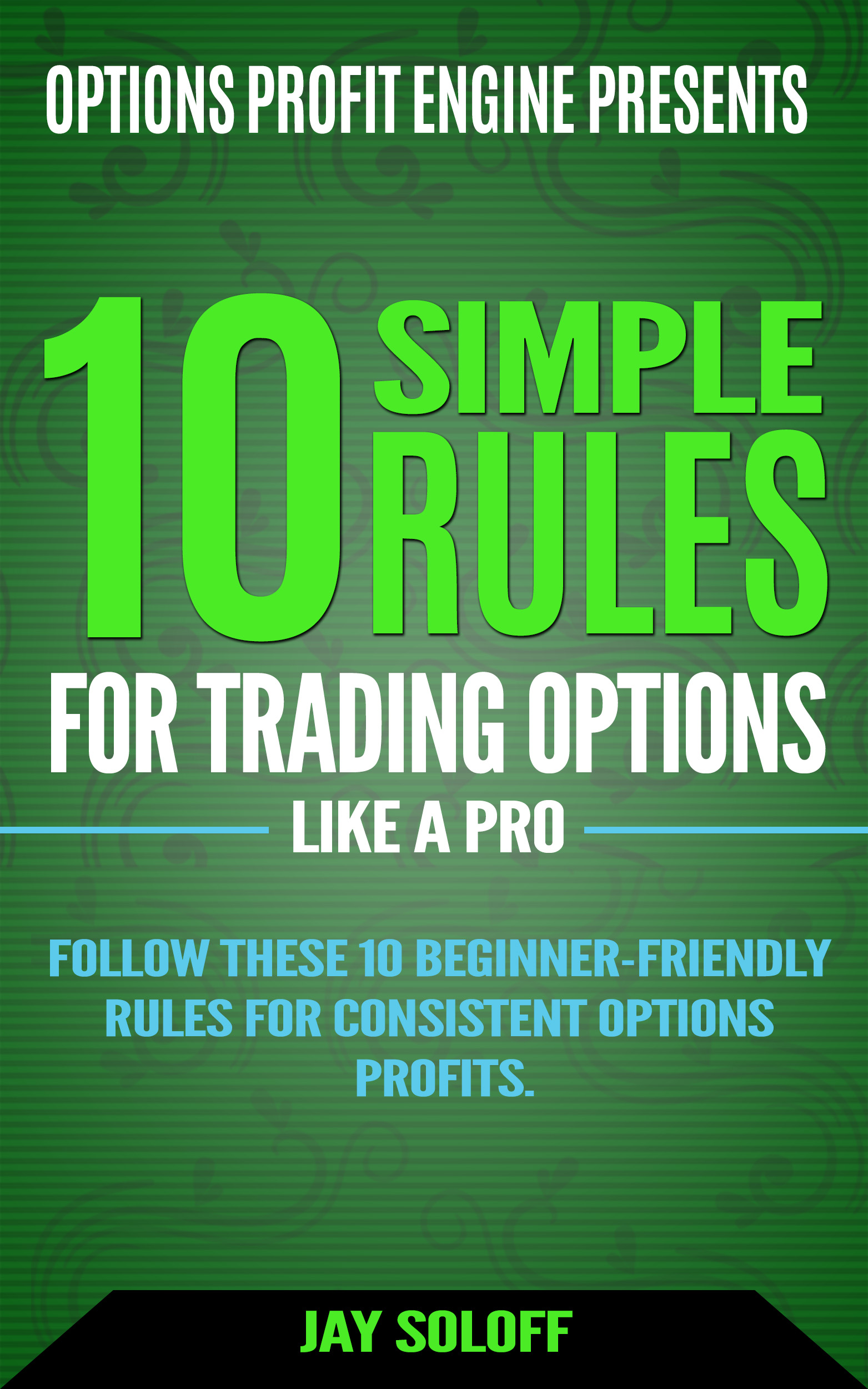 [FREE DOWNLOAD] 10 Simple Rules for Trading Options Like a Pro
Follow these 10 simple rules from 20-year professional options trading veteran, Jay Soloff and start earning a reliable extra income from options.
NO prior experience needed to master these 10 simple options trading rules. 
Enter your email below and receive access to this FREE guide...