The IPO market feels like a high stakes game of roulette sometimes. However, you can stack the odds in your favor by focusing on IPOs that actually have sustainable business models.
It's a slow go for the IPO market in 2016. In fact, it's been abysmal. So far, we've only had 77 IPOs through the third quarter, where we had 170 at this time last year and 275 IPOs through three quarters in 2014.
However, we just had the biggest IPO week of 2016. This will put September as the best month of the year for IPOs. Ideally, the strong month will help quiet the rumblings that the IPO market is faltering.
Lest we forget, we have seen several "wins" in the 2016 IPO market, with Twilio (NASDAQ: TWLO) — a June IPO — having seen its shares soar more than 300% since then.
Overall, the IPOs we've seen in 2016 are doing relatively well — with nearly 80% trading above their IPO prices, and the average IPO being up 36% since their debut. However, not all IPOs are created equal. It pays to do your due diligence, where PhaseRX (NASDAQ: PZRX) — a May IPO — has seen its stock tumble 50% from its first listing price.
It is worth noting that IPO activity does tend to slow down before and after the Presidential election. But while many investors are caught up in deciding how the candidates will impact their portfolios, or deducing the Federal Reserve's interest rate plans, studious investors can find opportunity in the forgotten IPO market.
Without further ado, here are the top 2016 IPOs investors should be buying or selling:
2016 IPO To Buy No. 1: e.l.f. Beauty (NYSE: ELF)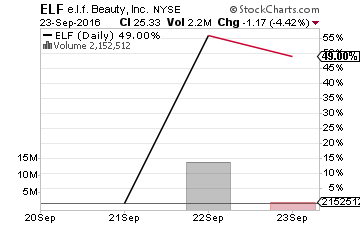 e.l.f. Beauty shares have soared 60% from their IPO which launched on September 23, but there could be more to come for this low-cost cosmetic supplier. The "beauty" of e.l.f. is that it's managed to resonate with millennials.
This puts e.l.f as a growth brand, with the opportunity to take market share from larger cosmetic brands. It already sells its products in major stores, such as Target (NYSE: TGT), and it has a history of both sales and earnings growth.
Sales grew by nearly 33% from 2014 to 2015, while earnings before interest and taxes were up over 60%. Still, there's a huge market opportunity for e.l.f., where it's $200 million in sales only accounts for 2% of the $8 billion U.S. cosmetic industry.
2016 IPO To Buy No. 2: The Trade Desk (TTD)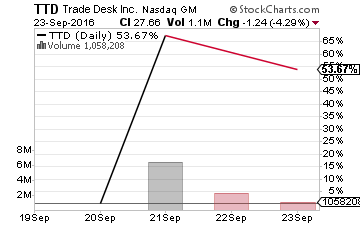 The Trade Desk, a tech platform for ad buyers, has soared 67% from its IPO price. Basically its platform allows advertisers to bid in real time to run ads in slots. With the ad market ever growing and changing, this is a unique company.
Revenue for the first half of 2016 grew over 80% on a year-over-year basis. And the platform works — where The Trade Desk boasts strong client retention. For 2014 and 2015, its retention rate was above 95%. Continued growth in the ad market is good news for The Trade Desk and shareholders despite the company's already solid run.
2016 IPO To Buy No. 3: US Foods (NYSE: USFD)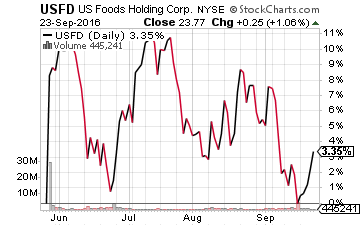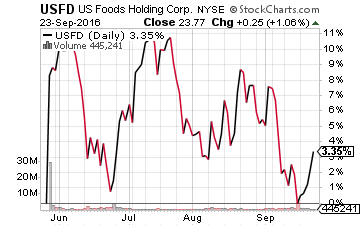 US Foods is one of the major foodservice companies in the U.S., but since its May IPO, shares are flat. With its IPO money, it paid down debt and is now focusing on growing margins and further expanding with independent restaurants.
There's also the potential to further consolidate the foodservice industry, where there remains a number of smaller foodservice companies that US Foods can purchase to quickly grow its footprint.
Now, just as there are buying opportunities in the IPO market that investors overlook, there's also the IPOs that investors kick themselves for missing out on. However, many hot IPOs are great stocks to own — in the beginning — then the hype wears off and they come crashing back to reality. With that in mind, here's the top three IPOs to sell:
2016 IPO To Sell No. 1: Twilio (NASDAQ: TWLO)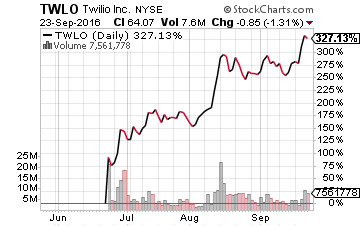 Twilio has been one of the best performing IPOs of 2016, but no surprise there, as it's also been the most hyped. Shares are up 311% from its IPO price. Quite a run for a company that sends text messages on behalf of customers, which includes Uber and Whatsapp.
Twilio is now trading with a $5 billion market cap. Given its $220 million in sales, the stock is trading at over 20 times sales. The competition can change the story for Twilio very quickly, as it appears lower cost alternatives like push notifications are already cutting into growth. Revenues for Twilio grew by 88% in 2015 but is expected to fall to just 30% in 2017.
SEE ALSO: Buy These 3 Stocks that Insiders Love
2016 IPO To Sell No. 2: At Home (NASDAQ: HOME)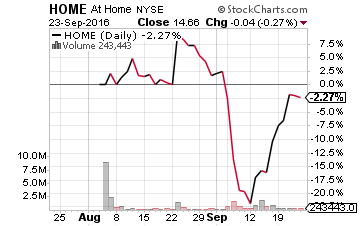 At Home shares are basically flat from its August IPO, and for good reason. The company is a retailer of home decorations, a somewhat saturated market. And it doesn't help that At Home is a highly leveraged company.
The big concerning factor for At Home is that it has no e-commerce presence and no plans to get one up and going. Another company that waited too long to invest in e-commerce was Pier 1 (NYSE: PIR), which is also a home decor retailer. Shares of Pier 1 have fallen 80% in the last three years as it continues to lose market share. And for comparison, At Home trades at 1.2 times sales, while Pier 1 is at 0.2 times.
2016 IPO To Sell No. 3: Everbridge (NASDAQ: EVBG)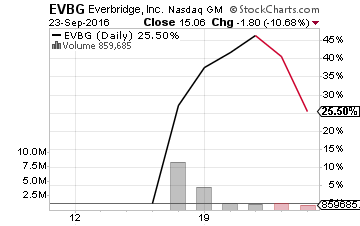 Everbridge was one of the IPOs from last week and its stock is up nearly 50% since then. However, that might be too much of a move for a company with slowing growth. It's a software company that provides enterprise and safety communications.
The company has never reported a profit and the competition in the industry is robust — with established players such as BlackBerry (NASDAQ: BBRY), Emergency Communications, PagerDuty, xMatters and Doc Halo in its respective markets.
In the end, investing in IPOs doesn't have to be a roulette game. Some IPOs simply go by the wayside because they don't have "sexy" business models, others simply get overhyped. Whatever the case, there's still money to be made in IPOs.
While you should do more research on the stocks above to determine if they are right for your portfolio, I have just released a research presentation on an income stock that is one of the safest ways for earning a 7% yield on your money.
With banks paying such minuscule interest to savers everywhere, I figured that doing a thorough analysis on this company and the safety of its dividend payment would be beneficial to investors who need a reliable stream of income but might not be comfortable buying high-yield stocks because of the associated risks.
In this presentation, I will show you exactly why this company can pay a 7% dividend a year every year on their investment and how this stock is an income stock gem that you can buy and hold forever.
Click here find out more about this 7% stock you can buy and hold forever.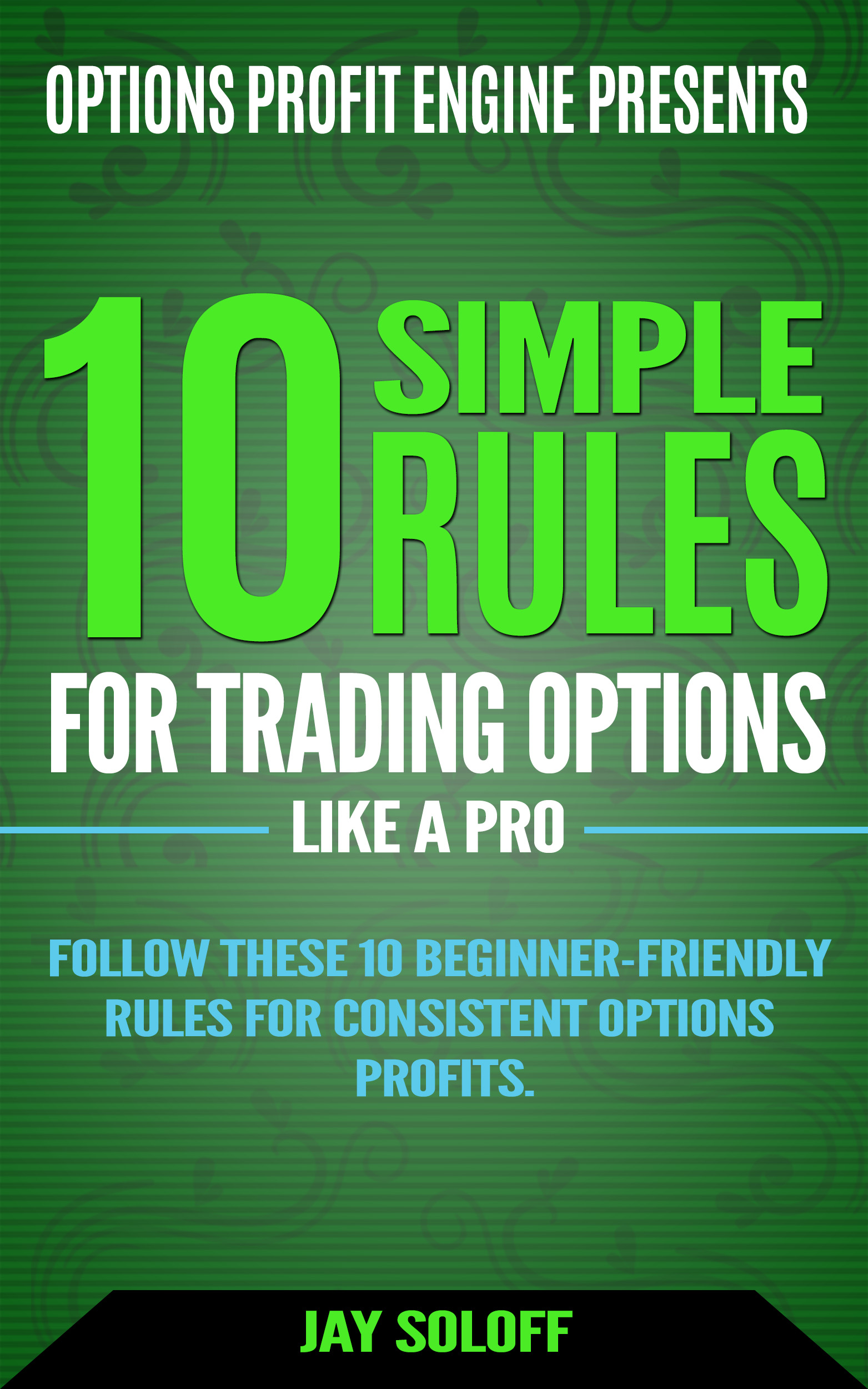 [FREE DOWNLOAD] 10 Simple Rules for Trading Options Like a Pro
Follow these 10 simple rules from 20-year professional options trading veteran, Jay Soloff and start earning a reliable extra income from options.
NO prior experience needed to master these 10 simple options trading rules. 
Enter your email below and receive access to this FREE guide...