After a June and July of regular record highs for the major U.S. stock indexes, the markets are starting to look shaky, and an overdue market correction may be closer than a lot of analysts realize. As I write this the market has experienced two significant down days out of the last three. The higher, downside volatility shows that the market is getting shaky, and it would not take much to push it into a full, 5% to 15% correction.
The market corrected at least 10% in 2010, 2011 and 2012. Since April 2012, the worst short term drop has been 4.5% in August of 2013. Stock investors have become complacent and even an initial 5% down move in the indexes will, most likely trigger enough panic selling to produce a full-fledged 10% to 15% correction. However, there is not enough froth or over-valuation in the market to indicate any potential of a bear market, 20% or greater drop.
For income investors, the general recommendation is to hold onto your quality dividend paying stocks and pick up more shares on the cheap when the market and individual share prices move lower. However, there are a couple of categories of income investments that will suffer the most when the market corrects It is both emotionally tough to ride out a 25% to 30% drop and you are missing an opportunity for easy profits by not selling before the drop and picking up these investments on the double cheap.
I think the better closed-end funds (CEFs) provide unique and attractive income opportunities compared to other types of dividend focused funds. With exchange-traded shares, the market prices of CEFs often vary considerably from net asset values, trading at premiums or discounts to the actual portfolio values. Premiums and discounts can swing significantly, amplifying up or down moves in the NAV values. In a correction, premiums will shrink, or move all the way to discounts. Discounts will widen as the market drops. For example, a 10% drop in a CEF's NAV combined with a 10% negative change in the premium or discount equals a 20% drop, double the market decline. Here are four equity-focused closed-end funds trading at premiums to NAV that likely will see significant premium and share price declines in a market correction.
GAMCO Global Gold Natural Resources & Income Trust (NYSE: GGN) currently trades at a 2.7% premium to NAV and yields 9.9%.
DNP Select Income Fund Inc. (NYSE: DNP) is priced at a 1.6% premium to NAV and yields 7.6%.
Gabelli Equity Trust Inc (NYSE: GAB) carries a 1.4% premium and an 8.1% yield.
AllianzGI NFJ Dividend, Interest & Premium Strategy Fund (NYSE: NFJ) is trading 0.3% above NAV and sports a 9.5% yield.
These are quality funds that will be much cheaper, during a market correction. Sell now and buy back when you can pick up assets at 90 cents on the dollar, or even better.
The other category to strongly consider selling before a market correction hits are any small-cap, dividend paying stocks you own. Over the last several market corrections, the Russell 2000 index, which is the standard for small cap stocks, experienced declines about 50% greater than the total drop in the S&P 500 index value. When things get ugly, the small caps generally sell off harder than the better known large caps. In fact, nervous investors will move out of small caps into what are viewed as safer large caps, leaving small company share prices at deep discounts to their value based on dividend yields.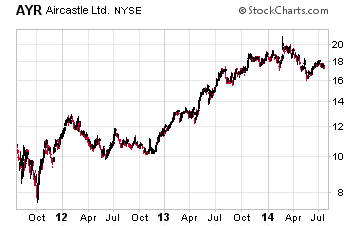 As a result, a 10% drop in the S&P 500 could translate into 20%, 25% or even greater declines in your small cap holdings. You can add some significant gains to your portfolio by selling your favorite small caps before a correction and buying back near the bottom of the downturn. As an example, aircraft leasing company Aircastle Limited (NYSE: AYR) is a financial stable company that declined in value by an average of 29% in each of the last three corrections. The share price has recovered to new highs each time, producing 40% plus returns on the rebound.
A declining market puts pressure on all stocks, but for some it exposes them for the truly bad stocks they are. During good times they can mask risky bets, high debt levels, and poor management, but when the market turns these stocks can go south quickly. Some even buckle under the pressure and are forced into bankruptcy, wiping out investors along the way.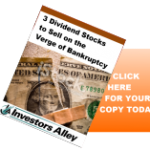 Unfortunately with our seemingly ever-rising markets some investors have become complacent about keeping these bad stocks out and have even added them to their portfolios. This is particularly true of income investors chasing high yields. I've recently released a new report called, "3 Dividend Stocks to Sell on the Verge of Bankruptcy". In this timely, in-depth report you'll discover not only three quite popular high-yield stocks that could take out investors, but also my practiced method of ferreting out such stocks and how to apply that to your current portfolio or any stocks you're considering adding.
If you've got money in dividend stock you can't to pass this up. Normally the report is only for subscribers of The Dividend Hunter, but you can pick it up for next to nothing plus get a free 3 month subscription to The Dividend Hunter. For more, CLICK HERE.