Soaring to new highs and still having many tailwinds supporting its price increase, it looks like the dollar's record rise will not quit soon. Consider these three dividend stocks that will become more profitable as the dollar becomes more valuable. 
Now that we're closer than ever to having Donald Trump in the White House, we've taken another pass at stocks that will get a Trump boost.
Regardless of how investors feel about Trump's policies, he is 'for' America. After all, his campaign slogan was: "Make America Great Again."
To start, Donald Trump has made domestic stocks great again without stepping foot in the White House. Trump proved everybody wrong, including the stock market. Most felt that a Trump victory would spell doom for the markets; however, it's been just the opposite with the S&P 500, Dow and Nasdaq all consistently making new highs.
But, in truth, the market isn't 'materially' higher since the election. Rather, there has been a rotation into certain industries. Investors have been heading into domestic stocks, companies that do most of their business in the U.S.
This comes as most of Trump's policies support a strong dollar, including his plans to increase government spending, cut taxes and loosen financial regulation.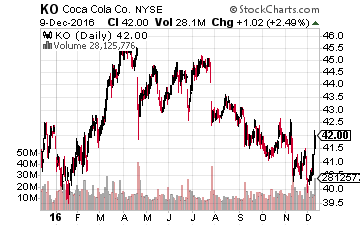 A strong dollar isn't 'great' for multinational companies like Coca-Cola (NYSE: KO) or Procter & Gamble (NYSE: PG), but it is great for smaller companies that do most of their business in the U.S.
With that in mind, we've done the hard work of finding stocks that get most of their revenues from within the U.S. We're no stranger to finding domestic stocks that can outperform. Just this spring we highlighted six strong dollar buys. Since then, the average return for these six stocks is 30%.
But we're going a step further, making sure our new domestic stocks are offering solid dividends. As Trump takes the office next year, the move into domestic stocks should stiffen as the President-elect's policies are implemented. With that in mind, here are the top three domestic dividend stocks:
Best Domestic Dividend No. 1: Rockwell Collins (NYSE: COL)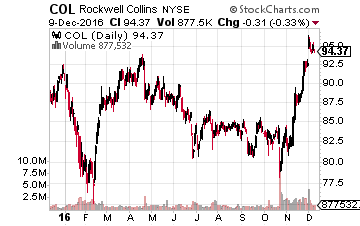 The defense industry has been a major benefactor of Trump's win since he's promised to build up the U.S. military. The iShares U.S. Aerospace & Defense ETF (NYSE: ITA) has soared 13% since the election. Meanwhile, many of the major defense contractors are up big too. General Dynamics (NYSE: GD) shares are up 17% in the last month and Lockheed Martin (NYSE: LMT) shares are up 12%.
However, there is still a 'lowly' opportunity in defense names. Rockwell Collins, a supplier of aviation electronics to commercial and military customers, has seen its shares underperform most of its counterparts as of late. Its shares are up just 5% in 2016, as the overhang of its pending B/ E Aerospace acquisition weighs on the company. Rockwell does pay an underrated 1.4% dividend yield, which is just a 24% payout of earnings.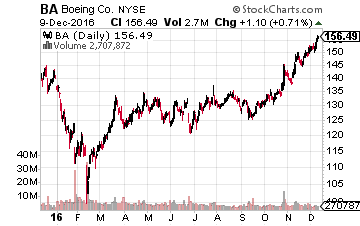 However, the market hasn't taken kindly to the B/E Aerospace deal with activist investor, Starboard Value, pushing Rockwell Collins to abandon the purchase. Either way, the company is well positioned. With the B/E Aerospace buyout, Rockwell would be able to expand its cross-selling opportunities, as they operate in different niches of aircraft products. If it goes at it alone, Rockwell has a massive backlog with Airbus and Boeing (NYSE: BA) that will keep cash flows steady for a while. Plus, over 60% of its sales are within the United States.
Best Domestic Dividend No. 2: Trinity Industries (NYSE: TRN)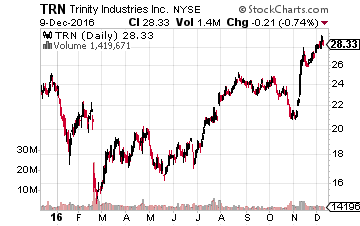 Trump is fired up to spend money. He's planning to spend a trillion dollars on making American infrastructure great again. One of the big benefactors of such spending will be Trinity Industries. Trinity supplies various infrastructure related goods like aggregates, barges, steel structures and highway products to the construction industry. Therefore, more spending on bridges, roads, railroads, and airports is a boom for Trinity.
SEE ALSO: Tim Plaehn's 'Top Dividend Stocks to Own in 2017'
Plus, Trump's inclination to make the United States energy-independent is a positive for Trinity, where we'll see a boost in railcar demand to move oil, coal, etc. Trinity is a leading maker of railcars and tank cars. Trinity pays a 1.5% dividend yield and has upped its dividend for five straight years now. Yet it is still only paying out just 20% of its earnings via dividends.
Best Domestic Dividend No. 3: The Geo Group (NYSE: GEO)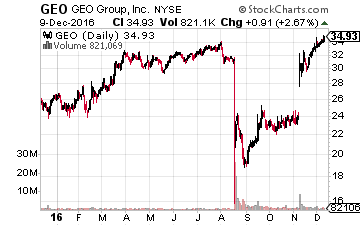 One of Trump's primary concerns has been illegal immigration. Private prisons have been a misunderstood opportunity associated with this. The stock prices of the major players went on a wild ride earlier this year after the Bureau of Prisons said it would end the existing contracts with prison operators due to lackluster performance.
However, that was before Trump won the election. Now, the bearishness surrounding the major private prison operators is subsiding. Yet, there are still buying opportunities, and they're offering rich dividends.
The Geo Group is a real estate investment trust that owns private prisons. This company is obligated to pay out at least 90% of its income as dividends. It pays a 7.6% dividend yield and has upped its annual dividend for three years. The Trump thesis for Geo Group and private prisons is that with the immigration reform plan, the prison system will get overloaded rather quickly. This will take place as Trump pushes illegals (some 11 million undocumented workers in the U.S.) through the legal system and the deportation process.
The Trump Administration will likely have to return to prison privatization. Note that Geo Group gets 85% of its revenues from within the U.S. and already has a relationship with Customs Enforcement and the U.S. Immigration. Almost 20% of its revenues were derived from these two organizations last year.
Stocks like the three above represent some interesting ways you can invest in the market for dividends and might be worth some more research. The majority of my research time goes into finding the market's most stable high-yield stocks that pay investors bigger income checks than can be found in the most popular dividend stocks.
Safe stocks that have high current yields and the potential for dividend growth are an integral part of the income strategy for my newsletter, The Dividend Hunter. This is where I recommend the market's strongest, most stable high-yield dividend payers, and there are 20 high-yield stocks currently available through my Monthly Dividend Paycheck Calendar system for generating a high monthly income stream from the market's most stable high-yield stocks.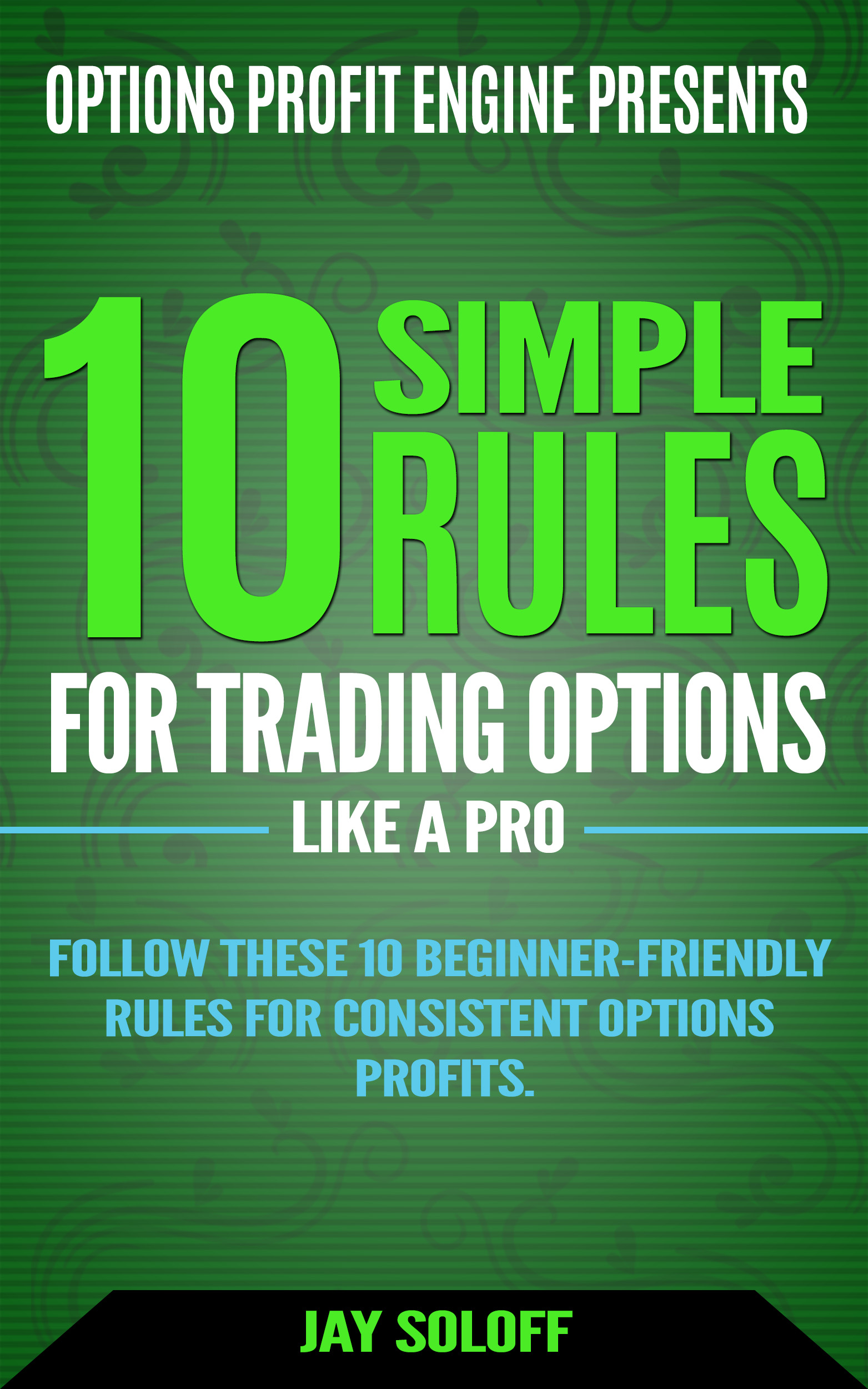 [FREE DOWNLOAD] 10 Simple Rules for Trading Options Like a Pro
Follow these 10 simple rules from 20-year professional options trading veteran, Jay Soloff and start earning a reliable extra income from options.
NO prior experience needed to master these 10 simple options trading rules. 
Enter your email below and receive access to this FREE guide...