They are part of a REIT subsector experiencing a wave of intense growth throughout the entire United States, and Tim Plaehn's analysis reveals that these three investing ideas could be a lucrative and safe way to make money in the long-term.
One of my associates at Investors Alley recently made this observation:
"All over Atlanta right now there are massive multi-family projects going up everywhere and it's the same for other cities like Atlanta that are seeing lots of young professionals moving into the city and rent instead of buying a house. Could be a long-term trend going on here of increased urbanization and people renting vs. buying."
It's great to get an investment idea that derives from actual on the ground observation. I had not recently spent a lot of time looking at the apartment owning REIT companies, so this was a good push to dig in. My first impression is that there are some very large multi-family REITs, and this is a significant REIT subsector. My research came up with 13 apartment-focused REITs. Four would be classified as large cap, with market values from $10 billion up to $29 billion. The next group includes five midcap REITs with market values ranging from $1.6 billion up to $6.7 billion. Finally, I found four small cap multi-family REITs with market values of $230 million to $350 million.
A review of yields and dividend growth rates in the sector shows a surprising level of uniformity. All of the large and midcap REITs carry yields between 3% and 4%, with the majority showing high single digit year-over-year growth rates. When you drop down to the small cap companies, two out of four carry 9.5% to 10% yields, with no histories of dividend growth. The two small cap companies with growth potential yield 6% to 7%. As I noted at the start of the article, the on-the-ground report from my millennial aged associate focuses on finding the growth and total return potential out of the bunch. After a review of recent results, here are several multi-family REITs that stand out from the pack.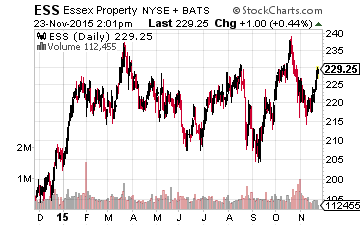 Out of the large cap group, Essex Property Trust Inc (NYSE: ESS) has grown its market value by 50% over the last two years, from $10 billion to over $15 billion. The ESS dividend is growing at a 10% annual rate. The company's properties are located in Southern California, the San Francisco Bay area and Seattle. ESS currently yields 2.7%.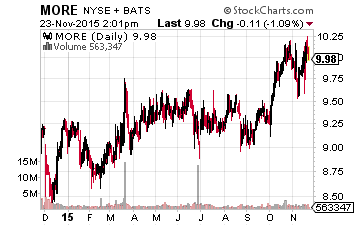 From the midcap REITs, Monogram Residential Trust Inc (NYSE: MORE) offers significant growth potential. This company is new, with a November 2014 IPO. Monogram acquires and develops high-end apartment communities in popular coastal and growth markets, with Atlanta as a good example of the company's target market. Since the IPO, MORE has only paid four dividends, and the current yield is 3.0%. For the first nine months of 2015, core FFO per share is up 24% compared to a year ago, and the current dividend rate is 72% of that cash flow generation. This REIT has the potential to be a mid-teens dividend growth rate company for at least the first several years of its time as a publicly traded company.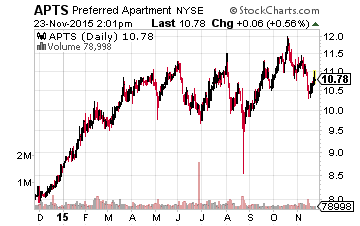 Preferred Apartment Communities Inc. (NYSE: APTS) is a small cap REIT with significant growth potential. This five-year-old REIT has steadily increased its dividend, with up to two increases each year. The current dividend is up 10% compared to a year ago. As a small cap company, APTS carries a higher yield than its larger peers. The current yield is 7.1%. Based on the $240 million market cap, APTS will have a more volatile share price than the large-cap apartment REITs. The tradeoff is that attractive and growing dividend yield.
Finally, although I do not personally recommend any REIT that is not growing its dividends, I know that there are some of you out there that would be interested in the high-yield, monthly dividend companies so here they are:
Bluerock Residential Growth REIT Inc (NYSEMKT: BRG)
Independence Realty Trust Inc (NYSEMKT: IRT), which just acquired another high-yield multi-family small-cap REIT, Trade Street Residential, Inc.
As always, do your own in depth research before buying into any of the REITs discussed here.
Finding companies that regularly increase their dividends is the strategy that I use myself to produce superior results, no matter if the market moves up or down in the shorter term. The combination of a high yield and consistent dividend growth in stocks is what has given me the most consistent gains out of any strategy that I have tried.
And, there are currently over twenty of these stocks to choose from in my Monthly Paycheck Dividend Calendar, an income system used by thousands of dividend investors enjoying a steady stream of cash.
The Monthly Dividend Paycheck Calendar is set up to make sure you receive a minimum of 5 paychecks per month and in some months 8, 9, even 12 paychecks per month from stable, reliable stocks with high yields. If you join my calendar by Monday, November 30th you will have the opportunity to claim an extra $4,980.50 in dividend payouts by January.
The Calendar tells you when you need to own the stock, when to expect your next payout, and how much you can make from stable, low-risk stocks paying upwards of 12%, 13%, even 15% in the case of one of them. I've done all the research and hard work; you just have to pick the stocks and how much you want to get paid.
The next critical date is Monday, November 30th (it's closer than you think!), so you'll want to take before that date to make sure you don't miss out. This time, we're gearing up for an extra $4,980.50 in payouts byJanuary, but only if you're on the list before the 30th. Click here to find out more about this unique, easy way of collecting monthly dividends.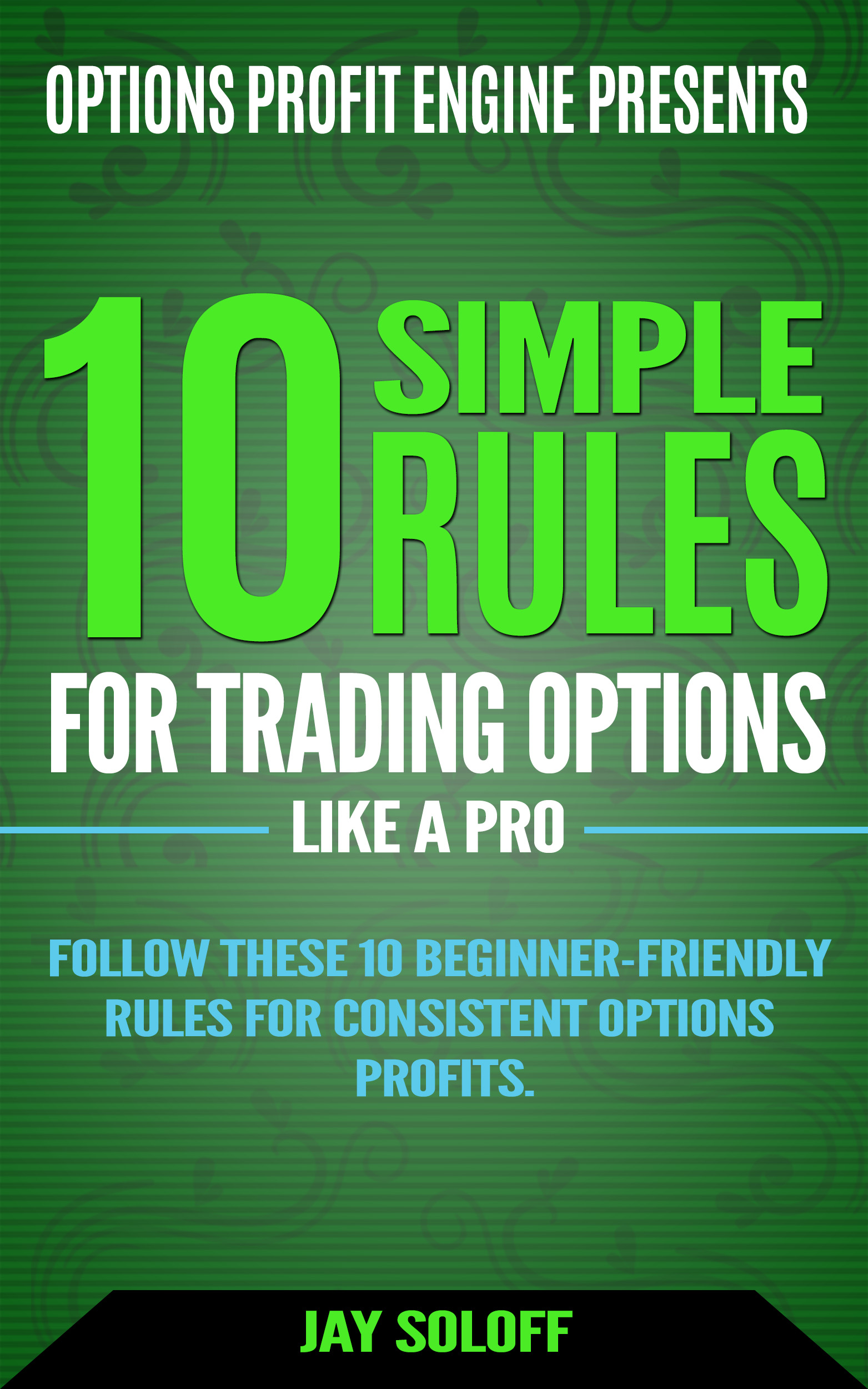 [FREE DOWNLOAD] 10 Simple Rules for Trading Options Like a Pro
Follow these 10 simple rules from 20-year professional options trading veteran, Jay Soloff and start earning a reliable extra income from options.
NO prior experience needed to master these 10 simple options trading rules. 
Enter your email below and receive access to this FREE guide...