"Defensive stocks" are stocks with business operations that aren't highly correlated to the economic cycle. For this reason, "defensive stocks" are often referred to as non-cyclicals. These stocks tend to perform well during economic downturns, and they usually hold up better during a market correction. For investors and traders who aren't yet willing to pull out of this market, but would like to increase their defensive positioning ahead of a widely predicted broad-market pull-back, these are three of the best non-cyclical stocks to consider adding to your portfolio:
This Flavor and Fragrance Maker Looks Sweet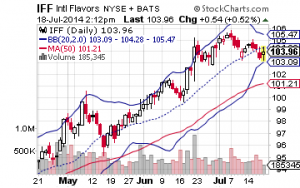 International Flavors and Fragrances (NYSE: IFF) supplies fragrance compounds for commercial fragrance manufacturers, and flavor compounds for the food and beverage industry. In 2013, the firm reported net income of $354 million on sales of $2.95 billion. Although a mid-cap firm valued at roughly $8.5 billion, International Flavors and Fragrances supplies companies in non-cyclical industries, and thus it can be considered a defensive growth holding.
International Flavors and Fragrances' earnings per share (EPS) have been growing at a steady but unexciting annual pace of 11% over the past three quarters. "Unexciting" is a good thing in this environment! Estimates for the current quarter – the results of which will be released on August 5 – have been revised up to +18%, and the firm beat earnings expectations by nearly 6% last quarter. The stock chart for International Flavors and Fragrances to the right shows that its shares have been in a consistent uptrend for the past three months, but have recently dipped back to find support at their bottom Bollinger band (lower blue line), well above their 50-day moving average (red line). This is excellent technical positioning to enter the stock.
Sometimes, Defense is the Best Defense of All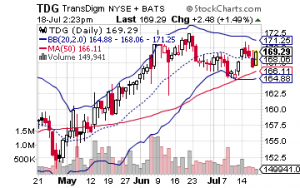 TransDigm Group (NYSE: TDG) designs and manufactures actuators, controls, ignition systems, gear pumps, and other components that are used in nearly every commercial and military aircraft in service today. With geopolitical conflicts in the Middle East, Eastern Europe, Southeast Asia, and elsewhere suddenly threatening to boil over, it's definitely wise to have some exposure to defense contractors. Firms like TransDigm tend to hold up during economic downturns since governments always manage to find money to spend on weaponry.
Regardless of your feelings on these budding conflicts, if TransDigm can make or save you money, you can put it to whatever use you like. Last quarter's EPS were up by just 2% year over year, but the current quarter is estimated to come in at +65% when results are announced in early August. Like International Flavors and Fragrances, TransDigm has been in an uptrend the past three months, and has recently pulled back to find support. I like TransDigm as a defensive holding for the rest of 2014 and beyond.
When All Else Fails, This Stock is Almost 'Good as Gold'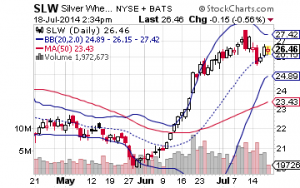 Silver Wheaton (NYSE: SLW) has a unique business model: Rather than digging silver out of the ground, like a silver miner, Silver Wheaton acquires silver through forward purchases, thereby mitigating the mine-specific risks of other silver stocks. Silver Wheaton is intended to be a "pure play" on silver, unhedged so that investors can experience the full benefits of silver's price appreciation.
Of course, this works both ways, and with silver down over the past two years, Silver Wheaton's shares have underperformed. But since bottoming out in June, silver and Silver Wheaton have both posted gains, and with geopolitical and global economic uncertainty at their highest points in months, loading up on "SLW" – and even physical rounds of silver – may be a wise idea.
Conclusion
The objective of holding "defensive stocks" in a portfolio is risk mitigation. Rather than trying to exit the market altogether, savvy investors can shift their investments – or at least allocation weightings – in favor of defensive, non-cyclical names. Oftentimes, these stocks can even produce positive returns while the rest of the market falls, but even if not, then they should experience lighter losses. If the market continues in a bullish trajectory, then perhaps you'll miss out on some outsize gains, but these three names should outperform regardless of the broad-market's directionality.
And if you're really looking to buttress your portfolio for a correction and fight back against the War on Your Income, check out new analysis from The Dividend Hunter's Tim Plaehn on how to build a bullet proof high-yielding dividend portfolio, no matter what's going on in the world or which way the market's headed. Click here.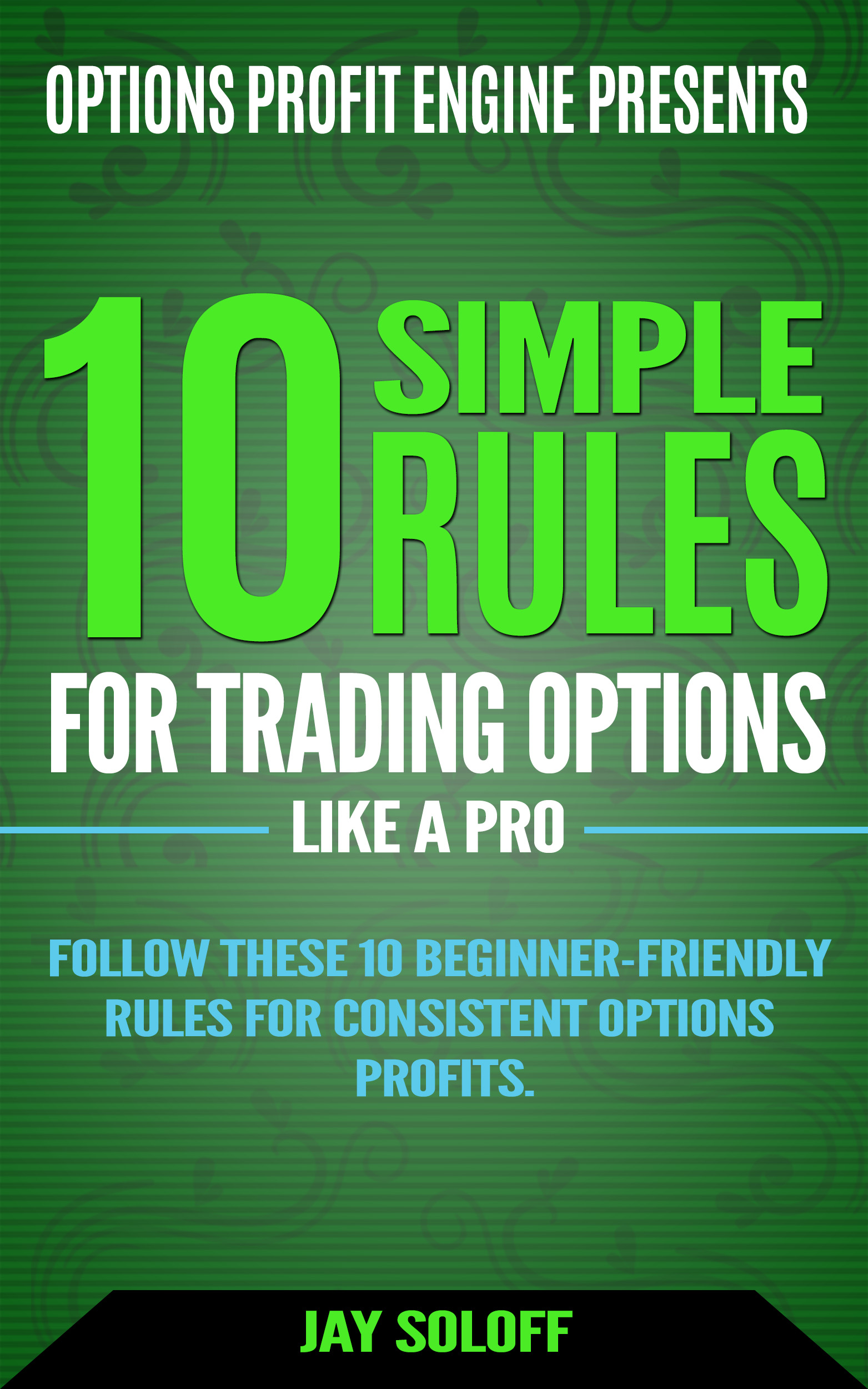 [FREE DOWNLOAD] 10 Simple Rules for Trading Options Like a Pro
Follow these 10 simple rules from 20-year professional options trading veteran, Jay Soloff and start earning a reliable extra income from options.
NO prior experience needed to master these 10 simple options trading rules. 
Enter your email below and receive access to this FREE guide...