Jumping up 8% after the election of Donald Trump, the biotech sector can still gain 20% more before it reaches back to its 52-week high. Don't miss out on what could be the biggest rally the market sees in 2017. Here are three stocks that could lead the way.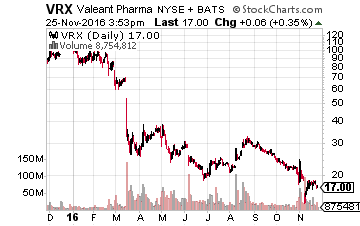 Christmas came early for biotech investors in 2016. The unexpected "clean sweep" by Republicans ignited a huge rally in this beaten down sector of the market. Both the pharma and biotech industries, as well as their shareholders, had been quite fearful of new harmful legislation and regulation if the Senate and the House of Representatives had turned over. Bad actors in the industry like Valeant Pharmaceuticals (NYSE: VRX) will and should continue to come under scrutiny, but stringent new rules that could stifle innovation and hinder business models in the industry seem off the table for now. This is something the sector celebrated with great glee.
The week after the election, the biotech sector had its best weekly performance in more than 15 years. It did give back a tiny bit of that large rally as the sector consolidated and some profit taking occurred, which was more than understandable. Interestingly, small caps continue to outpace their larger brethren by a significant margin in regards to performance.
Part of this is thanks to small caps across the market being strong performers ever since Donald Trump's surprising election and the correlated rise in the dollar, which will squeeze the profits of large multi-nationals further. The Russell 2000 (the small cap index) is up nearly 14% over the past two weeks or so, an impressive performance to say the least.
Small and mid-cap biotech and biopharma concerns are also rising on renewed hopes of increased M&A activity across the industry now that the election has resulted in political certainty. In addition, financing rates remain low, and drug and biotech giants still need to replenish their pipelines providing a nice backdrop for increased purchase activity. Any sort of "tax holiday" that allows larger firms to bring home some of the over $2 trillion squired away overseas at a reduced tax rate could throw another log on that fire as well. Biotech and pharma stocks are very cash rich and have substantial funds located outside the country in their foreign operations.
I expect both small caps and large caps that have declined in 2016 to do better once the "tax loss" selling season is completed by yearend. Many mutual funds have a fiscal year that begins November 1st, so some of this has already occurred and is probably one factor contributing to the huge bounce in the sector that we have seen so far in November. This annual phenomenon has a few more weeks to run and it is the driver of the so-called "January effect" which tends to occur in November and December. If that occurs once again in 2016, here are a few undervalued stocks that should benefit and are primed to have much better years in 2017 as well.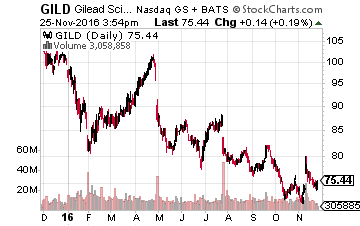 I think Gilead Sciences (NASDAQ: GILD) is way overdue for a bounce after losing some 25% of its market value in 2016 so far. The biotech giant has a market capitalization of under $100 billion and has produced some $21 billion in free cash flow over the past five quarters, which is a "Yuge" free cash flow yield. One could argue that the stock is fairly priced for the non-HCV part of its portfolio, which now makes up over 50% of sales and is showing revenue growth in the mid to high teens. I also expect the company to finally make an acquisition to develop a third growth engine outside its core HCV and HIV franchises in the coming quarters. I believe when that happens, investors will reward the stock with a higher multiple. In the meantime, you collect a 2.5% dividend yield, which should be bumped up in the first half of 2017.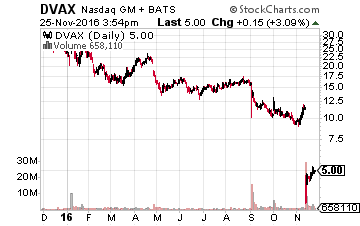 I also think 2017 could be much kinder to Dynavax Technologies (NASDAQ: DVAX). This small biotech concern has had a very difficult 2016, and the stock fell back further last week after the FDA requested more data around its New Drug Application for Heplisav-B, its hepatitis B vaccine. This will push back any approval date for this much-anticipated primary drug candidate.
It is important to note the FDA is not requesting any additional studies and hasn't even been able to get through the data Dynavax has already provided to the agency. I am with William Blair on this one, which reissued a Buy rating while reducing its price target on DVAX to $17 a share even as they reduced the chances of eventual FDA approval from 90% to 70%. This latest FDA action pushes back approval and will likely force Dynavax to find a development partner for Heplisav-B, which ironically might help its approval chances.
However, based on study results, the vaccine looks likely to be approved and the company has other assets including a promising oncology compound "SD-101" and an asthma drug that is in Phase II development with partner, AstraZeneca (NYSE: AZN). At under $5.00 a share, the stock seems like a steal here, especially given the company has over $100 million in cash on the balance sheet and has a market capitalization of under $200 million.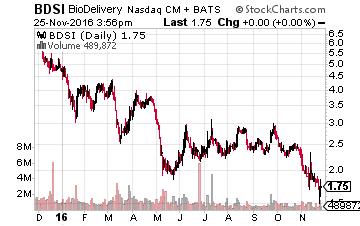 Finally, brighter skies seem in store for BioDelivery Sciences (NASDAQ: BDSI) after the small biopharma equity was more than cut in half in 2016. The company and stock have suffered as rollouts of two products, Bunavail and Belbuca, have been slow to gain traction. However, the company has signed a half dozen contracts with insurer providers in recent months that will greatly expand network coverage starting January 1st. The median analyst price target on BDSI is currently $5.50 a share, and the stock goes for just under $2.00 a share currently.
I expect all of these biotech and biopharma stocks to have much better years in 2017. A bounce after tax loss selling could be the start of better days ahead.
With the election out of the way, the biotech sector is set to take-off now that it's Trump and not Hillary.
This makes me more confident than ever in this growing company. Last year, I recommended this stock —  no one listened — and it's up 64%.
Rather than cash out, I've buckled up because this stock should take off 66%+ in the next 1-3 months due to multiple stock-moving events.
I'm giving you a personal invitation to read my short briefing on why this stocks that's trading for less than $20 could be your most profitable trade this year.
This is something you will want to check out.
Positions: Long BDSI, DVAX, and GILD