Approaching a 100% chance to be increased in December, now is the time to pick out the stocks that will outperform in a higher rate environment. With businesses positively affected by higher rates, don't overlook these three stocks that will be big benefactors thanks to increased rates.
An interest rate hike is just about guaranteed by yearend, traders have placed the odds of the Federal Reserve increasing interest rates at its December meeting right up to 100%.
Thanks to Donald Trump's Presidential election win, the chances of a rate hike went from less than 70% at the start of November to 94% now — per the futures contracts.
Trump is expected to bring about a largely inflationary economic environment with his aggressive infrastructure spending plans, deportation initiative, and trade tariffs. Plus, Trump's tax reform will mean more money for consumers and business to spend. More spending means higher prices.
The five-year forward inflation expectations (based on Treasury inflation protected securities) has soared from less than 1.5% over the summer to close to 2% today. Recall that one of the Fed's key criteria for a rate hike is a target inflation rate of 2%.
But don't think this is just a Donald Trump induced rate hike. We're seeing wage growth and the economy is settling into full employment. The Fed now sits in a position where they 'must' raise rates to offset Trump's planned forms of fiscal stimulus and keep up with the strengthening economy — especially if they want to keep inflation in check.
With all that in mind, here are the top three stocks to own today for the December rate hike:
Top Interest Rate Hike Stock No. 1: Aflac (NYSE: AFL)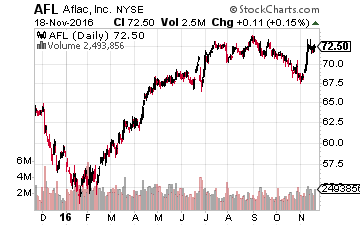 Insurance companies aren't as boring as many people expect, especially in a rising rate environment. They collect premiums on policies and then invest those premiums. So the investment portfolio of many insurers is large and ripe to make money from higher rates.
Aflac makes our list because it has a huge investment portfolio (well over $100 billion) and it's one of the steadier insurance companies in the industry. It's managed to increase its dividend for 33 straight years — and now yields 2.4%. Aflac also does a lot of business in Japan, which means that Trump's policy of a 'weak dollar' will be a positive for Aflac.
Top Interest Rate Hike Stock No. 2: Regions Financial (NYSE: RF)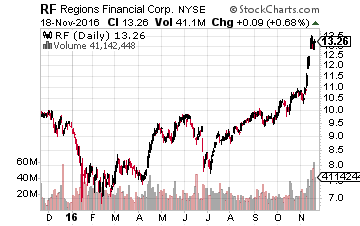 Banks do well with higher rates as they can make more money on loans, such as mortgages and auto loans. Granted, much of the market is already aware of what higher rates mean for banks, that doesn't mean the market has been entirely efficient with the banking industry over the last month.
The big four — Citigroup (NYSE: C), Bank of America (NYSE: BAC), Wells Fargo (NYSE: WFC) and JPMorgan Chase (NYSE: JPM) — have all seen their stock prices jump 12% or more in the last 30 days. All four are also trading near 52-week highs.
Meanwhile, regional banks are getting overlooked. While most of the banking industry is now trading at a premium to their book values, Regions is one of the few that remains 'cheap.' Shares of Regions are trading right at book value. The bank is also still working on an aggressive cost-cutting program, recently upping its total planned cost cuts by 33% to $400 million.
SEE ALSO: Investing for a Better Retirement Under President Trump
A Republican controlled Congress and White House could also be good news for banks like Regions, where they've promised less regulation, meaning that Regions could see even lower costs going forward, plus it'll free up capital for dividends and buybacks.
Top Interest Rate Hike Stock No. 3: Chubb (NYSE: CB)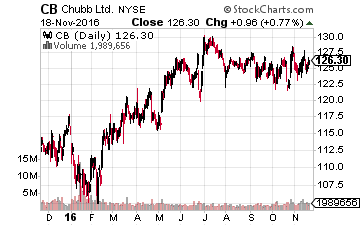 For this last pick, we are circling back around to the insurance space. Chubb, like Aflac, is one of those underrated plays. Chubb operates in the property and casualty insurance space and is one of a couple of insurers that has seen its stock remain flat over the last six months. It's now trading at just 1.2 times book value — a discount to major peers Allstate (NYSE: ALL) and The Travelers Companies (NYSE: TRV).
Like Aflac, it's had several years of strong performance — in recessions and rising rate environments. Its combined ratio — a key measure for insurers which measures payouts-to-premiums — has been below 100% (a positive) since 2002.  Lest we forget that Chubb also pays a 2.2% dividend yield.
In the end, Trump's win has thrown a proverbial wrench into market expectations. Whether he'll come through on all his aggressive and controversial promises remains to be seen; however, one thing is for sure, nearly everything he plans to do will probably force the Fed to take action in December. That action will, by all accounts, be a rate hike. Some parts of the market, such as major banks, are already baking this into stock prices, yet the three underrated stocks above that are flying under the radar should play 'catch up' rather quickly.
Does this 'new' play let income investors collect gains as high as 294.62% while taking on as little risk as possible? This is unlike anything you've seen before. I've uncovered a group of companies that want to pay YOU thousands of dollars to hold their stock until it's doubled or tripled.
I've just finished a short briefing to tell you exactly why these companies are paying you to book tremendous gains AND to bring you the full story on three plays you can invest in today.