Now is the time to ditch any stocks with heavy international exposure as global economic weakness and a strong dollar will hamper their growth. Replace those stocks with these three All-American stocks that will rise with our burgeoning economy.
China has put a dent in the worldwide financial markets.
In cases like this, even babies get thrown out with the bathwater. This includes key U.S. stocks, even those that have no international operations.
This trouncing of U.S. stocks comes even as the U.S. economy is still in growth mode. Its economy continues to strengthen, where housing is ramping up and more individuals are finding jobs. The U.S. economy grew by 3.7% during the second quarter and is expected to grow by 2% for all of 2015.
Recall that when things started looking iffy in international markets last year we started looking more at U.S.-centric companies, highlighting the likes of Ross Stores (NASDAQ: ROST), up 18% since our November note, and Jetblue (NASDAQ: JBLU), soaring 45% since our December piece.
Our latest iteration of touting the U.S. and strong U.S. dollar plays came in April, when we talked about how the strong dollar was going to punish the major international conglomerates like Procter & Gamble (NYSE: PG) and Coca-Cola (NYSE: KO).
At the time, our focus was on CVS (NYSE: CVS) and Tyson Foods (NYSE: TSN), both having outperformed the S&P 500 by over 10 percentage points since then.
Keeping things in perspective, the stocks above have outperformed because the correlation between the U.S. economy and Chinese economy is low. With that in mind, let's have a look at three stocks that got smoked last week, yet, get a high percentage of sales from within the U.S. and have less exposure to foreign sales.
Safe U.S. Stock to Own No. 1: CarMax (NYSE: KMX)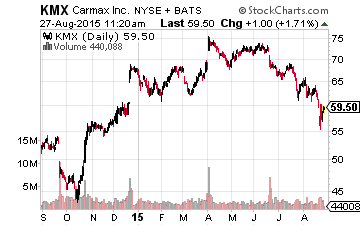 The largest U.S. retailer of cars was down 10% last week, putting the company at the cheapest on a P/E and EV/EBITDA basis that we've seen all year. What's interesting about the car dealership market, besides the fact that it is heavily U.S. focused, is that it's a Warren Buffett favorite.
Buffett bought up the largest privately owned dealership operator, Van Tuyl, in October of last year. He's said he'd buy even more dealerships at the right price. Meanwhile, Bill Gates' foundation owns over 15% of AutoNation (NYSE: AN). So there's a lot of smart money in dealerships.
Still, CarMax is the 800-pound gorilla in the used car industry, operating around 150 superstores. It's also got some of the industry's best margins given its focus on the higher margin used car market, as opposed to selling new cars.
Safe U.S. Stock to Own No. 2: Union Pacific (NYSE: UNP)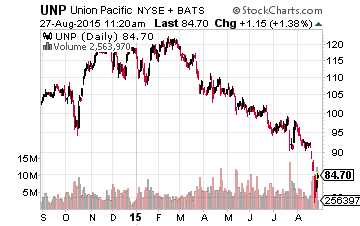 The largest railroad operator in the U.S., with over 32,000 route miles, was down 13% last week, now trading at 14.5 times earnings. This is one of the cheapest opportunities to buy Union Pacific in the last five years.
Investors got the opportunity to buy Union Pacific at less than 15 times earnings in 2011 — a time when the railroad operator was generating EBITDA margins below 40% and had a return on invested capital of under 10%. Today, it's in much better shape, with a 17% return on invested capital (industry tops) and EBITDA margin is north of 46%.
This is another Buffett-esque play, as Berkshire Hathaway (NYSE: BRK-B) purchased all of the major Western U.S. railroad operator, Burlington Northern Santa Fe, in 2009. The economics of the business make it tough for any new competition to arise and the nature of shipping still makes rail one of the most economical modes of transportation around.
Safe U.S. Stock to Own No. 3: Lincoln National (NYSE: LNC)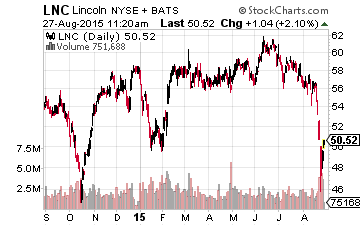 With the stock taking a 16% haircut over the last week, shares of Lincoln National are now trading at 80% of book value. The company is also generating a 9.2% ROE, besting some of the biggest players in the insurance industry.
Not a sexy business, but offering life insurance and employer-sponsored retirement plans is a steady business. There are certain things that Lincoln National can, and has done, to help boost returns and margins. This starts with the shift toward more higher-margin asset-based fee revenues. The company also divested its Lincoln Financial Media last month to focus on the core life and retirement insurance businesses.
As a bonus pick, some of the major regional banks were also sold off with the rest of the market last week. Regional banks tend to source all of their revenues from within the U.S. and KeyCorp (NYSE: KEY) is no exception. But it fell 15% last week. It's now trading at book value with a solid 10.5% return on invested capital. The Midwest bank has been cutting non-interest expenses for the last five years and exiting underperforming businesses — where it has certainly been preparing itself for any economic environment.
In the end, many stocks have gone on sale over the last week or so, but that doesn't mean all are worth buying. There's still plenty to worry about in overseas markets, so stick to the safe companies generating most of their revenue from the U.S.Another play on sticking to made-in-America companies is investing in small cap stocks.
This sector was sold off with all the rest even though the majority of these stocks derive all of their revenue from the States and do not have to worry about the effects of the strong dollar and slowing global growth. Our lead small cap analyst, Bret Jensen, has a new report, 3 Breakout Stocks to Put in Your Portfolio, detailing his top small cap stocks that are must buys.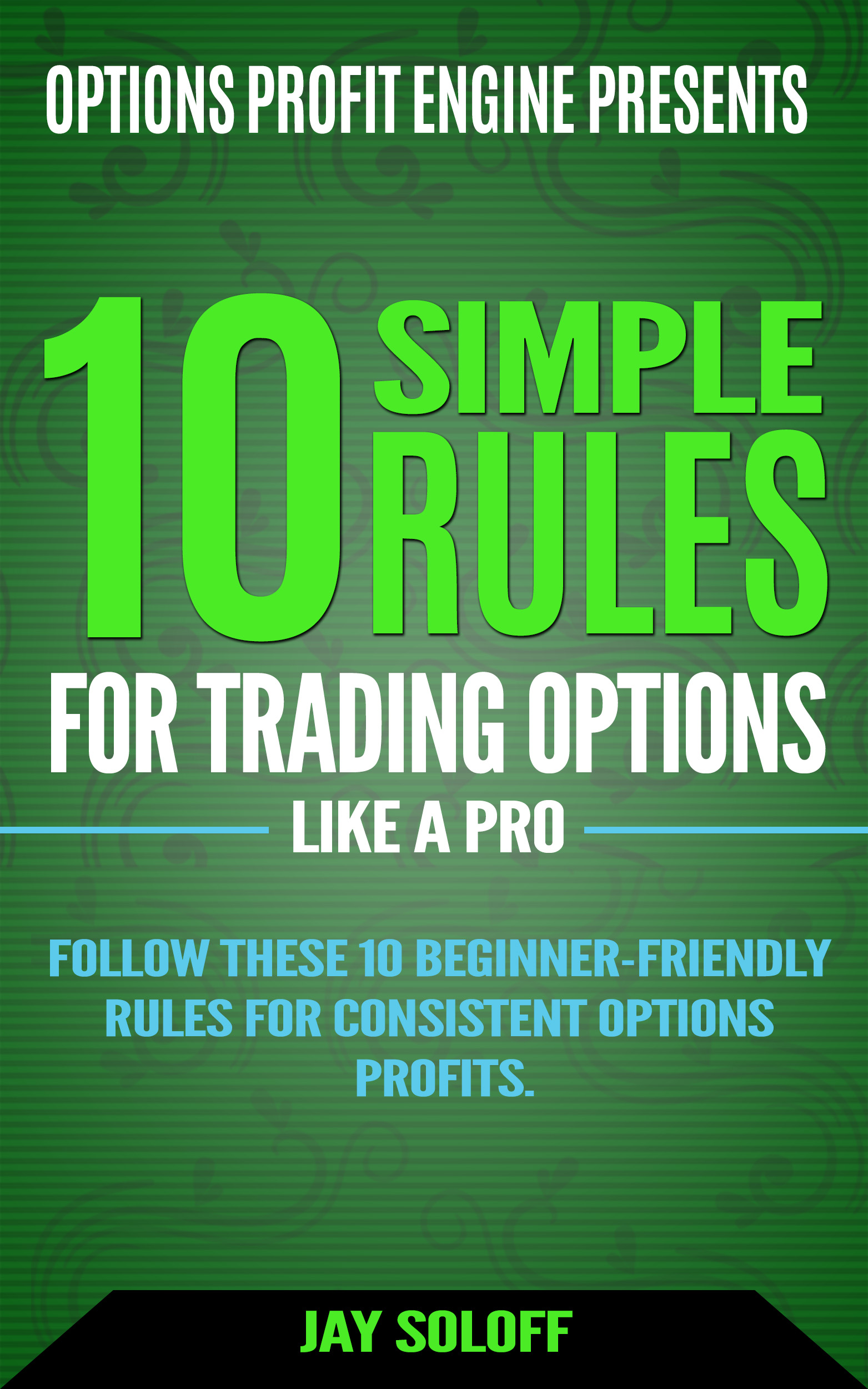 [FREE DOWNLOAD] 10 Simple Rules for Trading Options Like a Pro
Follow these 10 simple rules from 20-year professional options trading veteran, Jay Soloff and start earning a reliable extra income from options.
NO prior experience needed to master these 10 simple options trading rules. 
Enter your email below and receive access to this FREE guide...