With the stock market regularly hitting new all-time highs, now is not the time to go hunting for value. Instead, you should be looking for momentum stocks – the stocks that are hitting new highs themselves and taking the broad-market averages along for the ride. But why not try to identify bullish stocks that have pulled back a little recently, and therefore have some "rebound" potential? In this article, I identify two leading candidates to break out to even higher new highs!
Wake Up and Smell The K-Cup
Keurig Green Mountain Inc (Ticker: GMCR) is a perfect high-flying stock for the "jobless recovery." The stock formerly known as Green Mountain Coffee Roasters has been hot for a number of years, and it recently adopted the "Keurig" name in order to advertise the fact that it makes the machines that brew single-serving "K-cups." Cash-strapped java-fiends are splurging on $6 Starbucks lattes with less regularity and brewing more cups at home, instead – this has been very bullish for Keurig Green Mountain.
Keurig Green Mountain has seen its net income climb from $8 million in 2006 to $483 million in 2013 – without a single year of backtracking. Last quarter, Keurig Green Mountain's earnings per share (EPS) grew by 16%, which brought the firm's three-quarter average for EPS growth to 27%. Keurig has an annual pretax profit margin of 18.2%, and it produces a 21.1% return on equity. Keurig Green Mountain has very low debt, with a debt-to-equity ratio of just 9%. The fundamentals are strong – how about the technicals?
As you can see in the chart below, shares of Keurig Green Mountain plummeted in high volume on March 21, causing the stock to enter a downtrend. The stock continued to trade below its Bollinger band mid-point (the dotted blue line), ultimately falling more than 20% as part of the move and completing a "true" correction. But once corrected, Keurig Green Mountain began a rebound, breaking through the Bollinger mid-point to the upside on May 8 in a big way, and ultimately riding the trend to as high as $117.40. Now the stock is trading in a tight range, building a base – it met resistance as it approached all-time high levels, but should it challenge again, coming out of this base, then Keurig Green Mountain should have no problem breaking right on through!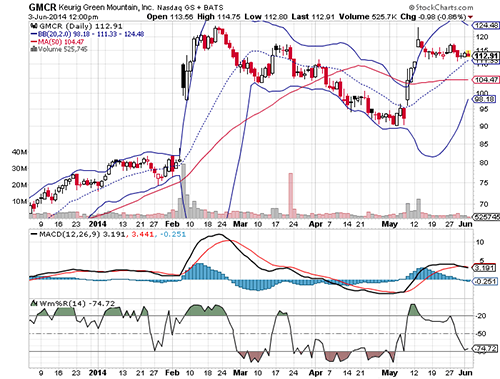 Here are some additional technical reasons to like Keurig Green Mountain:
It has solid support: Keurig Green Mountain has been building a base for thirteen consecutive trading days, trading within an unusually tight range for such a typically volatile stock. This base represents support, as do the Bollinger mid-point (dotted blue line) and 50-day moving average (red line) just beneath it.
The stock is slightly oversold: Although Keurig Green Mountain's Williams %R is north of the -80% threshold, Keurig Green Mountain is still experiencing a net outflow of money, and that trend is unlikely to continue as its base solidifies. In all likelihood, an influx of cash is on the horizon for Keurig Green Mountain, and I'd like to get into the stock ahead of time.
Jump Off Coach and Change Course to KORS
Maybe you haven't heard, but Michael Kors is the new king of fashion. Coach? That's so passe – if Coach is coach than Michael Kors is first-class. In the chart below, the six-month performance of KORS is depicted in blue, while the six-month performance of Coach (COH) is depicted in red: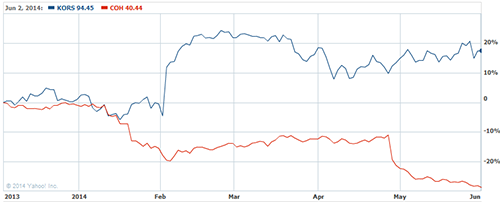 Earnings per share (EPS) at Michael Kors have increased at an average pace of 58% over the past three quarters, including 56% last quarter. The results for this quarter won't be released until the first week of August, but Kors management has already revised guidance higher to +32% — and last quarter, Kors beat expectations by 14.7%.
As you can see from the chart below, shares of Michael Kors are in a long-term uptrend that was interrupted by a selloff in mid-March. If you "sold in May and went away," you would have missed out on the Kors run from $92.40 to $98.96, but now Kors has pulled back a bit to $94, as of 12pm ET on Tuesday. Notice that it broke through its 50-day moving average (red line) two weeks ago, and after an extremely volatile day on May 29, it has traded in a tighter range above its Bollinger band mid-point (dotted blue line) since. Michael Kors is building a base here, and I think it is poised to set a new all-time high above $101, given time.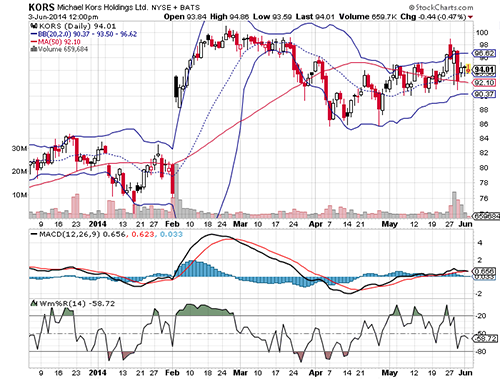 Here are some additional technical reasons to like Michael Kors:
It's is in an uptrend, but it's oversold: While its Williams %R has rarely dipped below -80% to indicate definitive "oversold" status, Michael Kors is below the -50% threshold now, which means it's far from being overbought.
The "smart money" likes the stock: Institutional investors in general have been adding to their stakes in Michael Kors over the past six months, and mutual-fund managers in particular have added to their stakes for an astonishing eight straight quarters. This kind of solid institutional support is very bullish.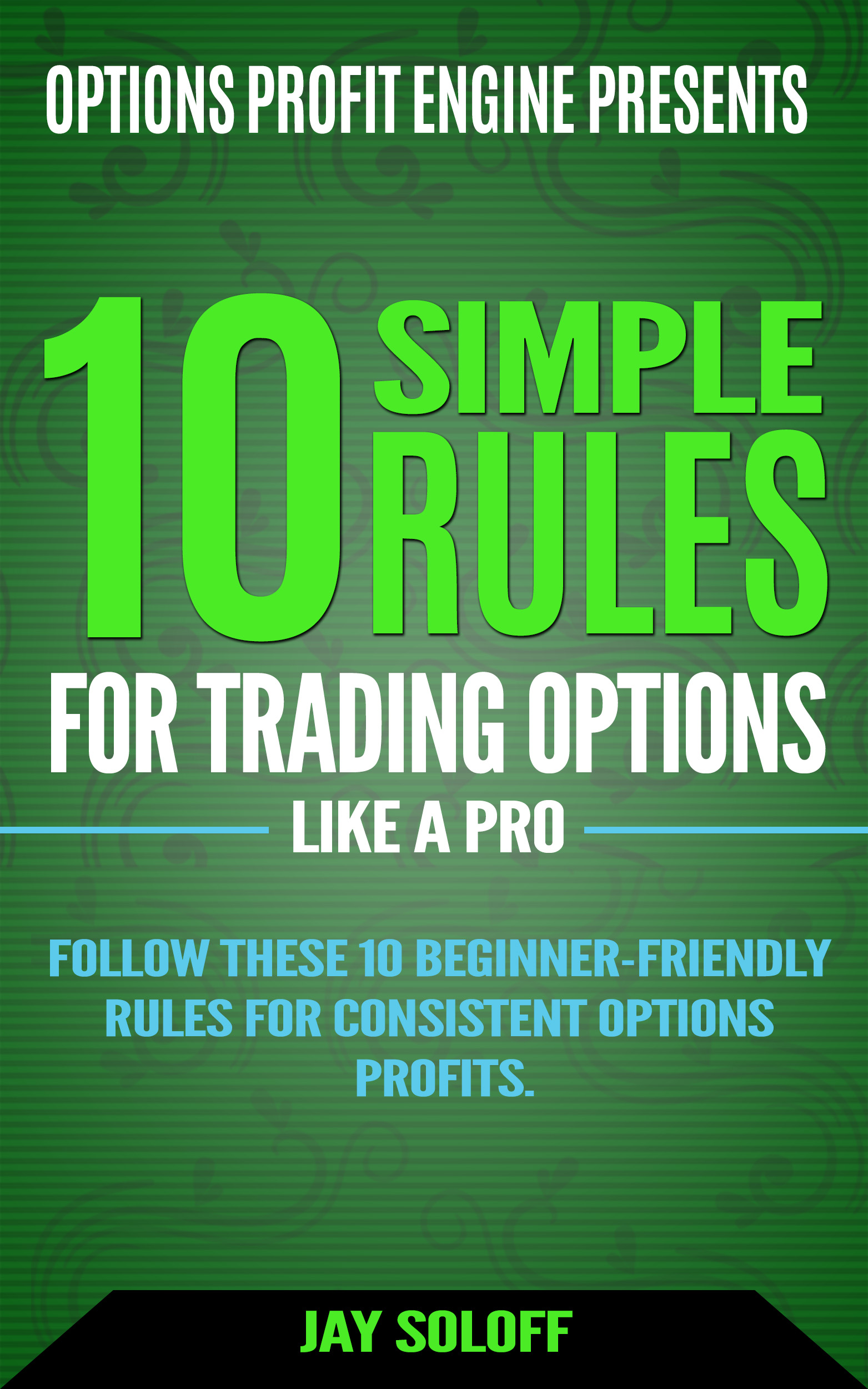 [FREE DOWNLOAD] 10 Simple Rules for Trading Options Like a Pro
Follow these 10 simple rules from 20-year professional options trading veteran, Jay Soloff and start earning a reliable extra income from options.
NO prior experience needed to master these 10 simple options trading rules. 
Enter your email below and receive access to this FREE guide...