The true believers in Tesla (Nasdaq: TSLA) became even more enthused last week. That's when rumors began circulating that it was nearing a deal to begin producing cars in China for the local market.
However, I thought another item out of China was more newsworthy.
Swedish carmaker Volvo, which is owned by the parent of Chinese automaker Geely Automobile Holdings (OTC: GELYY), took square aim at Tesla with its premium Polestar brand. This newly spun-out division will focus on high-performance electric cars with a long-range.
The first Polestar vehicle, launching in early 2019, will be a plug-in hybrid. But the second model – the Polestar2 – is targeted to compete directly against Tesla's Model 3. The third planned model will be an all-electric SUV.
Volvo says it will produce tens of thousands of the Polestar2 in a jab at Tesla's well-known production problems. Elon Musk recently said that Tesla's Model 3 is "deep in production hell."
The move from Volvo is significant because the future of the automobile industry is in China, which is already the largest and most profitable vehicle market in the world. And, I might add, the largest market for electric vehicle sales.
Related: 3 Electric Car Winners That Don't Sell Electric Cars… Or Batteries Either
China's Electric Future
According to the China Association of Automobile Manufacturers, sales of electric and hybrid vehicles in 2016 soared 53% to 507,000, of which about 250,000 were all-electric. That first number is roughly 45% of the total number of such vehicles sold last year. The electric vehicle number though was boosted by generous subsidies (trailing only Norway) for this type of vehicle.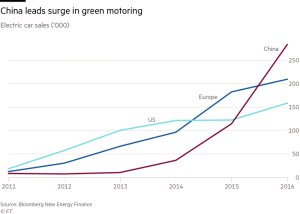 In the past few months, however, China has more forcefully assumed the leadership in the move towards an electric future for the car industry.
The government announced in September that it was looking at when to implement a ban on internal combustion engine vehicles. This followed announcements by France and Britain, which said they would ban traditional fuel vehicles by 2040, and Germany, which called for a ban by 2030. Policymakers also announced wide-ranging regulations forcing all automakers to start to meet steadily increasing production quotas for battery-powered cars, beginning in 2019.
In addition, China's national grid is investing heavily into charging stations nationwide. There are already 171,000 such charging stations and the target is for 800,000 of these stations. Contrast that to here in the U.S. where there are only 45,000 charging outlets and 16,000 stations.
Electric vehicles, both fully electric and hybrids, are part of the country's new industrial policy known as Made in China 2025. That is the year by which China wants to have national champions in 10 high-tech industries, including robotics, semiconductors, batteries and electric vehicles.
With the United States seemingly now against globalization, China sees an opportunity to leapfrog onto the global stage. The government there sees the aforementioned technologies as a disruptive opportunity.
And it's well on its way. . .China is already home to two of the top five lithium battery makers in the world – CATL and BYD (OTC: BYDDY). Chinese battery makers produce 55% of the world's lithium-ion batteries currently. Bloomberg New Energy Finance predicts this figure will rise to 65% by 2021 in the sort of disruption the Chinese government is looking to accomplish.
Batteries definitely will be a good place to be since even a conservative forecast from Goldman Sachs says battery-making will be a $40 billion market by 2025.  
Combustion Engine Killer #1
Electric vehicles and battery technologies are definitely part of the technological disruption I call the Singularity. Add in the about-face, for whatever reason, by China from being an environmental 'bad boy' to being a leader in electric vehicle and battery technologies. That makes the electric vehicle and battery sector a must-own one.
The problem for U.S. investors is how to get a piece of all the expected growth in China. I'm in the camp of Goldman Sachs which forecast that, by 2030, China will account for 60% of all sales of so-called new energy vehicles (NEVs). Therefore, I want exposure there and not in Tesla.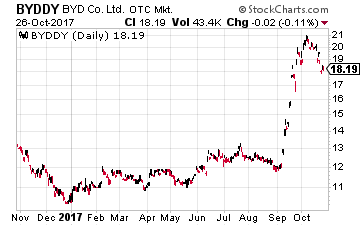 Number one on my list then has to be the company that on September 27, 2008, Warren Buffett invested a mere $230 million into. That translates today to an 8.25% ownership stake in BYD. Since then, his investment has grown about sixfold.
Buffett is likely to make even more from his investment because BYD is sitting in an enviable position being both the world's largest electric maker and biggest producer of electric car batteries.
While Tesla investors are breathlessly awaiting the company's Gigafactory to crank up annual production of batteries to one gigawatt, BYD passed that mark more than three years ago. BYD is bringing online an additional four gigawatts of battery-making capacity by year's end. That will make its annual battery output 12 times larger than Tesla's!
BYD will also benefit from those quotas for electric cars in the country. If companies don't meet the requirements, they will be forced to buy credits from automakers that do. And preeminent among these will be BYD. Some estimates are that the company will earn over $2 billion from the sale of credits in just the first three years.
You might shy away from buying foreign companies on the over-the-counter market. And in most cases, with good reason. But BYD's ADR (American Depositary Receipt) is highly liquid. It trades on average several hundred thousand shares a day and the spread between the bid and ask (the buy and the sell price) is usually only a penny or two. With some other ADRs, the spread is literally 5% or 10%.
The BYD ADR is up 75% year-to-date, but just 35% over the past year.
Combustion Engine Killer #2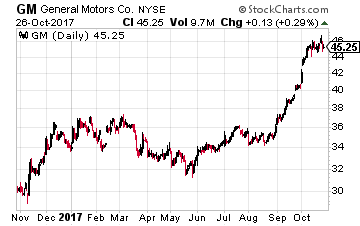 For those of you that want to stick with an American company, I would go with the suddenly-hot General Motors (NYSE: GM). Its stock is up 30% year-to-date, 44% over the last year and 27.5% just in the past three months.
The company is delivering a million cars a year in China, its largest market. It is setting records with sales of its Buick, Cadillac and Baojun brands. But GM knows the future is electric. . .
CEO Mary Barra says that, by 2025, GM will offer a range of electrification technology in nearly all its models in China. GM plans to have 10 new-energy vehicles and annual sales of 150,000 units by 2020 in China across its Chevrolet, Buick and Cadillac brands. GM's 2025 target is for 500,000 units.
To meet those new Chinese standards (and avoid paying companies like BYD), GM will need more vehicles like its E100, which it sells under the Baojun brand. It is ramping up production of this compact electric vehicle that it launched in July in conjunction with local partners. No doubt due in part to the fact that this car qualifies for government subsidies.
Both of these companies will benefit from the following items . . .
In the U.S., the number of private vehicles is approaching parity with the population. But in China, there is just one private vehicle for every six people. On top of that is the fact that pollution in China causes about 1.3 premature deaths annually.
Add them all up and you get an electric future for China's vehicle market.
Electric cars represent the future of personal transportation. This has been a long time coming. Did you know the very first usable electric car was made in 1884? And that into the first years of the 20th century electric vehicles still held dominance over the combustion engine. But it's only been in the last few years that the battery technology has caught up to consumer demands… and now we're rapidly approaching a tipping point.
You may not see that transformation but it's happening and will come up very quickly. Already several countries have put in place outright bans on the combustion engine in future years, most notably China, France, Germany, and the United Kingdom. The changes from the conversion to electric powered cars will ripple across every economy in the world and will happen quickly, almost seemingly out of nowhere. That's a core component to the coming rapid transformation in technology, society, lifestyle, and even life itself that's happening all around us. I call this the Singularity.
The Singularity presents investors with the opportunity for a piece of the over $100 trillion growth over the next seven years from all of these changes. Growth for companies like BYD and even GM mentioned above as well as many others you've probably never even heard and still others that don't even exist yet but will be born of the Singularity.
Some of that growth will come from the tech sector as we're seeing now. And some – a lot actually! – will come from the companies providing the materials for the technology driving the Singularity. That's why I'm so actively uncovering every investment angle I can with this space. I've recently completed research on The Singularity that lays everything you need to know to get started for your piece of that $100 trillion… the technologies of the future, the pace of change, and the investments you can make right now – today – for a very profitable future. Click here now for immediate access.