Remember the days when political strife and geopolitical volatility used to spook investors and send tremors through the stock market?
I do… but those memories are fading fast.
Given the current climate, you'd think the phrase "market jitters" would appear more often. After all, if there's one thing the market hates, it's uncertainty.
Yet stocks continue to race higher anyway. It's like Wall Street has a Teflon jacket on.
Overall, this is great news for investors, of course. But when it comes to putting new money to work, how do you find stocks that are still undervalued and offer more growth?
I'll show you with these two stocks – which offer a combination of both qualities.
Let's hit the value side first…
My Favorite Value Metric
There are many ways of finding undervalued stocks.
Arguably the most common is the price-to-earnings (P/E) ratio. It's calculated by dividing the share price by the earnings per share.
The lower the number, the cheaper the stock (relative to its earnings).
Taken by itself, however, this metric is limited in its range. That's why I prefer to kick it up a notch and look at one of the lesser-known numbers.
The price-to-earnings-growth ratio – or PEG.
Simply put, this adds a company's future earnings growth estimate into the mix.
You get the number by dividing the P/E by the earnings growth rate.
Like with P/E, the lower the PEG ratio number, the better. Specifically, a number below 1.0 means the company is undervalued, relative to both its current earnings and earnings growth rate.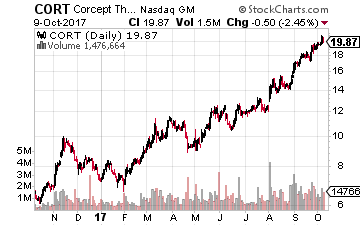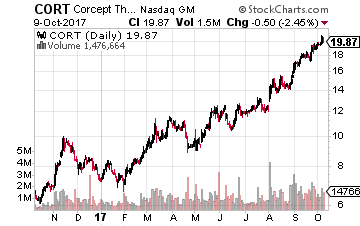 One stock to consider here is Corcept Therapeutics Inc. (Nasdaq: CORT).
Founded in 1998 and based in tech-centric Menlo Park, California, Corcept manufactures drugs that treat oncologic, metabolic, and psychiatric disorders.
Its flagship drug is called Korlym – an oral medication that controls hyperglycemia that's related to the debilitating Cushing's syndrome. The disorder causes excess levels of cortisol and causes a range of serious issues – diabetes, obesity, cognitive problems, psychosis, and depression.
When the drug launched in April 2012, it was the first oral therapy that treated Cushing's syndrome and has proved very successful. Second-quarter results from this alone showed an 80% sales surge over Q2 2016.
Corcept is using Korlym to develop other drugs, too. This includes treatments for metastatic breast cancer and metastatic prostate cancer.
Its sequel drug to Korlym – CORT125134 – is currently in clinical trials, with Phase II results expected in early 2018. It also targets Cushing's syndrome, but lessens some of Korlym's side-effects. And in conjunction with Celgene's Abraxane drug, it also aims to tackle solid-tumor cancers.
Corcept's P/E of 29 might look a little high. But given that earnings projections show growth of over 70% per year over the next five years, it's justified. As a result, the PEG ratio sits at a significantly undervalued 0.67.
With a profit margin and operating margin around 23% and a fantastic 52% return-on-equity, it's clear that management is maximizing the company's potential impressively.
Shares are already up over 200% this year and sit comfortably over both the 50-day and 200-day moving averages.
Wi-Fi in the Sky
In his article last week, my colleague Tony Daltorio discussed how the "stodgy airline industry" is being forced to adopt new technologies amid the ever-fierce battle for passengers.
Specifically, he looked at how in-flight Wi-Fi and broadband connectivity are fast becoming necessities, rather than luxuries.
Indeed, he quoted statistics that show 60% of passengers now believe that in-flight Wi-Fi is a necessity, not a perk, and ranks behind price and schedule in order of priority.
Moreover, almost half of passengers said they'd pay for Wi-Fi.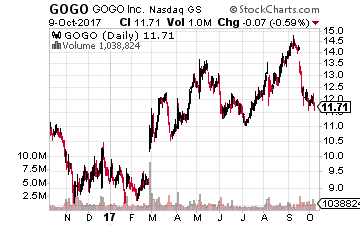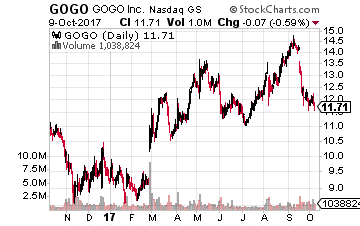 That makes Gogo Inc. (Nasdaq: GOGO) a go-to in this space.
If you've flown recently and used Wi-Fi onboard, there's a good chance that Gogo was behind the scenes. The company provides in-flight connectivity and broadband to 2,800 planes in the United States and 320 more overseas.
As the company states, "Our mission is to help aviation go farther by making planes fly smarter, so our aviation partners perform better and their passengers travel happier."
Amen to that!
If you need proof that this is a growing business, consider that Gogo's sales have risen by over 20% on average over the past five years. Over the same period, its EBITDA has shot from $49 million to $162 million.
The company's technology uses land-based towers and satellites to beam connectivity into the skies – and onto planes. And it's in the process of upgrading its tower and satellite technology to keep pace with demand.
Two weeks ago, the company announced that it's installing Gogo Vision Touch in the seatbacks of Delta's Bombardier CS100 aircraft – the first C-class aircraft to have in-flight connectivity. This will allow passengers to wirelessly stream in-flight entertainment to the seatback tablet, as well as their own devices if they wish.
As Tony mentioned, in-flight Wi-Fi and connectivity is a fast-growing area of the aviation industry. And when you consider that there are over 7,000 planes in the United States and around 22,500 across the world, Gogo has a huge market that it hasn't yet tapped.
With Gogo insiders holding almost one-third of the shares, it's clear they're confident in the company's prospects, too. After a recent dip in the share price, the stock is approaching oversold levels and could be ripe for a rebound.
Both Corcept and Gogo prove that even in a market that seemingly refuses to take a breather, you can still find stocks that are undervalued and offer even more growth on top of your existing holdings.
The Biggest Technology Breakthrough to Exclipse Apple, Facebook, Google and Tesla Combined
In the next 7 years this technology will grow so fast you'll think it sprang up overnight. And it will grow to deliver over $100 trillion in investor profits. It's a once in a lifetime opportunity for regular investors to finally get their chance. Don't sit on the sidelines and just watch everyone else make their fortunes. Check out this new report revealing everything you need to know to get started. Click Here.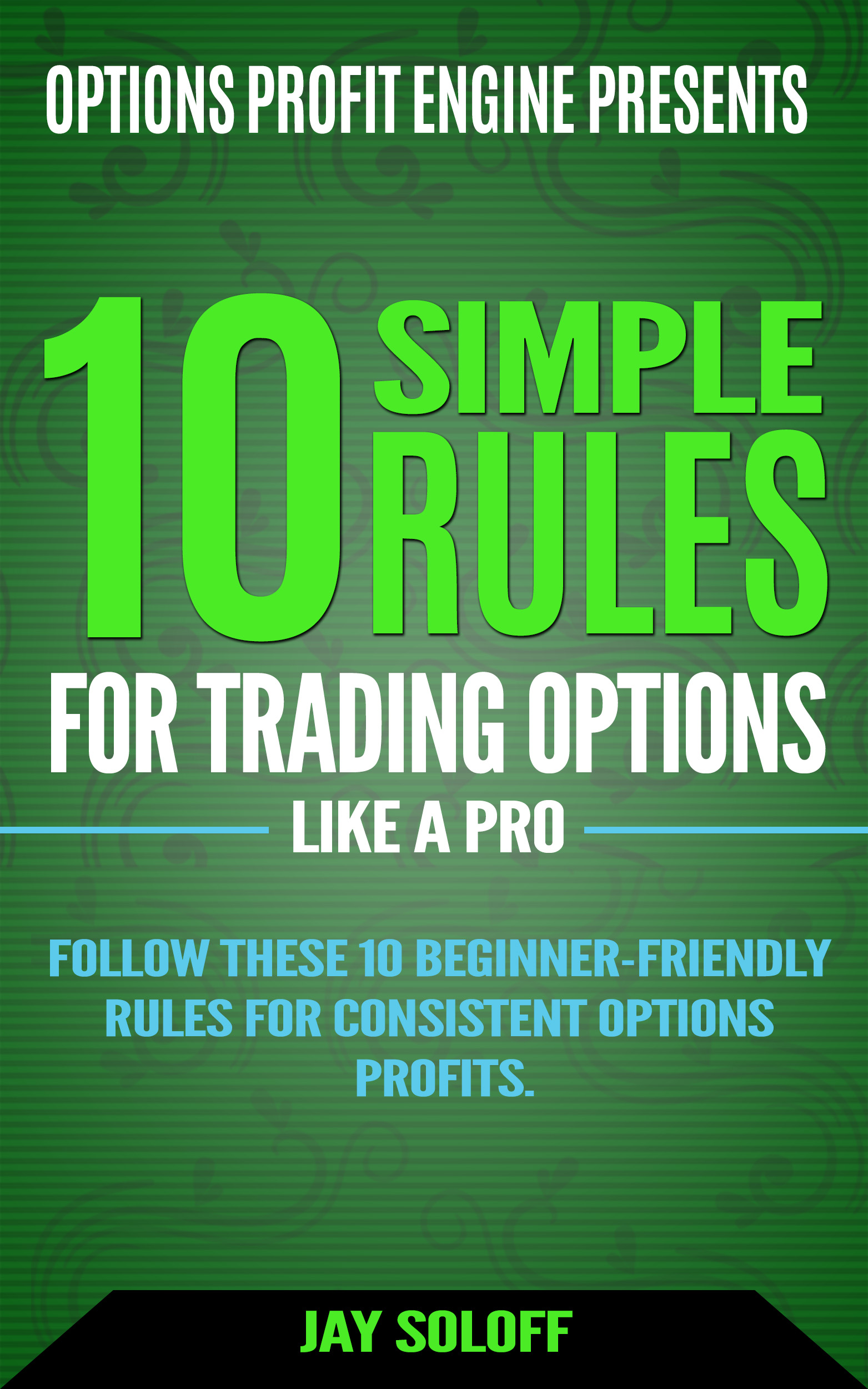 [FREE DOWNLOAD] 10 Simple Rules for Trading Options Like a Pro
Follow these 10 simple rules from 20-year professional options trading veteran, Jay Soloff and start earning a reliable extra income from options.
NO prior experience needed to master these 10 simple options trading rules. 
Enter your email below and receive access to this FREE guide...