Forget the fin-tech company du jour, own these two legacy payments companies that will payoff for your portfolio.
The payments industry is red hot right now.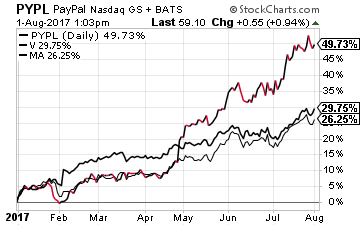 Shares of PayPal (NASDAQ: PYPL) are trading at all-time highs, up nearly 50% in 2017. Both Visa (NYSE: V) and MasterCard (NYSE: MA) are also up 20% or more this year.
However, there could be a big hurdle on the horizon: Amazon (NASDAQ: AMZN).
Amazon has taken on the entire retail industry and bought Whole Foods (NASDAQ: WFM) last month, thrusting it into the grocery industry.
Now every industry is on alert and the payments industry is worried that Amazon might make its own PayPal — just like eBay (NASDAQ: EBAY) did several years ago.
But, in the end, what's good for Amazon has been good for payments companies. More and more people are shopping online. More and more people are abandoning cash. Going forward, even if we do see a PayPal-like Amazon product, there will need to be companies handling the behind-the-scenes transactions and those extending credit to customers. That means the conventional payments and credit companies aren't 'dead' yet.
The mobile wallet business is expected to nearly quadruple in five years, from the 7.5 million users today. There are a handful of companies that will still 'win' from a shift away from cash payments to digital payments, and they might be a bit more conventional than you expect.
SEE ALSO: Free report reveals the "Top 3 Tech ETFs to Crush the S&P"
The thesis being: why try to choose which hot new technology will win, when we know that certain old-school payments companies can also make investor's money? Here are the top two payments companies to own right now:
Best Payment Play No. 1: American Express (NYSE: AXP)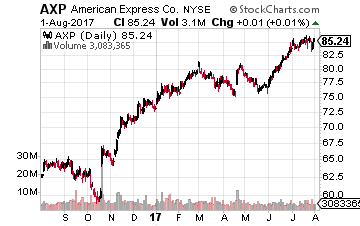 American Express trades as one of the cheapest payment companies around. As well, it has the support of the greatest value investor in the world – Warren Buffett. His Berkshire Hathaway (NYSE: BRK.B) requested to up its ownership stake in American Express from 17% to 25%.
This comes as American Express is returning more and more capital to shareholders and it has an ambitious 2017. American Express' stock took a hit when it decided to end its partnership with Costco (NASDAQ: COST), but that appears to be the best move, moving away from this low-margin business to focus on higher margin.
American Express has a solid network and large amounts of customer data. It also has some valuable partnerships, including a deal with Hilton. The switching cost for its corporate card program also provides for an economic moat.
The company is much more of the shareholder friendly payments company, compared to MasterCard and PayPal. American Express pays a 1.5% dividend yield and has a buyback yield (buybacks as a percent of market cap) of over 4%. For comparison, PayPal doesn't pay a dividend and has a buyback yield of 1.1%.
As well, unlike some of the other payment companies, like Discover Financial (NYSE: DFS) and Capital One (NYSE: COF), American Express is less focused on lending. Instead, American Express is content with servicing its more affluent customers and not exposing itself to unnecessary credit risk.
Best Payment Play No. 2: Visa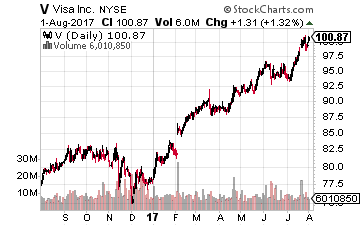 Visa is the tech stock of the payments industry. It's the leader in the debit card space, but it's the company's exposure in the digital payments and e-commerce space that make it appealing. It continues to put up double digit growth in earnings and revenue. Along with MasterCard, Visa has a duopoly on the payments market.
Going forward, the big thesis is greater card usage across the world. This includes the likes of India and Europe where many transactions are still cash based. Then in the U.S., there's the move toward digital wallets that is also a positive for Visa. The beauty of Visa is that even if the world economy slows, it'll still grow nicely as the world continues to shift toward cashless transactions.
Visa also won the Costco business from American Express, and although it is low-margin, Visa has the scale to make the deal a net-positive. Unlike, PayPal, Visa is insulated from Amazon and other startup payment companies given its pricing power, network and strong end markets. As well, Visa only handles transactions and carries no credit risk, that is, it co-brands with banks who take on the risk of offering credit to customers.
In the end, both Visa and American Express are solid picks in the payments industry. New technologies will continue to make paying for goods and services effortless, but Visa and American Express both play a very specific role. Despite the rise of mobile and digital payments, the company processing those payments is still largely Visa. Then for American Express' part, it still has a stronghold in corporate cultures and with high-end credit users. Both ends of the market, for Visa and American Express, should remain relatively insulated if we see a global market pullback.
Both companies, but particularly Visa, have tech stock like qualities that are hard to pass up. Both have been on the forefront of innovation and have rewarded investors handsomely over the past few years yielding returns of 755% and 858% since the bottom of the market back in 2009. My colleague Tony Daltorio of Growth Stock Advisor has recently uncovered what could be the next 700%+ winners and release them in his new tech ETFs. He's making available for free for a limited time. To get your copy today, click here.
Build Your Wealth 3,000% FASTER
Free Report reveals the biggest technological leap in history…
An event that will create more wealth over the next 7 years than in the entire history of civilization combined…
Putting over $100 trillion in instant investor profits up for grabs…
Click here to read "The Industrial Singularity" now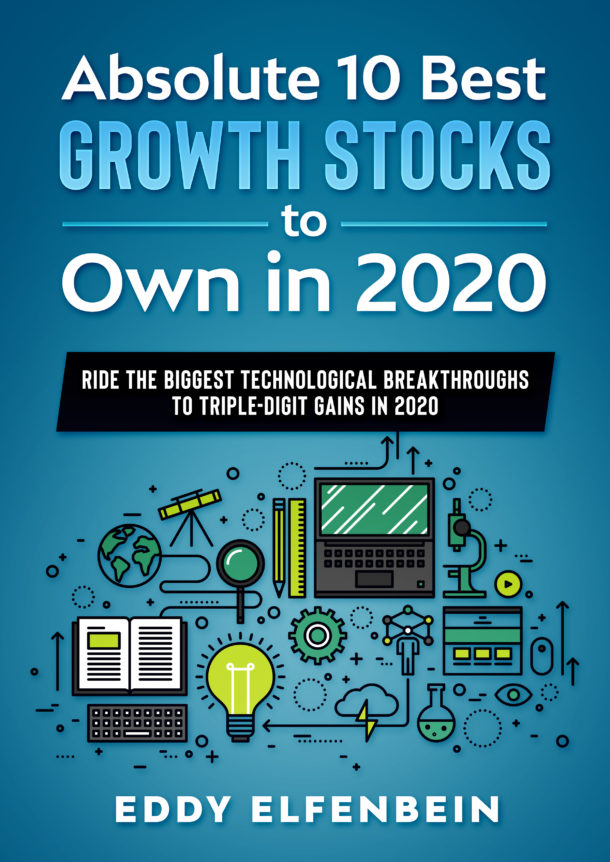 [NEW REPORT] Absolute 10 Best Growth Stocks to Own in 2020
Get the best 10 stocks to ride the 2020 tech explosion. 
One could be the most valuable stock of the next decade. 
Normally, I charge $20 for this report…
But, today...you can claim a copy absolutely free.
One stock alone has a chance at 167% profits in the next 12 months (or sooner). 
Enter your email below to claim a free copy while they last.