July 24, 2014 was a big day for the small, high-yielding upstream MLP sector. In a sector dominated by $10 billion market cap Linn Energy LLC (Nasdaq: LINE), the rest of the handful of companies were valued in the $1 to $3 billion range. With business models that require these oil drillers to acquire assets or fade away, the purchase agreement of QR Energy LP (NYSE: QRE) by Breitburn Energy Partners LP (NASDAQ: BBEP) will let investors earn a higher and growing yield. The post-merger energy MLP will have a market cap in the neighborhood of $3.8 billion and an enterprise value of $7.8 billion.
Upstream MLPs own and operate crude oil and natural gas production assets – drilling rights, producing wells, and working drill rigs. These companies transform the cash flow from crude oil, natural gas, and natural gas liquids (NGLs) into regular quarterly or monthly distributions paid to the investors who own the publicly traded units of this type of partnership. Currently these MLPs provide attractive yields in the 8% to 10% range.
An upstream MLP faces two challenges to maintain those attractive and stable distribution streams.
First is fluctuating prices for crude, natural gas, and NGLs. The MLPs all use active hedging programs to lock in minimum prices for the majority of planned production, usually out to 3 to 4 years in the future.
The second issue facing all upstream energy producers is the natural decline rate of oil and gas wells. Even a mature well will experience a production decline of 15% to 20% per year. To replace declining production and hopefully grow the cash flow to pay distributions, the upstream MLPs must regularly obtain new production wells, either through drilling, reworking older wells, or buying more producing assets. The upstream MLPs tend to focus on the acquisition path, buying assets from the corporate energy producers that like to grab the first couple of years of high production rates and then move on to other drilling opportunities. The large size of the two merged MLPs will allow them to take on more drilling attempts and go after larger asset purchases.
QRE Purchase Transaction Details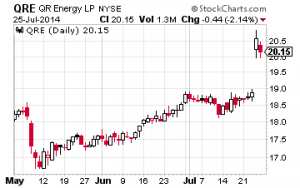 QR Energy investors will receive 0.9856 of a BBEP unit for each unit of QRE. The offer represents a 19% premium to the unit value based on the July 23 BBEP closing price. The merger is expected to close in the fourth quarter or early in the first quarter of 2015. After the purchase closes, Breitburn plans to increase the distribution rate to $2.08 annually, up 3.5% from the current $2.01.
The acquisition has been approved by the boards of both MLPs.
Breitburn Energy Partners vs. Linn Energy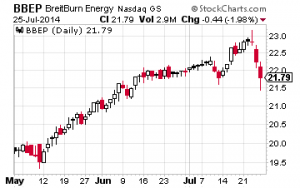 Breitburn Energy has a close to 5-year history of steady distribution growth. BBEP increased its payout every quarter since Q1 of 2010. QR Energy has paid a level distribution since the last increase for the second quarter of 2012. Based on the current BBEP unit price of $21.50, BBEP investors will be earning a yield 9.6% after the deal closes and 9.2% from now until then. QRE investors currently earn 9.7%, which will continue and grow after the merger.
Linn Energy, in spite of numerous asset purchases and one major acquisition, has not been able to increase its distribution rate since Q1 of 2012. Over the last year and a half, the company has not been able to produce any growth in its distributable cash flow per unit, and I do not expect any distribution increases for at least the next year. A combination of events forced Linn to overpay for its acquisition of Berry Petroleum, and the effects of paying too much continues to hurt Linn's ability to accretively grow cash flow. LINE currently yields 9.3%. LinnCo LLC (Nasdaq; LNCO) is an affiliate of Linn Energy and each LNCO unit is backed by one LINE unit and pays the same distribution. Due to a pricing difference, LNCO yields 9.7%.
As you can see, Breitburn Energy Partners pays a similar yield to Linn Energy, but has better distribution growth prospects. The purchase of QR Energy only enhances the growth potential. In addition, the larger size will attract more investor interest, which could drive up the unit value. Over the next several years, an investment in BBEP will significantly outperform LINE or LNCO.
With The Dividend Hunter newsletter, I search out the MLPs and other high-yield stocks that are not in the general investor spotlight. These "in-the-shadows" income stocks offer higher yield and growth potential without increased risk compared to the stocks less informed investors tend to stock their portfolios with. I've got more MLPs being added to the portfolio and we're getting ready to finish up the next issue. I'm using MLPs, REITs, BDCs, CEFs, and regular dividend stocks as part of our monthly dividend paycheck strategy where you'll receive 2, 3, even up to 5 dividend paychecks every month. Find out more as the next payment is right around the corner. CLICK HERE.