Paying you 8% in dividends a year, these two stocks can really boost your income over the typical dividend stock investments that pay right around 2%. Plus, their steady businesses that will keep churning out growth will actually become more profitable after the Fed raises rates. 
Finally, after nearly a decade of basically zero percent short term interest rates, it seems that the Fed will start to modestly move interest rates higher. In the groups of higher yielding stocks, especially real estate investment trusts (REITs), the market fears higher rates and will sell off REIT shares in the face of anticipated rate hikes. However, the fact of higher rates has been long anticipated, for at least the last two to three years.
Most REITs should be ready for higher rates and some will become more profitable when the Fed does start to step up short term interest rates.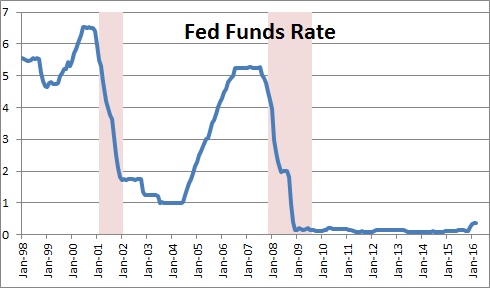 There are two fears that affect REIT investors in regards to higher interest rates. All REITs borrow quite a lot of money to pay for their property or mortgage loan investments. This is a business that needs leverage to earn acceptable returns on equity. Higher interest rates could increase borrowing costs, which would squeeze profit margins.
Some types of REITs have very narrow profit margins, so even a half percent increase on debt financing could severely impact these companies' ability to continue to pay current dividend rates. The second fear is that if rates are higher on fixed income investments such as bonds or bank CDs, investors will sell their REIT shares, which would cause share prices to fall, and they would invest in the less volatile fixed income investments.
The second fear is that if rates are higher on fixed income investments such as bonds or bank CDs, investors will sell their REIT shares, which would cause share prices to fall, and they would invest in the less volatile fixed income investments.
On the concern about higher borrowing and debt servicing costs, REITs have been anticipating higher rates for the last couple of years. Most have been working hard to lock in the current low rates with long-term debt, so that higher rates will not become an expense factor for quite a few years.
Also, higher rates should allow REITs to grow their revenues through either rent increases or the purchases of properties with higher yields based on rental rates vs. cost. While you need to carefully review the balance sheets, especially the debt maturity schedules, most REITs have taken the last few years to insulate their earnings from higher interest rates in the near to intermediate term.
SEE ALSO: Join Tim Plaehn LIVE as he shares his 'Top Dividend Stocks for 2017'
Looking at the fear that investors will flee REITs to bonds and CDs, first look at the current relative yields. A 5-year CD yields 2% and the 10-year Treasury is currently paying 2.33%. In contrast, investors can find quality REITs that yield 5%, 6% even over 10%.
Investors who want or need a current high yield and cash flow continue to get more of that with REITs. Also, REITs are growing businesses and have the ability to increase dividend rates as profits grow. Many of these companies have histories of dividend increases.
There are some REITs with business operations that will actually do better if interest rates increase. These companies provide real estate financing using adjustable rate mortgages. As interest rates increase, so will the interest rates on the mortgages originated by these REITs.
To receive the benefits of higher rates, the companies must retain the loans in their own portfolios. Most mortgage REITs focus on originating loans and then packaging them for sale. Money is made on the fees from originating and also from selling the loans packaged up into mortgage backed securities.
Blackstone Mortgage Trust Inc. (NYSE: BXMT) and Starwood Property Trust, Inc.(NYSE:STWD) both originate and own commercial property mortgage loans. The two companies have very similar business operations. Over the last two years, both companies have shifted to issuing only adjustable rate loans. Both have stated that as interest rates rise, so will their profits. Finally, both are conservatively managed with low leverage and low average debt to value in their loan portfolios. Here are some financial details about each.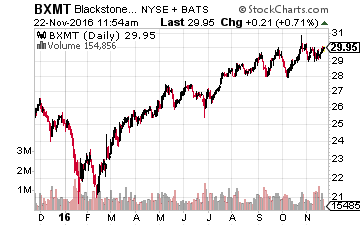 Blackstone Mortgage Trust has a $9.4 billion portfolio of commercial mortgages. The loans have an average 60% loan-to-value at origination. Debt is 2.2 times equity with borrowings matched to individual mortgage loans. Currently the company is only making adjustable rate loans and 86% of the total portfolio is adjustable rate. The company states that a 1% increase in the LIBOR interest rate would increase annual earnings per share by $0.19. BXMT currently yields 8.3%.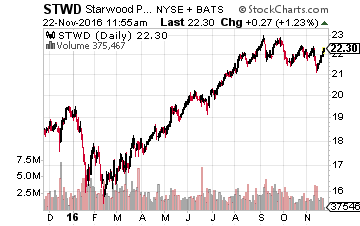 Starwood Property Trust owns a $6.6 billion commercial mortgage portfolio with a 62% loan-to-value. This REIT also owns a commercial mortgage servicing company that handles servicing tasks on $11 billion in loans and $11 billion worth of real estate owned (REO) by third party lenders.
In its history, Starwood Property Trust has never lost money on one of its originated mortgages. Debt to equity leverage is a very conservative 1.4 times. Starwood forecasts that a 1% increase in LIBOR would add 8 cents per share to net income. STWD currently yields 8.8%.
Stocks like Starwood Properties and Blackstone Mortgage Trust that have high current yields and the potential for dividend growth are an integral part of the income strategy for my newsletter, The Dividend Hunter. The stocks in this article are strong, stable dividend payers and just like the 20 high-yield stocks currently available through my Monthly Dividend Paycheck Calendar system for generating a high monthly income stream from the market's most stable high-yield stocks.