Both companies have seen their share prices fall right around 25% since August based on nothing more than market fear. With strong, stable businesses and dividends putting cash into your pocket, consider these two stocks that Tim Plaehn remains bullish on for your income portfolio.
We all know that to make money by investing, the idea is to buy low and sell high. However, timing the ups and downs in the stock market is a near impossible task, and there will be times when investors buy high and then see share prices fall dramatically.
When that happens, the typical reaction is to be fearful of further losses, sell shares, and lock in a losing investment. I talk to many, many stock market investors who see a loss on a stock and immediately want to sell. I constantly try to teach investors how to get through stock market declines and allow themselves make profits on their investments in the future, rather than selling out of panic and losing money.
Let's start with a dramatic example that shows my point. Way back in December 1999, Amazon.com, Inc. (NASDAQ: AMZN) hit it's 1990's peak share price of about $107 per share. Then, along came the 2000 bear market and the AMZN stock chart looked like this:

By mid-2001, AMZN was down to less than $6.00 per share, or a 95% decline from the peak! A lot of investors lost a lot of money as they sold during that massive decline. Yet, let's look at the lifetime stock price chart for Amazon.

As you can see, over the last 15 years, the AMZN share price has climbed from single digits to a current value of over $700 per share. If you had bought shares on December 12, 1999 at $106.70 and held it until now, your investment would be up by 700%, or 12.1% compounded per year. If you had the fortitude to buy more shares when the AMZN share price was way down, your gain would be measured in thousands of percentage points. So what is the secret to staying with a stock that has fallen a lot and staying confident it will recover to become a profitable investment?
So what is the secret to staying with a stock that has fallen a lot and staying confident it will recover to become a profitable investment?
The answer is to understand what is actually happening with the business of the company in which you own shares of stock. If the business is growing, generating higher sales, profits and/or free cash flow, the stock price will eventually recover. Share prices in the short to intermediate (which can sometimes feel a lot longer than "intermediate") term are driven by investor sentiment, fear, and greed
In the longer term, business growth as measured by financial results must eventually result in a higher share price. The example with Amazon shown above is an extreme, but also illustrates why almost every long-term stock chart you can find has a positive slope up and to the right.
SEE ALSO: The Best Strategy for Retirement Under President Trump
I apply this understanding of how share prices recover from downturns to the higher yield dividend stocks I follow and recommend. If you are earning an attractive yield on your stocks, that income stream will continue even as share prices fall. With that dividend stream, you can continue to collect an income from your nest egg, or if you are investing for growth, you can reinvest the dividends at lower share prices.
This will dramatically boost your total return when the stock price recovers. The most important factor is that you must understand a company's business operations and be confident from your research that the company will continue to grow. In a down market, all stocks go down, taking the shares of very good companies along with those companies that started the sell-off. While it is the right thing to do, it is very hard for investors to buy more shares of stock after they have fallen. Especially if it might continue to decline for a while before turning higher. As a dividend focused investor you can be less concerned about catching tops and bottoms and instead focus on growing your dividend income stream.
I hope this discussion helps you to become one of the minority of investors who have the discipline to understand that big share price drops will eventually recover, as long as business results show growth, allowing you to hold on to become profitable or to buy low and become even more profitable. Here are a couple of nicely growing companies whose share prices have been beaten down by fear in the market. They will give you high current dividend yields and future share price gains.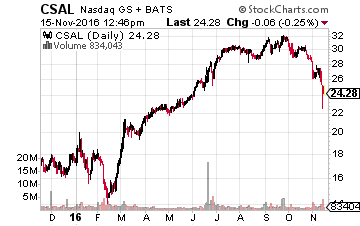 Communications Sales & Leasing Inc. (Nasdaq: CSAL) is a unique real estate investment trust (REIT) that primarily owns and leases out fiber telecommunications networks. It also owns cell towers and land under the towers. The company is expanding into Latin America, serving the strongest telecom companies operating in countries like Mexico and Latin America. CSAL just released its third quarter earnings results and business continues to grow as forecasted. In spite of being a nicely growing company with a unique niche, the CSAL share price has declined by over 25% since mid-September. The dividend is safe and the current yield is over 10%. This stock will at some point move back about $30 per share, generating a very nice total return.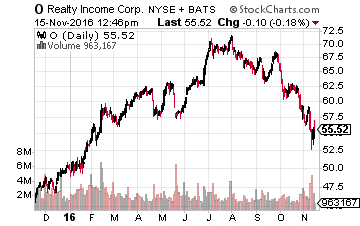 Realty Income Corp (NYSE: O) is a very high quality net lease REIT. This company has paid 555 consecutive monthly dividends and increased that dividend rate for 76 (over 6 years) straight quarters. The Realty Income share price has dropped by 25% since August 1. Now, you can buy a high quality dividend payer with a 4.5% yield and a dividend that will grow by 5% per year. At some point, income investors will fall in love with this stock again and the share price will start to rise. Until then, you get a nice, growing dividend check every month.
Stocks like Realty Income and Communications Sales & Leasing that have high current yields and the potential for dividend growth are an integral part of the income strategy for my newsletter, The Dividend Hunter. This is where I recommend the market's strongest, most stable high-yield dividend payers, and there are 20 high-yield stocks currently available through my Monthly Dividend Paycheck Calendar system for generating a high monthly income stream from the market's most stable high-yield stocks.