From 1995 to 2015, there were 16 periods when interest rates increased significantly, and during 12 of those 16 periods (75% of the time) stocks like the two shares in this article generated positive returns. Don't shy away from dividend stocks just because interest rates are increasing. See the two in this article that should become more profitable as rates increase. 
Wall Street can be a funny place. No, I mean it.
Where else can you find people repeat the same behavior again and again, even though that behavior has lost them money every time?
Just look at all the ballyhoo over the pending rate increase from the Federal Reserve.
Here's just one example – everyone "knows" that rate rises are terrible for gold prices, so you should sell gold. Never-mind that, each time the Fed has raised rates this century, gold prices have risen.
REITs and Interest Rates
We see similar behavior when it comes to real estate investment trusts (REITs). Rising rates are "bad news". The thought is that higher rates reduce the present value of future cash flows.
That thought process has driven the FTSE NAREIT All REIT Index down about 9.25% since July.
But as with gold, over the longer-term, REITs can do quite well even when interest rates are generally on the rise.
Let's look at some recent examples.
On May 22, 2013, then-Fed chair Ben Bernanke suggested the Fed would begin tapering its quantitative easing program.
Predictably, the FTSE NAREIT index fell 6.6% within a month. And it fell another 8.5% over the next three months.
You can guess what happened next – the FTSE NAREIT All REIT Index went on to set new record highs in 2014 and early 2015.
Perhaps more instructive for current circumstances is the period from 2004 to 2006. The Federal Reserve raised rates from 1% to 5.25%.
Yet according to NAREIT (National Association of Real Estate Investment Trusts), the total return for the REIT sector was 69%. That was ahead of the gain posted by the S&P 500 of around 30%.
And if we go back to the period from 1995 to 2015, there were 16 periods when interest rates rose significantly. Equity REITs generated positive returns in 12 of those periods.
Bottom Line for REITs
In other words, the relationship between REITs and Treasury yields is strong over the very short-term. That is, rates rise and REITs drop in price.
But that does not hold over the long-term.
SEE ALSO: The Only Safe 18% Yield Dividend Stock
What matters longer-term is cash flow and dividends.
Another salient point investors need to understand is why interest rates are rising, such as in that period from 2004 to 2006.
If rates are climbing because of stronger economic activity, that is good news for most REITs. After all, economic growth spurs more spending by both corporations and individuals. That will translate into higher occupancy rates for many REITs.
That seems to be the environment we're in now. The Fed is ready to raise rates because the U.S. and the global economy look to be moving into recovery mode, with faster economic growth.
This should bode well for REITs. Here are just two examples.
REIT Pick #1: Prologis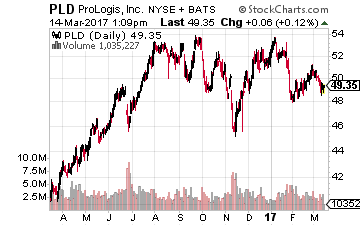 The first REIT is the global leader in industrial real estate and logistics – Prologis (NYSE: PLD), which has a 3.6% yield.
The company has $66 billion in real estate under management, with an operating portfolio of nearly 3,347 industrial properties and over 676 million square feet that is either owned, managed or under development in 20 countries on four continents.
Prologis is exposed to countries that account for 70% of the world's GDP. This includes fast-growth areas such as Asia where Prologis owns 55 million square feet of space.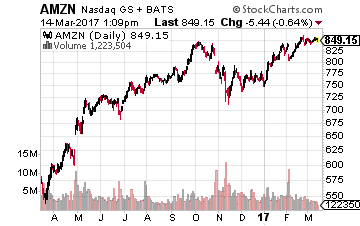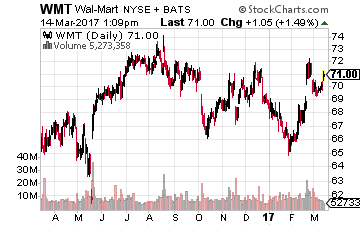 The company is one of the primary beneficiaries of the e-commerce boom and the expanding need for warehouses. It has more than 5,200 customers worldwide. The largest of which include familiar names such as Amazon (Nasdaq: AMZN) and Walmart (NYSE: WMT).
E-commerce sales were projected to rise by 162% in the 2015-2020 period. And if we narrow our focus solely to the United States, forecasters say e-commerce will account for 30% of all retail sales by 2030.
The consultancy PwC estimates that every one billion dollars of e-commerce sales drives demand for one million square feet of industrial real estate.
That's music to the ears of Prologis, which will continue its growth path (including rising dividends) alongside e-commerce. The stock is still up 15.7% over the past year.
REIT Pick #2 – Blackstone Mortgage Trust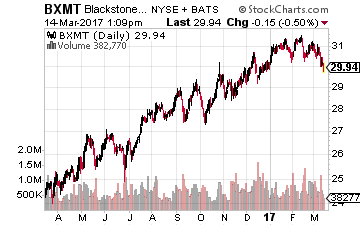 And for those of you still worried about rate hikes, consider Blackstone Mortgage Trust (NYSE: BXMT).
The company originates and acquires senior loans collateralized by properties in both North America and Europe.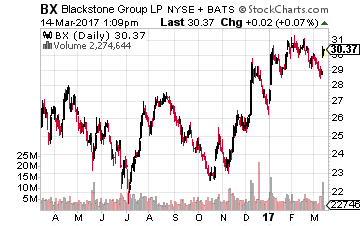 The biggest plus in its corner is its affiliation with the real estate division of the Blackstone Group (NYSE: BX). For those of you unfamiliar with Blackstone's real estate division, it is the largest real estate private equity group in the world with $102 billion of assets under management.
BXMT is privy to information from the Blackstone Group and is the beneficiary of proprietary deal flow from them. That's a huge advantage over other REITs.
Another positive is that most of BXMT's loans are based on LIBOR (the London Interbank Offered Rate). This is the benchmark rate the world's leading banks charge each other for short-term loans.
In other words, many of its loans are short-term and not effected by the steeper decline in longer-term instruments like the 10-year US Treasury.
The yield here is a juicy 8.18% and payouts are likely to continue unabated. Added to that, the stock is up 14% over the past year. It is even up 1% year-to-date, ignoring the theatrics surrounding rate rises. I expect this REIT to continue to ignore the interest rate drama thanks to its tie-in with Blackstone.
So, forget the hysterics; REITs can still offer income and dividend investors solid returns, no matter what the Fed does.
My subscribers and I regularly collect big dividend payments that give us financial certainty in an uncertain world, and only the most financially secure high-yield income stocks make it onto the recommendation list for my newsletter, The Dividend Hunter.
Right now, there are 20 high-yield stocks currently available through my Monthly Dividend Paycheck Calendar, a system for generating a recurring monthly income stream from the market's most stable high-yield stocks.