I stay constantly and quietly amused by the financial news networks. All of the talk is about day-to-day events and every up or down day has big meaning if you have to talk about it for a living. Yet I rarely see (OK, never) mention of one type of stock market investment that has produced 50% or greater returns over the last year, and the business structures of these companies provide a very good probability that similar returns can be repeated for years into the future.
I call these investments high-growth master limited partnerships (MLPs). These are not your typical large-cap MLPs like Kinder Morgan Energy Partners LP (KMP) which yields 7% and will steadily increase the distribution rate by 5% per year.
Instead, I am focused on those MLPs that are position to grow the distributions to investors by 20% to 25% every year, 5% to 6% every quarter!
These MLPs have sponsors/general partners that are large-cap energy companies that can transfer – for a price – revenue generating assets over to the MLP, producing higher distributable cash flow and higher dividends. The sponsor companies retain a large ownership share in the MLPs, which allows them to convert assets into cash and then receive a growing income stream from the ownership stake in the controlled MLP. This MLP drop-down strategy by big energy companies is fairly new, with many growth MLP IPOs coming to market in 2013 and more on the calendar for 2014.
Two of the fastest high-growth MLPs have recently seen a significant pullback in their unit prices. Since both plan to keep increasing distributions by 25% per year, the now lower prices represent a great time to get in for the next leg up and the potential to make 30% or better over the next 12 months.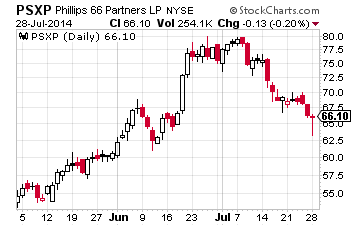 Phillips 66 Partners LP (NYSE: PSXP) was spun-off by refinery giant Phillips 66 (NYSE: PSX) with a July 2013 IPO. With the public offering 27% of the limited partner units were sold to the public, and the units initially traded at about $32. The price lagged in a $32 to $38 range until the first full quarterly distribution was paid in January 2014. At that time, the price rocketed up, peaking at $79.92, the first week in July. Three weeks later, the unit price is down 17% from the peak, at around $66. Now a year after the IPO, PSXP is just getting into the drop downs for growth phase of its MLP life. The just announced distribution for the second quarter was 10% higher than the Q1 payout.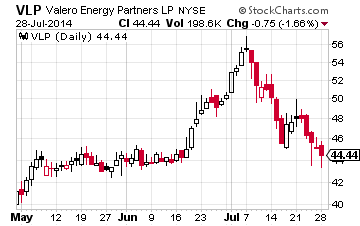 Valero Energy Partners LP (NYSE: VLP) was launched by Valero Energy Corp. (NYSE: VLO) with a December 2013 IPO and a partnership structure that looked like a carbon copy of PSXP. This time the market knew what was coming and VLP went from $28 at the IPO to $56.90 on the same July 7th when PSXP peaked. VLP is now down 22% from the peak to about $44.50. With its second full distribution for the second quarter, VLP increased the payout by 4.7%. This company is barely into the starting blocks when it comes to distribution growth and the market seems to have lost interest. Buying now will pay off greatly over the next year and longer.
These high-growth MLPs are just what any serious dividend investor needs for steady, predictable income and growth. I'm excited these stocks have pulled back a bit as investors who may have missed the first round are getting a second chance. These income IPOs are just a sampling of the types of stocks we deliver with my 30 Day Dividends service, a new dividend newsletter focused high growth / high yield income stocks and trading strategies. For the next PSXP and VLP or to just learn more about 30 Day Dividends, CLICK HERE.