It couldn't be more obvious, overly-optimistic investors have bid these two stocks' prices up into the stratosphere and it is only a matter of time before they come back down to earth. Bret Jensen recommends selling these popular stocks with cult-like followings before they crash. 
"Politics is the art of promising heaven and delivering purgatory, and claiming hero status for saving your country from hell." ― Bangambiki Habyarimana
We are a little over a week away from the upcoming presidential election which hopefully will provide clarity in the markets and ensure a continued mixed government which seems to be the consensus want of the equity market right now.  Whoever wins will not be inheriting much in the way of a growing economy.  Even with this week's strong third quarter GDP report, GDP growth has averaged under 1.5% over the past four quarters, the national debt has roughly doubled in the last eight years and the Federal Reserve has quintupled its balance sheet since the financial crisis.
We have talked a few times in the recent past how desperate income seekers have bid up traditional dividend sectors in the market like Consumer Staples and Utilities way past historical valuation levels in order to secure any income in this low interest rate environment.  Many Utility stocks go for north of twenty times earnings and yield just a tad beyond three percent even as they show stagnate revenue and earnings growth.
Investors in a large way have done the same in many areas of the market barren of many true growth opportunities at reasonable valuation levels.  This too probably will not end well especially if growth in the market does not ignite soon.  Unfortunately, I just don't see that happening in the near future given the dismal global backdrop.  Goldman Sachs this week lowered their top down profit forecast for the S&P 500 in 2016, 2017 & 2018 this week.  They see earnings growing seven percent on average over this three-year period on an annual basis.  Given that profits within the S&P 500 have declined year-over-year during the past five quarters, I think this is still a tad optimistic.  Especially since the investment bank also predicts margins will start to go down in 2017.
Investors should maintain their discipline and not chase growth for growth sake.  It is better to sit in cash and wait for lower entry points and/or for the global economic environment to improve.  Here are a couple of areas I would be particularly wary of right now.
Hot IPOs:
Although the quality of IPOs is probably higher right now than in years past simply because the lack of buyer interest has ensured most "junk" IPOs never make it to market; I would still be especially cautious here.  Unless your broker is a good golfing buddy and can get an allocation in a hot offering at its go public price, I would probably avoid this sector of the market.
Often if an investor is patient, they can pick up the same company 12-18 months later at 30 to 50 cents on the dollar after insider stock lock-ups and analyst hyperbole has died.  There have a couple of good examples of how much a rollercoaster this part of the market can be in 2016.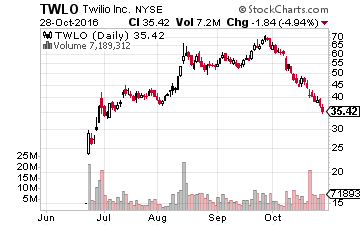 "Cloud" name Twilio (NASDAQ: TWLO) has offered its investors a wild ride since it came public under $30.00 a share in June.  The stock soon shot up to nearly $70 a share, at which time some 50% of its float was held by short sellers.  The stock has since crashed and burned and is near $35.00 a share.  I would not surprise me at all if patient investors with dry powder have a chance to pick up this once hot stock up in the $15 to $20 a share range sometime over the next year.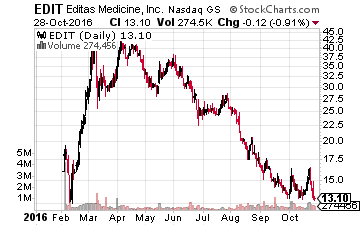 Another good example of why I avoid the IPO market is gene editing concern Editas (NASDAQ; EDIT) which came public in the first quarter of this year to much fanfare.  Editas is one of the few small biotech concerns that have been able to successfully IPO this year.  It is in the vanguard of the next "big thing" in biotech which is gene editing or so-called CRISPR stocks.  The shares opened around $15 as Editas went public, surged to $40 a share soon afterward and are now back down to under $15 again.
Cult Stocks: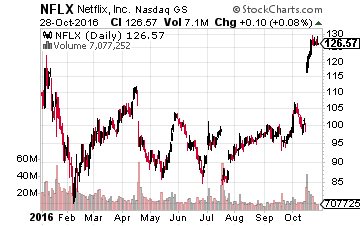 These are names that are front of mind, investors are very familiar with and sell on market share growth which is not accompanied by earnings or cash flow growth.  Netflix (NASDAQ: NFLX) is a perfect example of this sort of stock.  This is the kind of name that can move 15% to 20% in a day in either direction on quarterly results.
Netflix has seen great subscriber growth in the last decade.  However, growth in the United States is reaching saturation levels and international markets while promising growth will entail significant new costs as well.  Content is also continually getting more expensive and the firm is facing increasing competition from YouTube as well as Amazon Prime, and from a company that cares less about profitable growth than Netflix does.  The company is barely above breakeven.  The consensus does see the company earning near a buck a share in FY2017.  However, given the stock goes for north of $125 a share and has a market capitalization of over $50 billion, too much optimism is baked into the shares.
Learning the tell-tale signs of growth stocks that have been bid up to sky-high valuations can save your portfolio from suffering heavy losses when the irrational exuberance eventually dies. However, many investors rely on these stocks because they show up on all the financial media sites and pundit roundtables. Only over my decades-long investing career and time as a hedge fund manager have I been able to learn how to seek out the market's best growth opportunities that have reasonable valuations and superior long-term growth prospects to the market
And right now I have identified five of my highest conviction takeover stocks that have the potential to double your money overnight. My knack for finding companies on the verge of buyouts, about to hand massive returns to their investors, can be your gain because I have just released a new report on "5 Buyout Candidates to Double Your Money Overnight". With the market taking a pause, now might be the time to pick up a few shares.