Watching as your portfolio of dividend stocks fall in value is never easy, but Tim Plaehn has developed a strategy for selecting the right kind of dividend stock to help you through the times when the market just keeps falling. He shares two in this article that combined yield 7%. 
Over the last few weeks to a couple of months, I have seen the share prices of a significant portion of the higher yield stocks I research and recommend fall out of favor. And every time prices decline, I start to get the emails that read something like this:
"My portfolio of dividend stocks is down 10%, I don't think it will ever recover, should I sell?"
The reason investors feel this way, and my email box gets a bit fuller, is that individual investors do not have an overall stock market strategy that considers when the market goes down and only have a strategy for owning stocks with hoped-for price appreciation. The one prediction that we know will come to pass is that there will be times when the values of some or all of the stocks you own will go down in value. The stock market experiences a 10% or greater correction on average once a year. That's once a year when investors without a plan sell their shares to ensure they lose money. The other fact history tells us is that share values of quality companies always recover from corrections and even bear markets.
In the current low interest rate environment, the stock market is one of the few investment categories where a decent return can be earned. To do so, however, an investor needs a strategy that accounts for those periods when share prices are falling as well as how and when to take profits when prices are up. One path is to have some sort of timing strategy. Selling out of stocks when prices are high, going to cash, and then buying back in after prices drop. Personally, I have yet to find a system that accurately predicts market tops and bottoms – or even gets close. A traditional asset allocation strategy with fixed percentages of stocks, bonds, and possibly other investment classes is another approach. Regular rebalancing will produce a level of selling high and buying low. The problem with that is those times when everything goes down in value.
SEE ALSO: Tim Plaehn's FREE webinar on the top dividend stocks for a new president. 
I have adopted and fine-tuned a strategy of owning higher-yielding stocks that plans for both share price appreciation and market corrections. My main focus is on building a dividend cash flow income stream. The basics are to stay invested in income stocks all the time with the income stream continuing right through down periods in the market. By investing to build an income stream, it becomes easier to buy shares when prices are down because that produces a higher net yield.
When share prices go up, current yields (not my portfolio yield) get low, so I think about selling over-priced shares and reinvesting that cash into other stocks with higher yields. This lets me take profits when I have them and continues to build the overall income stream. The key to making the strategy work is to internalize and always be aware of the primary goal of building the dividend income stream. I warn you that it's not easy to stick to the plan when share values are down, but it does help avoid the fear-driven urges to sell for losses. The final piece of the strategy is to have some source of cash that can be invested when the market drops. This cash can be a cash balance maintained in your portfolio by reinvesting some or a portion of the dividend earnings or adding to your investment portfolio out of your working income.
To illustrate, let's look at a mini-portfolio of just two dividend stocks. One is a high-yield stock with strong coverage of the dividend. The other is a conservatively-run company that will grow the dividend over time. In practice, I recommend a portfolio of 15 to 25 stocks, diversified as much as possible across market sectors. Here are the two stocks that fit right into my investing strategy: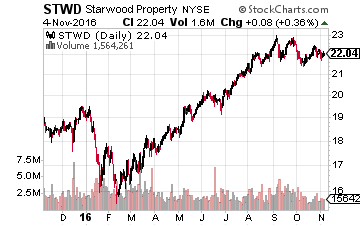 Starwood Property Trust, Inc. (NYSE: STWD) is a finance real estate investment trust (REIT) that makes, holds, and services commercial property mortgages. Starwood Property Trust is very conservatively managed and does not use complicated financial manipulations or hedging to earn money. The income is growing steadily, therefore increasing the coverage of the attractive dividend. This stock has held up well through the current market downturn affecting most income stocks. STWD currently yields 8.7%.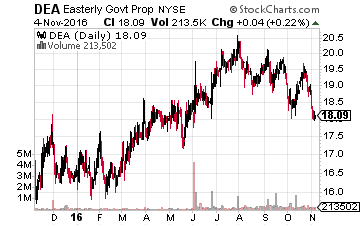 Easterly Government Properties Inc. (NYSE: DEA) is an equity REIT that acquires and owns properties leased to agencies of the Federal government. Property leases are long term with the world's most secure tenant. The Easterly management team is doing a good job of adding properties to the portfolio to grow revenue, cash flow and the dividend. These facts have not stopped the market from selling off DEA, and the share price is down 10% since early September. Two months ago this stock was priced to yield 4.6%. Now with the lower share price and a recently announced dividend increase, it yields 5.3%. As an income-focused investor, it is an easy decision to buy and add shares to the position in my portfolio.
This mini-portfolio has an average yield of 7%. I expect Easterly Government properties to grow its dividend by at least 5% per year. If I reinvest all the dividends, it will be possible to grow my income stream by something close to 10% per year. If I need income, I can draw 5%, reinvest the balance, and still have an income that grows year after year. This is a stock market strategy that will work through the up and down cycles that scare most investors, with that fear driving them to sell low and buy high.
Stocks like Starwood Property Trust and Easterly Government that won't cut their dividends, pay a high current yield, and have the potential for dividend growth is an integral part of the income strategy for my newsletter, The Dividend Hunter. Both stocks in this article are strong, stable dividend payers and just like the 20 high-yield stocks currently available through my Monthly Dividend Paycheck Calendar system for generating a high monthly income stream from the market's most stable high-yield stocks.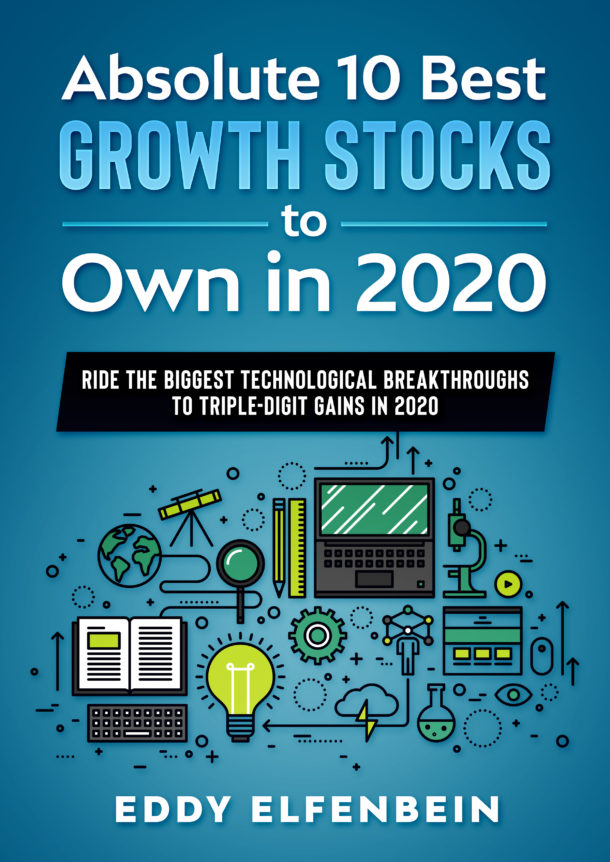 [NEW REPORT] Absolute 10 Best Growth Stocks to Own in 2020
Get the best 10 stocks to ride the 2020 tech explosion. 
One could be the most valuable stock of the next decade. 
Normally, I charge $20 for this report…
But, today...you can claim a copy absolutely free.
One stock alone has a chance at 167% profits in the next 12 months (or sooner). 
Enter your email below to claim a free copy while they last.