Once again President Trump has brought to the fore the sorry state of infrastructure in the United States, which is the end result of decades of neglect from governments on all levels.
A White House report said, "Our infrastructure is broken. The average driver spends 42 hours per year sitting in traffic, missing valuable time with family and wasting 3.1 billion gallons of fuel annually. Nearly 40% of our bridges predate the first moon landing. And last year, 240,000 water main breaks wasted more than 2 trillion gallons of purified drinking water—enough to supply Belgium."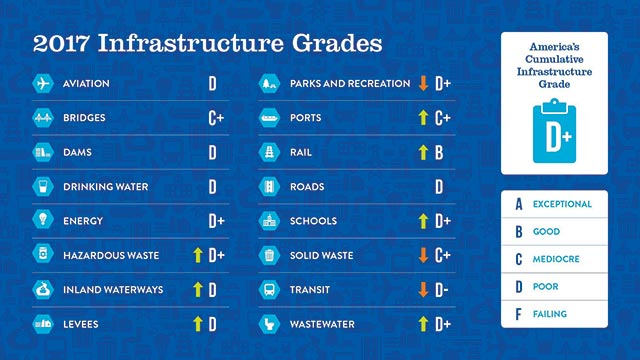 The report did not exaggerate. You need to look no further than the 2017 report card on infrastructure from the American Society of Civil Engineers (ASCE). It gave an overall grade of D+ for U.S. infrastructure, continuing the persistent D grades seen since 1998.
This is a serious matter if we want to have a 21st century economy. As the ASCE report stated, "The cost of deteriorating infrastructure takes a toll on families' disposable household income and impacts the quality and quantity of jobs in the U.S. economy." This is a true statement because infrastructure effects how efficient and productive companies are, which in turn effects the country's GDP.
The ASCE report estimated that through 2025, every U.S. household will lose $3,400 a year in disposable income thanks to infrastructure deficiencies. As a whole, the ASCE estimate is that the U.S. economy will lose almost $4 trillion in GDP by 2025.
Trump's Infrastructure Plan: All Hat, No Cattle
The problem is that to fix our country's infrastructure woes a lot of money will be needed. And that's where the President's proposed plan falls down.
The target for his infrastructure plan has been raised to $1.5 trillion, but the federal government will only kick in $200 billion over a 10-year period. In Texas, they would call that plan "all hat and no cattle." Keep in mind that we have an almost $5 trillion shortfall in infrastructure, according to ASCE. Apparently, the days of federally-funded projects like the Hoover Dam and the interstate highway system are long gone.
One major flaw in the Trump plan is that it expects greatly increased contributions from cash-strapped cities and states. These entities already furnish the bulk of government spending on infrastructure, including three-quarters of the national spending on transportation and water systems.
States' ability to borrow what's needed to fund very large, multi-decade infrastructure projects is limited. And most states will be wary of raising taxes, since the Trump administration's new tax plan limits the ability to deduct local and a state taxes from federal tax bills.
But what about the much talked about public-private partnerships?
Private Equity Says Fuhgeddaboudit
The Wall Streeters sitting of hundreds of billions for infrastructure investments gave Trump's plan a cold reception. And it's not just because of doubts about the politicians on the local and national levels.
FYI – there was a record $33.7 billion raised last year for North American infrastructure investments. The total since the end of 2015 is about $70 billion.
Infrastructure fund managers are mainly looking for assets that are already privately owned, such as railroads, utilities and pipelines. They are little interested in the deteriorating government-owned infrastructure like roads and bridges. And to the extent they are interested in publicly-owned infrastructure, their focus is much more on the privatizing of existing infrastructure rather than on new development – the core of Mr. Trump's push.
As pointed out by the Wall Street Journal, one prime example is the Blackstone Group L.P. (NYSE: BX). It has plans to raise as much as $40 billion (not included in the previous figures) for U.S. infrastructure investments. But a mere 10% will be devoted to public infrastructure assets. The story is similar with almost all infrastructure funds.
Infrastructure Investments
Despite our country yet to get its act together on infrastructure, it still can be a good sector for you to invest in. You just have to pick and choose carefully. Here are two examples.
The company at the top of my infrastructure investment list has to be Caterpillar (NYSE: CAT), the world's leading manufacturer of construction and mining equipment. It also makes diesel and natural gas engines as well as industrial gas turbines.
A big plus is that Caterpillar is truly a global company with more than half its sales generated outside the U.S. In its latest quarter, CAT reported a 34% rise in sales globally, with strength across all regions. This was a level last seen in August 2011. The company specifically noted that in North America the gains were led by construction. Adjusted earnings surged 160% in the quarter.
As of the end of fiscal 2017, Caterpillar's order backlog was at $15.8 billion, driven by higher backlog in its resources-related industries business. The strong global macroeconomic background led management to guide its adjusted earnings per share to a range of $8.25-$9.25 for fiscal 2018. The midpoint of the guidance range reflects 27% year over year growth.
If you are looking for more pure U.S. exposure, there is Martin Marietta Materials (NYSE: MLM), which is a leading supplier of construction materials (such as aggregates) for highways, infrastructure and other building projects.
The company posted impressive results in the latest quarter, beating consensus estimates on both earnings and revenues. Adjusted earnings were up 21.3% from the year ago quarter to $1.88, while revenues were 2.3% higher to $970.5 million. For 2018, management guided revenue estimates to between $4.2 billion and $4.4 billion.
And if anything happens on the public infrastructure front, MLM is a sure beneficiary. Infrastructure construction accounts for about 37% of the company's total aggregate product line shipments.
So even if the politicians dither (as usual), infrastructure investments can still be money-makers for you.Get Your Hands on Stocks Growing Revenues (and Stock Prices!) Faster than Google and Apple
I'd like to reveal to you the blue chip stocks - one in particular - that could literally be worth millions of dollars to you over the next decade.
Revenue for one firm in particular is growing faster than that of Google and Apple, the darlings of Wall Street. Investors have watched the stock price shoot up over 100% this past year and we're just getting started.
You need to get in this stock before April 1st (it's closer than you think!).
Get the details in my new report. Click here.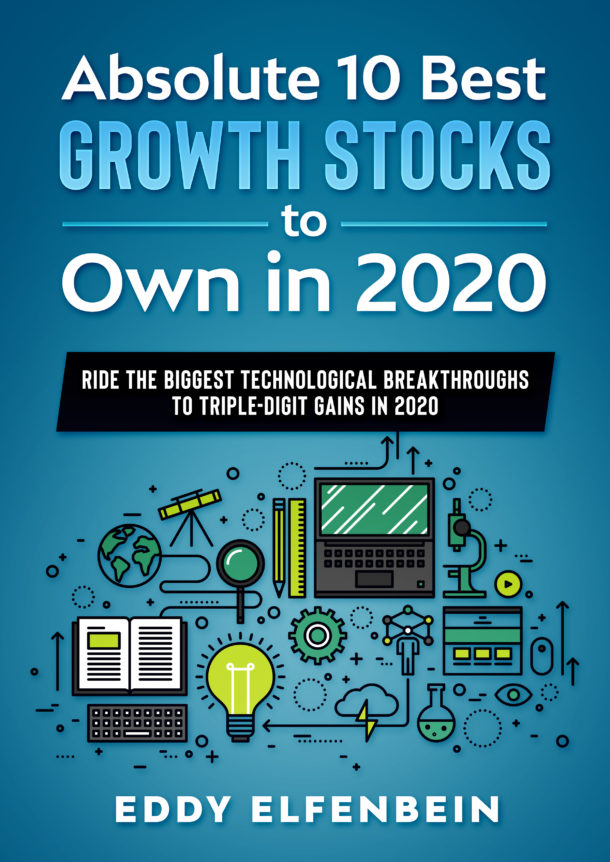 [NEW REPORT] Absolute 10 Best Growth Stocks to Own in 2020
Get the best 10 stocks to ride the 2020 tech explosion. 
One could be the most valuable stock of the next decade. 
Normally, I charge $20 for this report…
But, today...you can claim a copy absolutely free.
One stock alone has a chance at 167% profits in the next 12 months (or sooner). 
Enter your email below to claim a free copy while they last.