The Oracle of Omaha made a surprise purchase in the markets recently when he bought a 10% stake in a retail-focused real estate stock. Could this be a sign that the retail gloom is not as bad as it seems? Here are two high-yield dividend stocks that follow Buffett's thinking and could have the potential for safe long-term income. 
Warren Buffett, one of the best investors of all-time, has found an overlooked and high dividend niche for investors.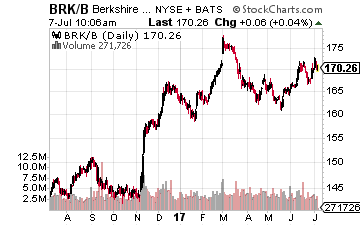 The best way to invest like Warren Buffett might not be his holding company, Berkshire Hathaway (NYSE: BRK.B), but rather — real estate.
In particular, real estate has exposure to the beaten down retail space.
Buffett has become a connoisseur of retail focused real estate investment trusts (REITs).
He recently made his second major retail REIT investment in less than three years, with his Berkshire Hathaway buying up 9.8% of Store Capital (NYSE: STOR).
REITs have been — and are still — getting overlooked.
The Vanguard REIT Index ETF (NYSE: VNQ) has been an under-performer over the last year as the market continues to worry about what rising interest rates means for high yielding REITs. The VNQ ETF has fallen 8% in the last year and has underperformed the S&P 500 by more than 14 percentage points in the last three years.
Warren Buffett has no such concerns.
Shares of Store Capital had fallen nearly 20% in 2017 before Buffett announced his investment. Store Capital owns real estate and rents it out to health clubs, preschools and traditional retail — such as hunting shops, craft stores and furniture centers.
Then there's Seritage Growth Properties (NYSE: SRG), which Buffett personally invested in during 2010. Seritage is the Sears Holdings (NASDAQ: SHLD) spinoff, which owns Sears' real estate.
Buffett considers investments in income-yielding properties as safe bets over the long-term — safer than gold or bonds.
REITs are still the best way in this market to own real estate without the hard work and headaches. Plus, you'll get above average dividends — consider this: The VNQ is offering a 4.5% dividend yield, while the S&P 500 offers an average dividend yield of 1.9%.
The "Death by Amazon" angle might be overplayed, and has created buying opportunities among retailers, but as Buffett has shown — owning the real estate is the safe and best play. With that in mind, here is the top two REITs that should entice Buffett: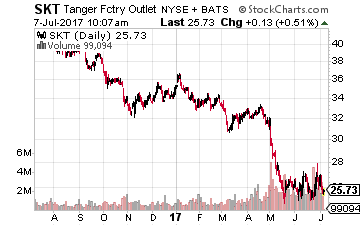 Warren Buffett Real Estate Stock No. 1: Tanger Outlets (NYSE: SKT)
For investors that want to capitalize on the retail fallout, there could be a win-win opportunity in REITs. I've talked about retail REITs before, including Tanger Outlets, but we're doubling down this month. The shift toward online shopping might mean 'bad news' for malls, but luckily, Tanger isn't a mall REIT — it focuses on outlet centers.
Given Tanger's "bargain focused" retail concept, it's able to attract shoppers during an economic boom or bust — everyone wants a deal, regardless of the economy. With that, Tanger managed to outperform the S&P 500 and VNQ ETF during the financial crisis.
Tanger calls the likes of Gap (NYSE: GPS), Under Armour (NYSE: UA), Lululemon (NYSE: LULU) and VF Corp (NYSE: VFC) customers. It can build outlets on a much cheaper budget compared to multi-million dollar mall projects, while still giving retailers scale and customer accessibility. Outlets remain a profitable angle for retailers. Tanger has a strong balance sheet and continues to build out projects that should help drive future growth.
Compared to other major retail REITs, Tanger is also just too cheap to ignore. Shares trade at just 10 times price-to-funds from operations (FFO). Top peers, General Growth Properties (NYSE: GGP) and Simon Property Group (NYSE: SPG) — both mall REITs, trade at nearly 15 times FFO. Tanger also pays out a healthy 5.4% dividend yield and has managed to increase its dividend every year since its IPO — a 24 year streak.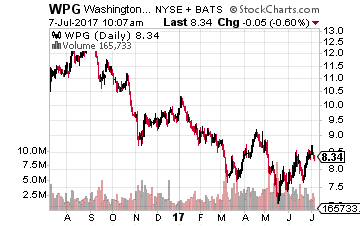 Warren Buffett Real Estate Stock No. 2: Washington Prime Group (NYSE: WPG)
Washing Prime Group is another real estate play in the retail industry; however, it is a mall-focused REIT. The reason this REIT remains interesting is that it's often overlooked. It has a small market cap, coming in at $1.5 billion — compared to Simon Property Group's $46 billion. But Washington Prime Group still owns over 100 properties.
Then there's the fact that much of its income comes from joint ventures, which makes analyzing the REIT a bit more complex. Still, Washington Prime makes plenty of money and has a strong balance sheet. And most of the debt it carries is non-recourse mortgages, which allows Washington Prime to walk away from underperforming malls without any consequences. And if you thought Tanger Outlets was cheap, Washington Prime Group is even cheaper, trading at 5 times FFO.
Shares have been tumbled 20% in 2017 and its dividend yield is now a massive 12% — a dividend yield that also appears rather safe. Washington Prime Group's dividend is just a 60% payout of its adjusted funds from operations — AFFO is the key measure of operating income for REITs.
In the end, studious investors can learn a lot from Buffett. One of the most recent lessons is that investors can still make money in the real estate, especially the beaten down real estate space.
Turning your retirement savings into a consistent stream of income is no easy task. You might spend hours researching what stocks to buy, only to end up with three seemingly attractive stocks like the two above.
There are thousands of stocks to choose from, but only a small percentage of that group are the right stocks for you to own. The best high-yield stocks need to have safe long-term businesses that print money every year no matter what the market does. Those are the only companies that can pay consistent dividends.
That's a tall task for most companies, and unless you have a degree in finance or worked on Wall Street, picking the best companies to own, out of all of the other ones, is an extremely difficult task.
That's why Tim Plaehn started his income letter, The Dividend Hunter, which uses his Monthly Dividend Paycheck Calendar tool that helps investors start earning a reliable income stream from dividend paychecks.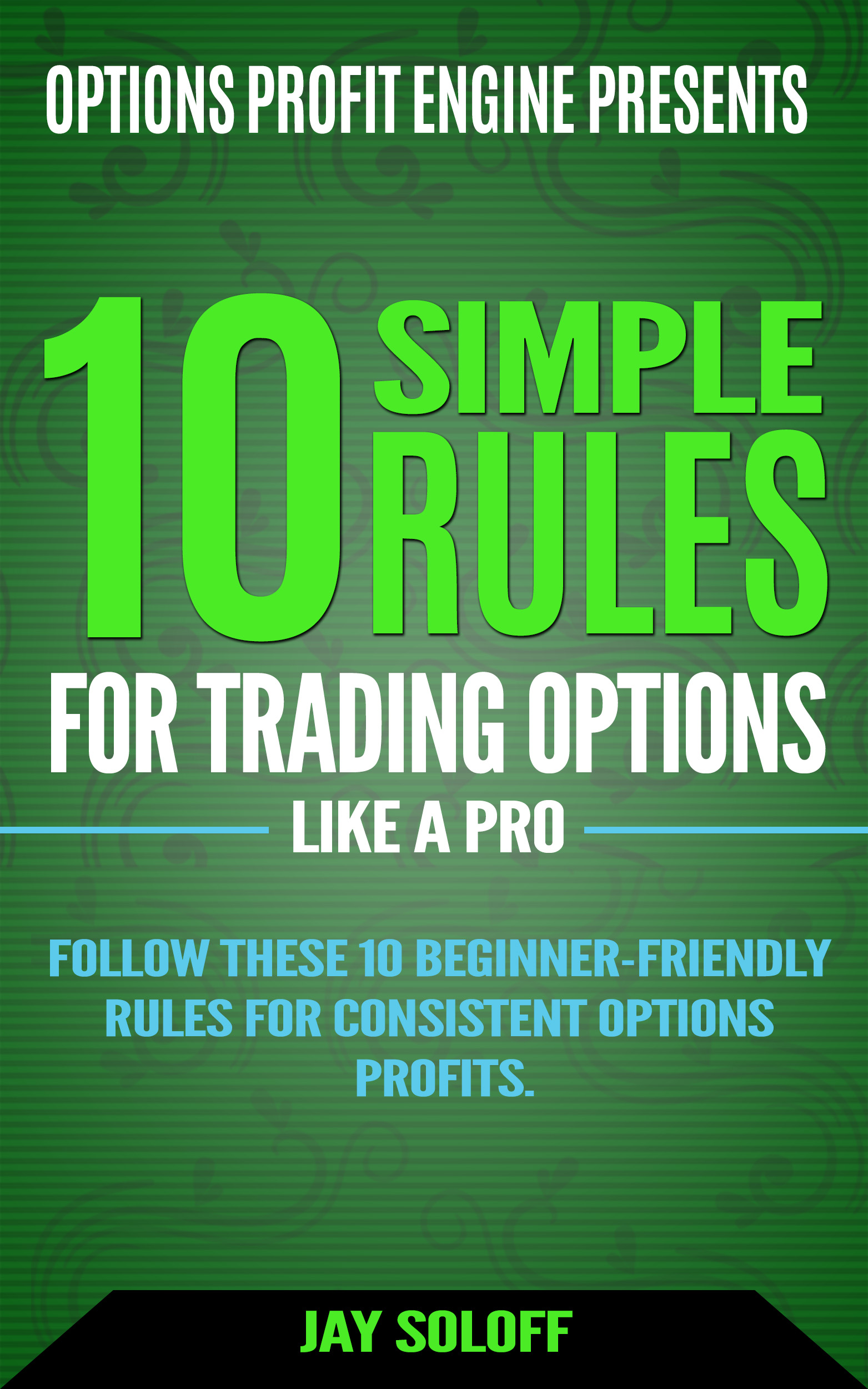 [FREE DOWNLOAD] 10 Simple Rules for Trading Options Like a Pro
Follow these 10 simple rules from 20-year professional options trading veteran, Jay Soloff and start earning a reliable extra income from options.
NO prior experience needed to master these 10 simple options trading rules. 
Enter your email below and receive access to this FREE guide...