Projecting an aggressive three rate hikes in 2017, the Federal Reserve's actions might put some of your income stocks in danger. Replace those stocks today with the two Tim Plaehn details that will actually become more profitable with higher rates. 
From the financial news sources, you may be hearing the opinion that rising interest rates will hurt the value of real estate investment trust (REIT) stock prices. I have received several questions on the topic from my newsletter subscribers. While the news bytes make it sound as simple as "If A then B", the real story has a lot more detail. Here are some of the actual factors that could affect REIT share prices in the short to longer-term future.
Reasons why higher interest rate will hurt REIT values:
The math of prices and yields. A move to a higher yield means an investment's value must fall. This reason puts a strong correlation between REIT yields and yields on fixed income securities like bonds.
Rising rates will increase the interest expenses for REITs, reducing net income and the ability to continue to pay dividends. All I will say here is that the REITs I follow have used the last several years to structure their debt and lock in lower interest rates.
Higher interest rates will lead to higher cap rates on commercial properties. The cap rate is the cash yield on a property based on the price paid and the rent payment amounts. A higher expected cap rate results in a higher property value if it needs to be sold. From my experience, cap rates are something Wall Street analysts care about, but are not a factor when the market prices REIT shares.
The belief that with higher fixed income security yields, investors will sell their REIT shares to invest the money in "safer" bonds and bond funds. To me this is not logical, because reason 1 definitely applies to bonds.
Uninformed REIT investors believe what they hear and read from the various financial news sources and sell their REIT shares. Bingo!
Reasons why higher interest rates will not be a negative for REIT share investments:
Higher interest rates will allow REITs to raise their rental rates, increasing revenue and the ability to grow dividends. Profits will increase, especially if a REIT has locked in long-term debt at the previously lower interest rates.
Higher cap rates mean that when a REIT makes investments into additional properties, the returns on the new acquisitions will be higher.
Higher interest rates make it more expensive to finance new commercial property construction, reducing the potential for rental rate challenging competition.
Unlike a fixed income investment, a REIT is a business that can react to changing market and interest rate conditions.
Rising interest rates will cause bond prices to fall. Informed investors will prefer investing in REITs that have histories and prospects of growing their dividends to offset higher interest rates and prices.
Investors who understand the difference between fear selling and investing for the long term in growing businesses will be happy to scoop up shares when stock prices decline in the short-term.
The idea to remember is that each REIT is a separate business, with its own niche in the larger commercial real estate universe. There will be REITs whose businesses are negatively affected by higher interest rates in that group as well. However, there will be a significant number who do fine or even have better results as interest rates increase.
As a REIT investor, your best bet for success is to understand the business and financial results of the companies in which you are a stock owner. Here are two REITs that should do well if interest rates increase in 2017.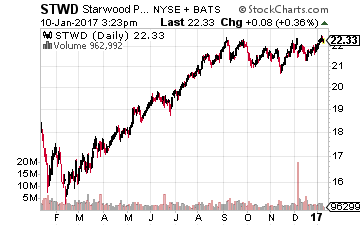 Starwood Property Trust, Inc. (NYSE: STWD) is a finance REIT, which means it makes or owns real estate mortgages rather than owning commercial property. The bulk of Starwood Property's business is to make and hold commercial property mortgages.
For the last several years, the company has only been offering adjustable rate loans. This means as rates increase, so will Starwood's profit margins. Starwood Property Trust is the most conservatively managed company in the entire finance REIT subsector. The quality and safety of the STWD dividend is not reflected in the 8.6% yield.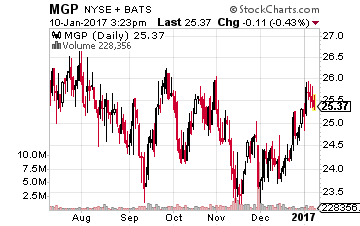 MGM Growth Properties LLC (NYSE: MGP) may be the most undervalued equity (property owning) REIT on any of my income stock recommendations lists. MGP owns 11 casino properties that are leased back to be operated by MGM Resorts International (NYSE: MGM).
Lease payments from MGM to MGP are 4.0 times covered by the properties' EBITDA run rate. A master lease covers all the properties into a single lease payment, so MGM can't get out of paying if one casino runs into financial trouble. There are significant prospects for future dividend growth, and this REIT should be priced to yield a lot less that the current 6.0%.
Stocks like MGM Growth and Starwood Properties that have a high current yield and the potential for dividend growth are an integral part of my income investing strategy that I share in my newsletter, The Dividend Hunter. This is where I recommend the market's strongest, most stable high-yield dividend payers, and there are 20 high-yield stocks currently available through my Monthly Dividend Paycheck Calendar,  a system for generating a recurring monthly income stream from the market's most stable high-yield stocks.