Those investors who want to put reward to risk in their favor with distressed and discounted stocks can use long options to leverage upside potential with a small cash outlay compared to buying shares outright.
SUPERMARKET SALE STRATEGY – with a WHOLE lot of time to be right…
Food is falling…bread, beef, chicken, eggs, and bologna are examples of staples that have slid 5% to 10% in the last year .
The competition at your local grocer has created a food fight for your spending dollar. Mega chain grocer Kroger (NYSE: KR) cited last week in the quarterly earnings announcement that guidance was lowered because of food price deflation.
KR is up 180% in the last five years as consumers recovered from the financial crisis crush.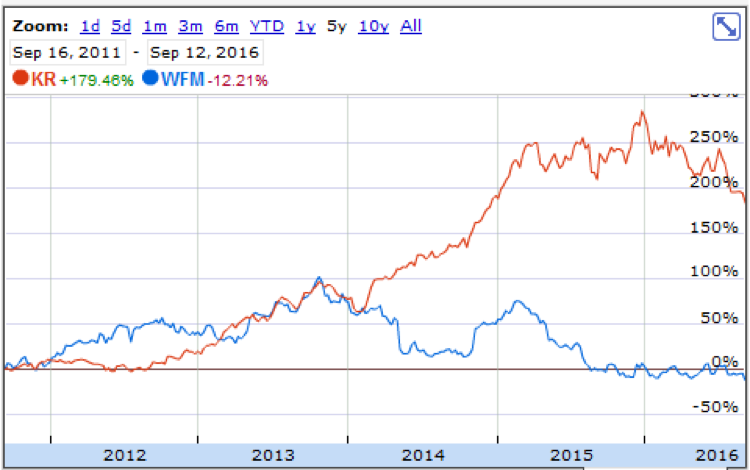 In comparison, high-end Whole Foods Market (NYSE: WFM) stock was essentially left behind, actually backtracking, as everybody – including many of its competitors — got on the organic foods bandwagon.
Whole Foods has been hit hard after a meteoric rise to its $65 peak in 2014 from a $5 bottom in 2009. More than half of those gains have been given back in the last couple of years.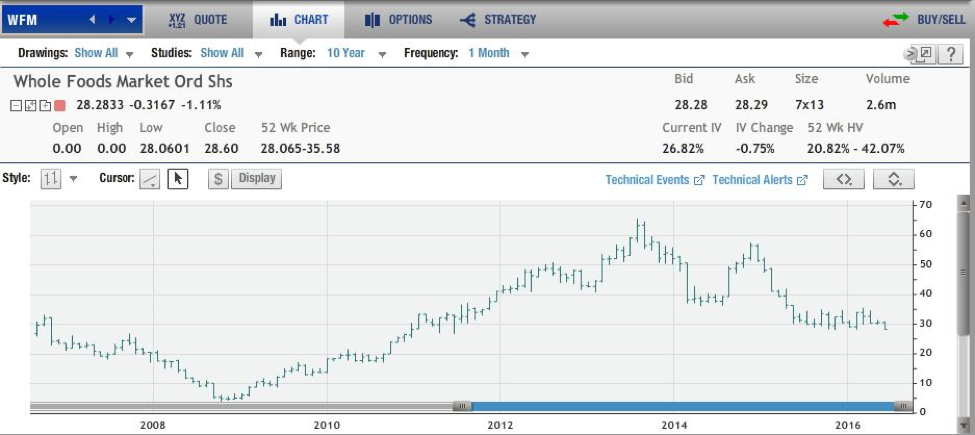 The stock has dropped from that top with a WFM stall in a sideways range for the last year from $28 to $34.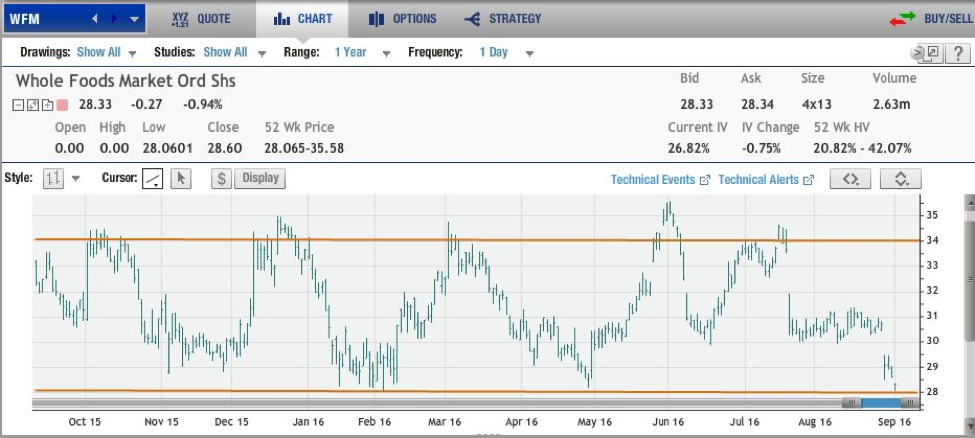 In a sign that sellers may be tiring, new price lows were posted WITHOUT new highs in volatility. This bullish divergence can be a sign of an extreme bottom after major price declines.
A move above the $31 midpoint of the channel track then sets the price for a gap up above to the $34 top of the year trading range… then after that $40 is the next stop.
Lots of WFM wrongs can be righted in the next year…in addition, the Kroger buyout rumor may reappear…
Let me show you how to have a lot of time to be right by positioning for a 50% return on just a modest move using the right limited risk option. This proposed play also has lower investment cost and risks than buying the stock shares.
SIMPLE STOCK SUBSTITUTION STRATEGY
A stock substitution strategy using options ties up less capital and has absolutely limited risk to the premium paid. Using options instead of buying the shares also has greater staying power for long-term trend development.
The January 2018 contracts have more than ONE YEAR and three months plus for a bullish development to form.
An In-The-Money option gives you the right to long the shares from a lower strike price and costs much less than the stock itself.
The Options Way: Unlimited Upside Potential with Limited Risk.
A WFM long call option can provide the staying power in a potential bullish trend extension. More importantly, the maximum risk is the premium paid.
One major advantage of using long options instead of buying or selling shares is putting up much less money to control 100 shares — that's the power of leverage.
With WFM trading at $28.50, for example, an In-The-Money $23.00 strike option currently has $5.50 in real or intrinsic value. The remainder of any premium is the time value of the option.
Trade Setup: I recommend the WFM January2018 $23.00 Call at $7.25 or less. Only a close in the stock below $25.00 on a weekly basis or the loss of half of the option premium would trigger a position exit.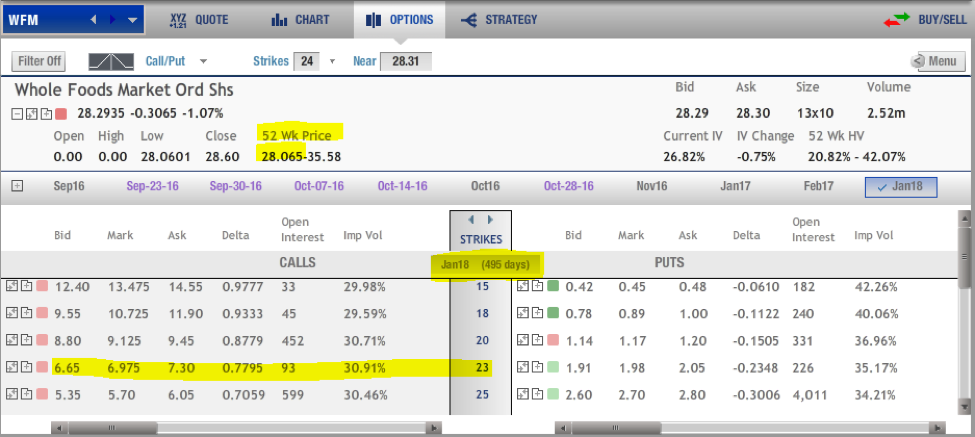 An option play also has staying power with the ability to ride through Ups and Downs that would force most stock traders out of the position. The January of 2018 option has over one year and three months for bullish development.
The option also behaves much like the underlying stock with much less money tied up in the investment. The Delta on the $23.00 strike call is 80% meaning it moves nearly one for one with the WFM stock price.
This long option is like being long for the stock from $23.00 with completely limited risk. WFM has not been down at the $23.00 discounted level since November 2010.
The maximum loss is limited to the $725 or less paid per option contract, with a stop loss exit at half of that premium paid to limit dollar risk.
The upside potential, on the other hand, is unlimited.
The WFM option trade break even is $30.25 or less at expiration ($23.00 strike plus $7.25 or less option premium).
Just a modest move to the top of the one-year range at $34 would make the option worth $11 for a 50% gain. The measured move target at $40 ($6 range on top of the upside breakout) would value the position at $17 more than doubling any investment.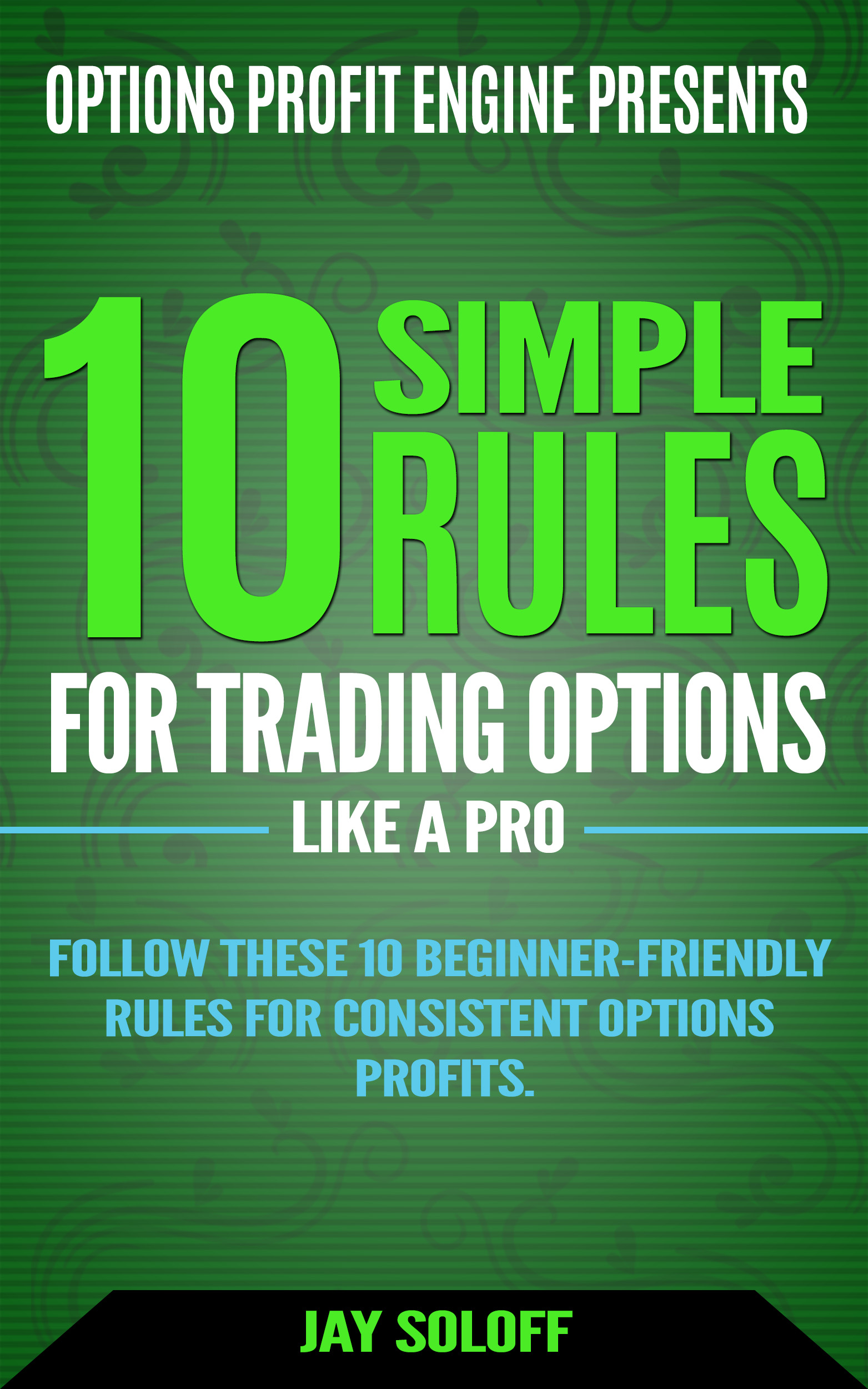 [FREE DOWNLOAD] 10 Simple Rules for Trading Options Like a Pro
Follow these 10 simple rules from 20-year professional options trading veteran, Jay Soloff and start earning a reliable extra income from options.
NO prior experience needed to master these 10 simple options trading rules. 
Enter your email below and receive access to this FREE guide...